So much for autumn in Alberta.
Ok. Maybe that's a bit dramatic, but snow was spotted in the Rocky Mountains this morning, after Sunshine Village's webcams picked up images of several centimetres that fell overnight.
According to Accuweather.com, snow fell at a moderate to heavy pace for several hours as a storm system made its way along the Canada/U.S. border.
Highway 22 south of Calgary also experienced near white-out conditions for a short time, but warm ground temperatures caused the dusting to melt as soon as it landed.
Of course, the ski resorts couldn't be happier, as was evident on their social media accounts this morning:
And while it might seem like an aburpt end to summer, Weather Network meteorologist Tyler Hamilton says snow in Alberta this time of year isn't that unusual.
Environment Canada is even calling for temperatures in the mid-to-high 20s by the weekend, so perhaps we still have some summer to cling on to.
Check out some of the images of snow captured on webcams around Alberta Wednesday morning: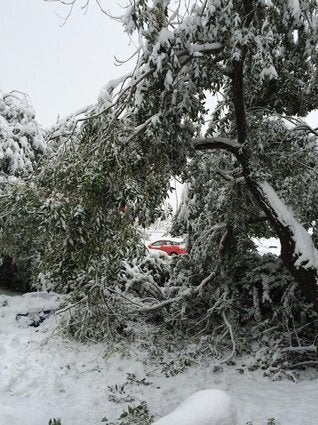 Calgary Snow, September 2014