Finance Minister Robin Campbell was joined by five other members from the province's budget committee as he released an analysis of the Wildrose proposal to balance the budget without increasing taxes.
"This party has claimed it can deal with a $7-billion oil revenue gap with no revenue increases. In fact they have promised to reverse everything in our plan," Campbell said at a news conference in Calgary.
"They've had two weeks to explain to Albertans how this would work, but haven't provided any details."
The Progressive Conservatives have been challenging the Wildrose to provide more details about where they would cut spending and how they would lay off senior government managers without affecting frontline staff.
"To raise $29 billion dollars over five years, there are four options," Campbell said. "They can borrow the money. They can find $6 billion in cuts over the next five years or they can raise revenue.
"Or they can hope and pray that the price of oil goes back up. But to pay for these promises, oil would have to be in the range of $80 to $100 a barrel."
Labour Minister Ric McIver said the Wildrose election platform contains nearly $9 billion in promises the party has not costed out. He also said the numbers add up to a $20-billion infrastructure shortfall.
"On Day 1 ... they (would) already be $29 billion short in their five-year plan."
Health Minister Stephen Mandel said he could never go to voters with a document that has so much information missing.
"You have to put some numbers to these things. You can't just throw a number out in the sky and say, 'Oh, gee, this is what it could be. You have to have some content," Mandel said.
Energy Minister Frank Oberle, Municipal Affairs Minister Diana McQueen and Manmeet Bhullar from Infrastructure were also at the new conference.
The Wildrose party says that if it were to win the May 5 election, it would cut one-third of government managerial jobs and half the management positions at Alberta Health Services. That would be a total of 3,200 jobs over three years, most through attrition.
Party Leader Brian Jean has also said a Wildrose government would roll back politicians' pay and slash budgets for consultants, travel, conferences and advertising. The changes would save more than $2 billion a year in the first year alone, he said.
The Wildrose would also defer projects not directly related to quality of life.
Jean, who was campaigning in High River on Friday, was asked what he expected from the PC news conference that promised to "expose holes and bad math" in the Wildrose platform.
"Maybe it takes that many PC cabinet ministers to add up the numbers," Jean said.
"The numbers are clear. We have a serious fiscal plan, which we've been working on for some period of time, and the plan is good. The plan is sound. It's a plan that I am proud of."
Follow @BillGraveland on Twitter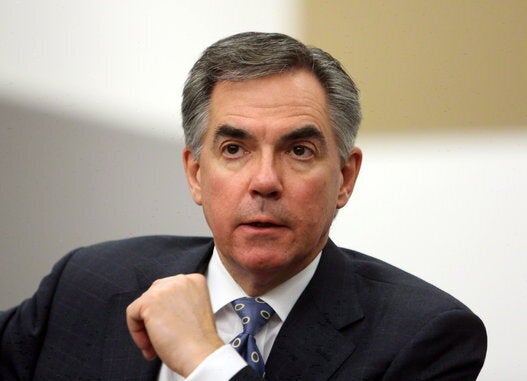 Shakeups Jim Prentice Made As Alberta Premier