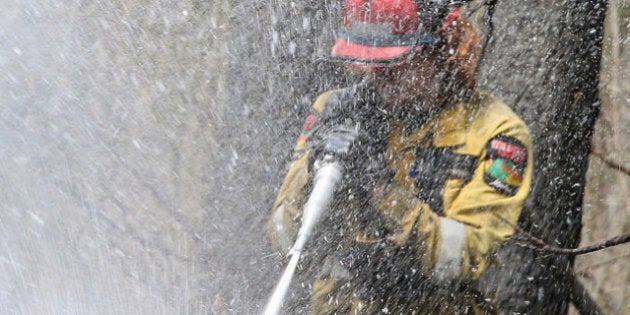 Wildfires have forced about 5,000 people from their homes in north-central Alberta but officials don't believe any houses have been lost.
Cyndi Taron with the Municipal District of Opportunity says 3,700 people have registered as evacuees from Wabasca and Bigstone Cree Nation.
Rural residents in the Municipal District of Lesser Slave River have also been told to leave as a precaution.
Reeve Murray Kerik of the MD of Lesser Slave River, which is under a local state of emergency, said the weather will help determine when people will be able to return home.
"A lot will depend on the fire behaviour this afternoon," Kerik said . "The hottest and the worst part of the day is between 3 to 5 o'clock, when we get the most heat built up and we have the winds come up.
"We will move them back as soon as we can, but we don't want to risk human life."
There are three fires currently of concern. In a press conference Tuesday afternoon, officials said the 200-hectare Wabasca fire is burning approximately 10 kilometres from the community. A second, 500-hectare blaze, is burning approximately 22 kilometres east of Slave Lake, although officials say the fire hasn't grown much in the past day.
The third, and largest, fire is a 10,000-hectare blaze burning 40 kilometres northwest of Cold Lake. Officials say this fire is burning out-of-control.
The province issued an Alberta-wide fire ban on forests Monday, as continuing hot, dry weather upped the fire hazard to high, very high or extreme across much of the province.
The fire ban prohibits all open fires, including campground campfires and backcountry camping areas, charcoal briquettes included.
However, portable propane fire pits, gas or propane stoves, and barbecues used for cooking and heating are permitted.
Any fire permits already issued have been suspended and no new permits will be issued for the time being.
STORY CONTINUES BELOW THE SLIDESHOW: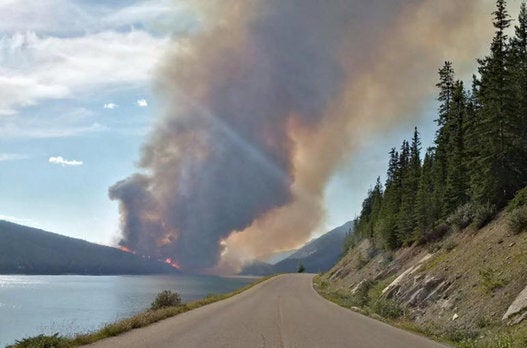 Alberta Wildfires 2015
It's the first time the province has declared a full ban since 2011, when a devastating fire destroyed more than one-third of the town of Slave Lake.
However, Slave Lake residents have not been asked to leave, and Alberta Wildfire Info says the town is not threatened by fire at this time.
As of Tuesday morning, the province said 20 of Alberta's 70 wildfires are burning out-of-control. They said 55 new wildfires have caught since late Sunday evening, many of those caused by lightning strikes.
"Compared to the five-year average, the number of wildfires is up substantially, about 150 more than the five-year average," Janelle Lane, a wildfire information officer, told the Edmonton Journal.
"The most important thing for us is to catch these wildfires early. The dry conditions means those wildfires will spread quickly and get big quickly. If the public can report any wildfires we can get our firefighters there quickly to hopefully prevent it from spreading," she said.
Statoil Canada voluntarily removed non-essential staff from its Leismer oilsands project south of Fort McMurray Tuesday.
Spokesman Peter Symons says Leismer is continuing to churn out oil, but only about 30 of the project's 185 workers are staying.
Meanwhile, MEG Energy is also getting non-essential staff and contractors away from its Christina Lake facilities.
Alberta has deployed more than 1,600 wildland firefighters, some from Ontario and Quebec, and approximately 100 aircraft to battle the wildfires already underway.
With files from the Canadian Press.