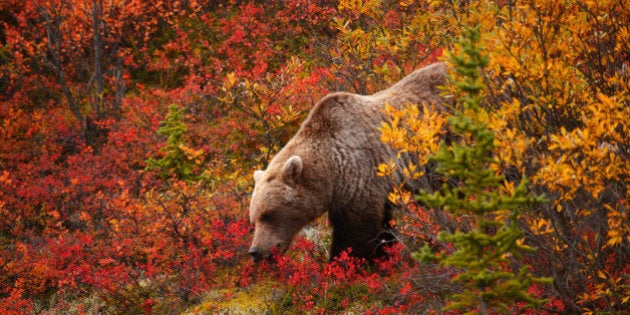 Coauthored by: Dwight Rodtka ­ Predator Control Specialist, Alberta Agriculture (retired) and
Hunting of grizzly bears is no longer allowed, and education promoting conflict prevention and coexistence among humans has been put into action.
However, there remains one important source of bear mortality which the government recognizes but has done little to eliminate: baited killing snares set for the capture of wolves and coyotes. Grizzlies are extremely susceptible to being caught in wolf or coyote killing snares. Although there are designated areas and seasons to protect grizzlies from falling victim to snares, these are quite ineffective in protecting bears.
"Non-target" catches are common, and often referred to as "by-catch". Last winter, in Sundre, Alberta, a minimum of fifteen cougars, several deer, a horse, and two eagles were accidentally caught in snares set for wolves and coyotes.
In another incident investigated by Dwight Rodtka, a retired Predator Control Specialist of 38 years for Alberta Agriculture, 12-15 wolf snares set in the Rocky Mountain House area, Alberta, captured and killed, within one week: a wolf pup, a deer, an adult black bear, and an adult grizzly bear.
Current legislation does not even require the reporting of nontarget species. Unfortunately, when bears are seeking the highest amount of calories in fall to ensure survival through the winter, a stage called hyperphagia, finding a bait pile is like hitting the jackpot. When snares are set, however, finding a bait pile also means death.
Hundreds upon hundreds of wolves are killed every year for this bounty that also causes the by-catch death of grizzly bears and countless other animals. In this new millennium, Canada has returned to the old adage of "shoot, shovel, and shut up."
Not only is the province intentionally allowing the squander of wolves and coyotes, both of which have important roles in maintaining balance and diversity in nature, but it is also blatantly allowing harm and death to threatened grizzly bears.
Unfortunately for the grizzlies, Alberta's Trapping Regulations do not seem to take in account nor know about grizzly bear behavior, as snaring is allowed in many Wildlife Management Units when bears are still active.
Many units along the Eastern Slopes, Rocky Mountain Foothills, National Parks, and farmland are open for snaring from October 1 March 31. However, grizzlies commonly den in December and are often out on the landscape again in March. In other words, snaring occurs when bears may be at risk of being captured.
Snaring wolves and coyotes in these wildlife management units where grizzly bears are active results in the loss of animals and the further endangerment of the species.
Follow HuffPost Canada Blogs on Facebook