Anxious to return home, some northern Alberta residents are turning to permanent ink in tribute to Fort McMurray after being forced out by an inferno two weeks ago.
Wildfires prompted a mandatory evacuation order of the region earlier this month. As they fled for their lives and scattered across shelters, hotels, and homes of friends and family, the experience has been deeply personal for those who have been displaced.
"This is something I want to carry with me forever and something I will never lose," the Keyano College student told The Huffington Post Canada.
She said she opted for the city's airport code in ink as a tattoo, because commemorative T-shirts, hats, and notebooks are temporary tokens, she said.
"Sorry mom," Brenton wrote in a post debuting her new ink. "After all of this craziness, I've come to the realization that material things are not the most important things. Memories, events, relationships with others, and the fact that I'm alive is what counts."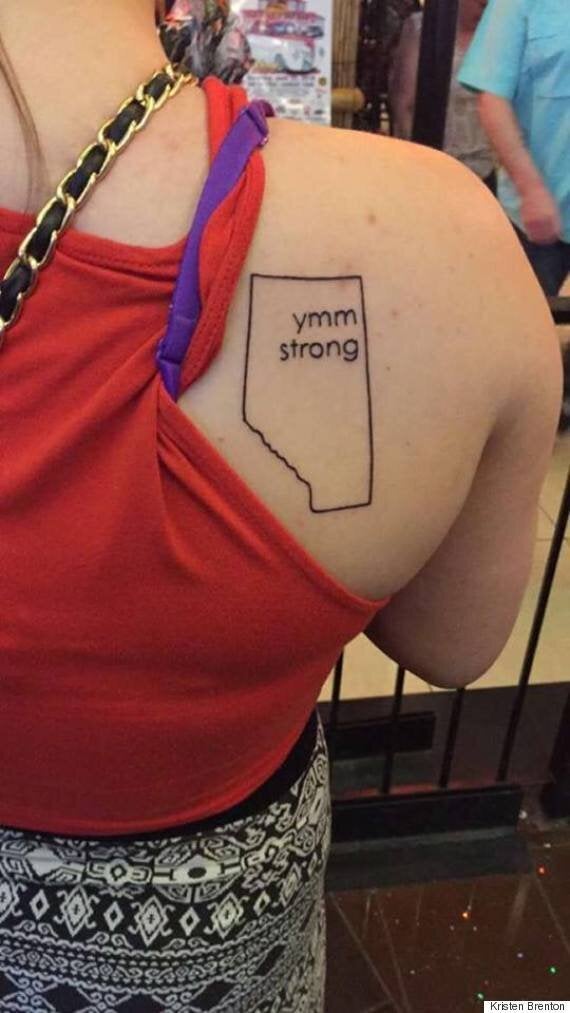 (Photo courtesy of Kristen Brenton)
"I got my tattoo for comfort. Symbolism. Whenever I look at it, I remember what I went through and what I saw, and what everyone around me went through," May told HuffPost Canada.
When the entire city was given the order to evacuate, May's employers went "above and beyond" to make sure she — and her co-workers — were OK amid the chaos.
"I have called Fort Mac home for three years, and will be my home for many years to come. I am proud to be from Fort McMurray."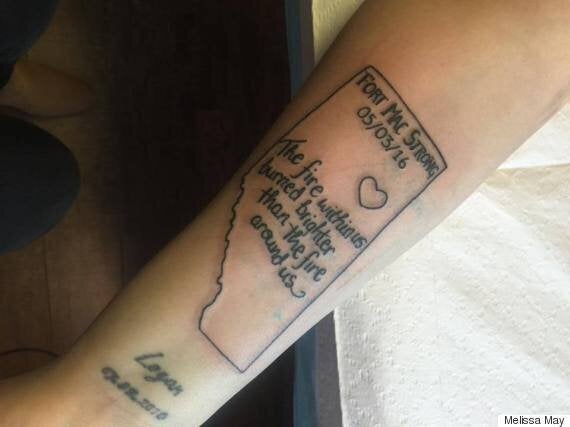 (Photo courtesy of Melissa May)
"I decided to get the tattoo because even though it was a horrific time, I wanted something that I could tell my kids about one day," Jade told HuffPost Canada.
After living in the city for nearly two years, the local swim instructor explains her tattoo is a reminder of the strength Fort McMurray showed amid a natural disaster.
Jade said that her initial worry about her mom's reaction melted away after she revealed her fresh ink to her. "My mom loves it!" she said.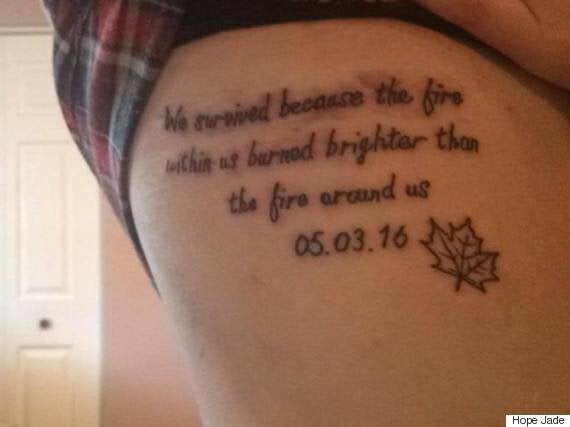 (Photo courtesy of Hope Jade)
Born and raised in Newfoundland and Labrador, Rovensky arrived in Fort McMurray right out of high school and never left. That was 22 years ago.
She told HuffPost Canada the strong community bonds made her stay.
"I love it there. I am very proud to say I'm from there. I just feel anytime there is a crisis no matter if it's one person or 80,000. We pull together to help in anyway we can."
Even under the stress and tumult, the heavy equipment operator said it's been hard for her (and for other evacuees) to admit they need help — and accept assistance. But it was an easy decision to get a permanent tribute etched into her skin.
"I got the tattoo to show my pride, we are a city that pulls together in any time of need."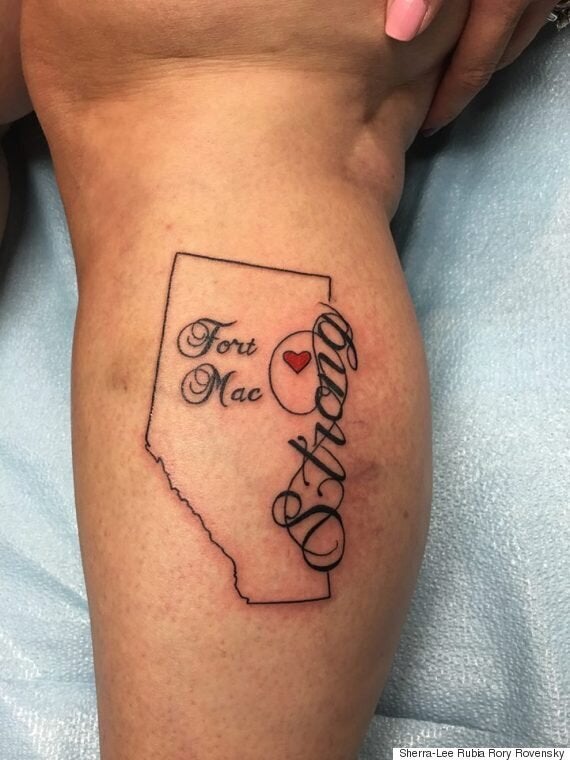 (Photo courtesy of Sherra-Lee Rubia Rory Rovensky)
"I wanted the tattoo because Fort McMurray is my home," Cooke explained to HuffPost Canada.
The Guelph, Ont. native has lived in the oil hub city for eight years. She met her boyfriend, a Newfoundlander, in Fort Mac.
Two days after they were forced to evacuate the city, they got matching tattoos in tribute to their "home away from home."
"We love Fort McMurray and that's really what our tattoo represents," she said.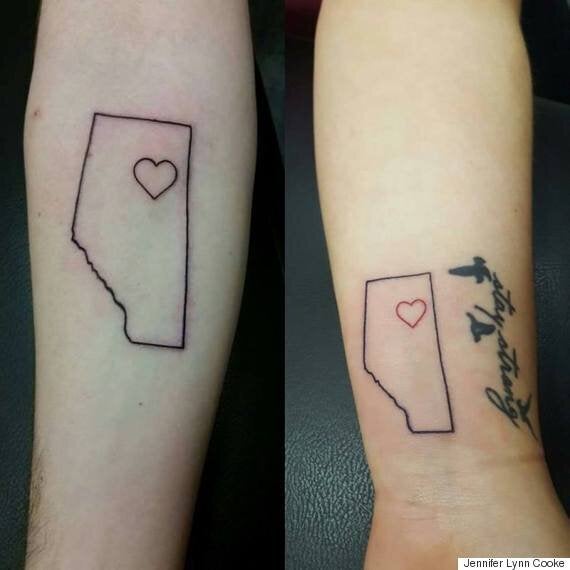 Cooke and her boyfriend got matching tattoos after a wildfire forced the couple to evacuate from Fort McMurray. (Photo courtesy of Sherra-Lee Rubia Rory Rovensky)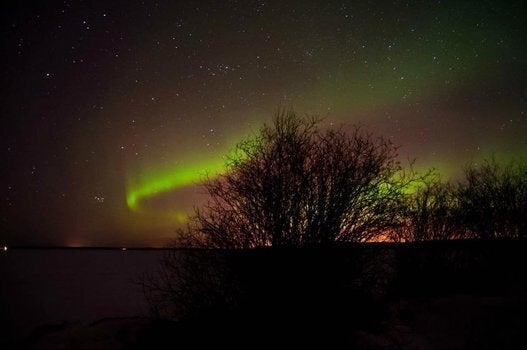 Fort McMurray Photos From Locals
Popular in the Community