As thick smoke and flames crept closer to Fort McMurray, many people had just minutes to pack and leave their homes, not knowing when they'd be allowed back.
Most threw some clothes, ID and food into a bag. Others forgot socks and underwear but were somehow compelled to pack vacuum cleaners, hockey tape, and 11 wigs.
Evacuee Jennifer Knuth couldn't help but laugh when she discovered that she had included processed cheese slices and snow pants (in May) in her luggage.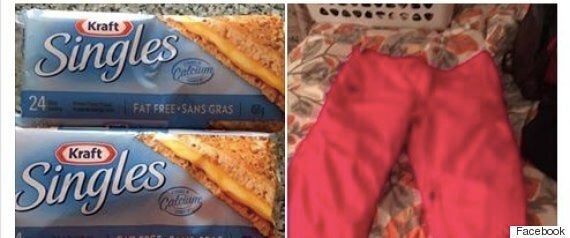 "In this time of crisis when we have lost almost our entire city and packed our whole lives into a car or a suitcase we need laughter. I urge each and every one of you, as you unpack wherever you are, to post a picture of the funniest thing you packed while fleeing for your lives," Knuth wrote on a Fort McMurray Facebook group called Controversial Humor.
Many were happy to oblige, confessing to packing everything from a bear's head to half a blender: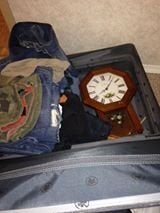 Things Packed By Fort McMurray Evacuees
For more than 80,000 people who fled their homes under a mandatory evacuation order, the past several days have been full of stress and uncertainty. Officials have hinted it may take weeks to for the wildfire situation to stabilize. The fires have already scorched more than 1,500 square kilometres and destroyed 1,600 homes and businesses.
Knuth's post has brought some much-needed relief.
"Crying laughing instead of just crying," one member of the Facebook group wrote.
Knuth said she is overwhelmed by the response: "As a nurse we are taught to heal the patient through mind, body, and soul. Many of my co-workers and I have been at a loss. We cannot get to you through body, so this was my attempt of helping you all heal and overcome this tragedy through mind and soul."
Knuth added, "We want others to laugh WITH us through this." Her note also thanked Darby Allen, the fire chief for the Regional Municipality of Wood Buffalo, first responders and the Red Cross.
"I cannot stress enough that we would not be able to laugh as much as we have through this tragedy without each and every one of them. God bless you all."
Popular in the Community