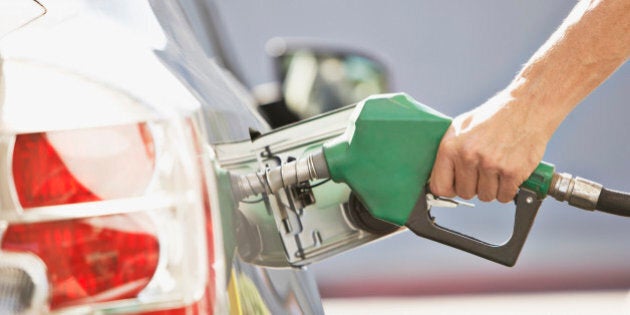 The Alberta government finally released the long-awaited details of the province's planned carbon tax in Thursday's budget.
Here's how the new levy will impact Albertans.
First of all — yes, it's going to cost more at the pump.
Starting on Jan. 1, 2017, fuel prices will be taxed at a rate of $20/tonne. In one year, that tax will go up to $30/tonne. The government has said it will hold off on any further tax increases until Alberta's economy is stronger.
According to GasBuddy, the current average price of gas in Alberta is 90.8 cents per litre. That means it would cost $45.40 to fill a 50 litre tank. Next year, the same-sized tank would cost $47.65 to fill, if gas prices stay the same. By 2018, the tax incresae will bring that cost up to $48.76.
The carbon tax isn't going to cost the same for each household. Its impact will vary, based on energy use and driving habits.
It might be a good time to go green — a household that uses multiple cars and often turns up the heat will end up spending way more than one that favours public transit and installs a smart thermostat.
Based on average use, the government estimates the carbon tax will cost the average single person $191 per year, and the average family of four $338 per year in 2017.
However, those costs will be offset for many low-income families with a government rebate.
Here's the maximum net income an individual, couple or family can make to receive the full rebate:
Singles will be eligible for up to $200 in rebates, while a family of four can receive up to $360.
That means a majority of Albertans won't lose any money from the carbon tax.
Two-thirds of Alberta households will be able to claim the full amount, while another six per cent of households will be eligible for a partial rebate.
The tax will go up by 2018, but the rebates will keep pace to fully refund those eligible.
In other words, Alberta families will receive carbon tax rebates unless they make too much money to be eligible for them.
The carbon tax is a big boon for small businesses. Money from the tax will be used to reduce Alberta's small business corporate income tax rate from three per cent to two per cent, to help businesses adjust to the new price.
Unfortunately, cities don't fare quite as well. Calgary Mayor Naheed Nenshi was disappointed when he learned that city vehicles wouldn't receive any exemptions or rebates from the carbon tax.
He noted that lack of a rebate or exemption could eventually cost the city as much as $6.5 million — and would likely be paid for through a property tax increase.
Alberta's official opposition was none too pleased with the details of the tax.
"The NDP... are slamming families with a massive new carbon tax to funnel money into risky new spending schemes," Wildrose Party MLA Derek Fildebrandt told Global News.
"This is hundreds and hundreds of dollars in new taxes punishing families for driving their kids to hockey practice," Wildrose Leader Brian Jean told the Calgary Herald.
Here's what it will be spent on:
$3.4 billion on major renewable energy projects
$2.3 billion on rebates for Alberta families
$2.2 billion on green infrastructure, such as public transit
$865 million to cut the small business tax rate
$645 million on Energy Efficiency Alberta, a new agency that will work to increase energy efficiency
$195 million to help indigenous people and communities dependent on coal adjust
Even though the carbon tax is all about reducing emissions, the actual numbers are a big unknown.
Alberta is still developing a climate change strategy, though it has committed to actions such as capping oilsands emissions, phasing out coal-fired electricity and fostering more renewable energy.
But none of those actions make clear exactly how the carbon tax will yank emissions down.
The Alberta climate plan has set targets for emission reductions, but has yet to release data on exactly how the carbon tax will cut greenhouse gas emissions.
But they, like almost everyone else, are still waiting on the details.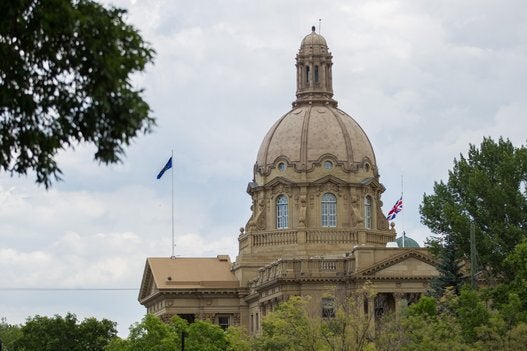 Alberta Budget 2016