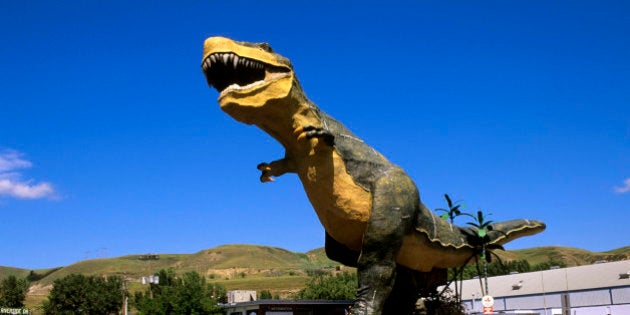 Alberta's got plenty of stunning and popular tourist destinations.
It also has some that are just plain odd.
What better way to explore the province than by discovering how weird it can get?
Cheesy Edmonton-based polka band the Kubasonics — yes, like kielbasa — has an ode to some of Alberta's strangest oddities with their song "Giants of the Prairies."
From Korean Totem Poles in Airdire to a giant dragonfly in Wabamun (sorry Zama City residents, you didn't have anything weird enough to cap off this list) we've used their song as inspiration to catalogue some of Alberta's strangest roadside giants from A-to-Z.
Airdrie's Korean Totem Poles
Visitors driving past Airdrie's Gwacheon Park might wonder why one of the totem poles is wearing a hanbok instead of traditional First Nation quillwork.
According to Airdrie City View, the totem poles were gifted to Airdrie from its sister city of Gwacheon, South Korea, to celebrate the 10-year relationship between the two in 2006.
Beaverlodge's World's Largest Beaver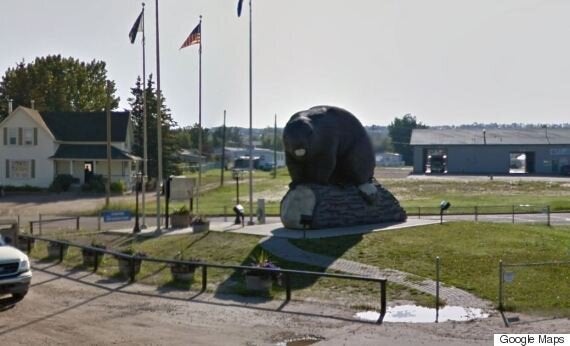 Yup, that's a giant beaver. (Photo: Google Maps)
This beaver is seriously huge. According to the town of Beaverlodge, the combined weight of the beaver and its log is 3,000 pounds. It took 49.2 litres of paint to finish.
Calgary's Travelling Light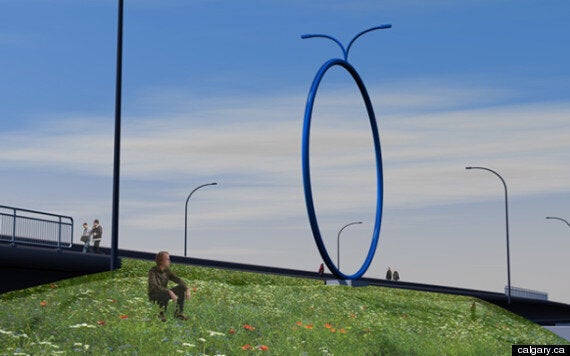 A rendering of Travelling Light. (Photo: Calgary.ca)
Travelling Light or as Calgarians — affectionately or not — call it "The Bloop," is probably the city's most controversial piece of public art.
Depending on how you look at it, the $470,000 blue hoop is either an engineering marvel or just a really big, blue hoop.
Either way, it's something to see on the drive to the Calgary International Airport.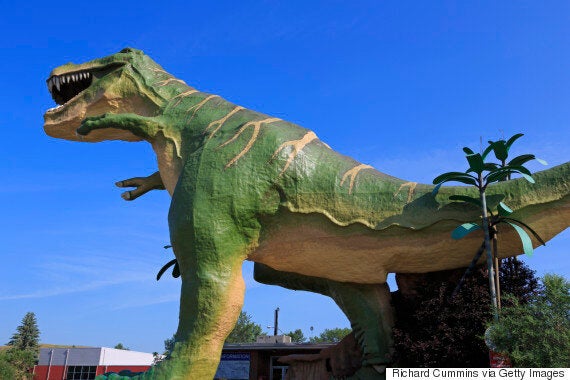 Roar! (Photo: Richard Cummins/Getty)
The world's largest dinosaur stands about 4.5 times larger than a real T-Rex, but it's about 450 times less scary. Unlike the Cretaceous-era carnivore, visitors can climb more than 100 steps to stand its mouth for a view of the badlands.
There are about 15 other dinosaur statues scattered around Alberta's dinosaur capital — the world's biggest dino provides a great vantage point to try and spot them all.
Edmonton's Giant Baseball Bat
No word on whether Edmonton's planning something bigger to take the title back.
Falher's World's Largest Honeybee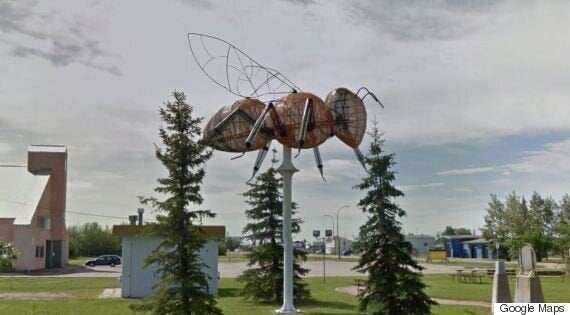 This town celebrates its beekeeping industry with one big bee. (Photo: Google Maps)
Falher is the honey capital of Canada. It's worth stopping by for the honey festival to find out what all the buzz is about.
The village of Glendon's giant pierogie statue is actually its second attempt at celebrating the region's Ukrainian heritage. The current statue is of a pierogie being speared by a fork. The first iteration, which depicted a single pierogie, made villagers think of a cow pie rather than the tasty potato dish, according to Atlas Obscura.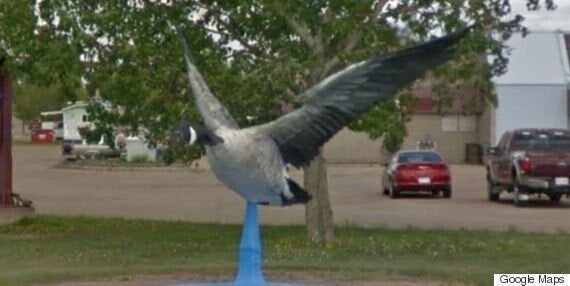 Not just known for being home to Nickelback, Hanna's also notable for the statues of three giant Canada geese.
Innisfail's World's Largest Animated Grizzly Bear
OK, now this is a bit of a stretch. The Innisfail Discovery Wildlife Park laid claim to a very specific world record with this giant, 10,000-pound animated bear.
"We hope it will drive the economy of Innisfail and have people come out on a day-to-day basis to Innisfail to look at the bear," zoo owner Doug Bos told the Innisfail Province.
Lloydminster's Giant Sundial
Skipping over "J" and "K" (sorry Jasper and Kananaskis), here's a jump to "L" for Lloydminster.
This massive sundial might not be the world's largest, but it sure is the biggest in Canada.
Medicine Hat's Saamis Teepee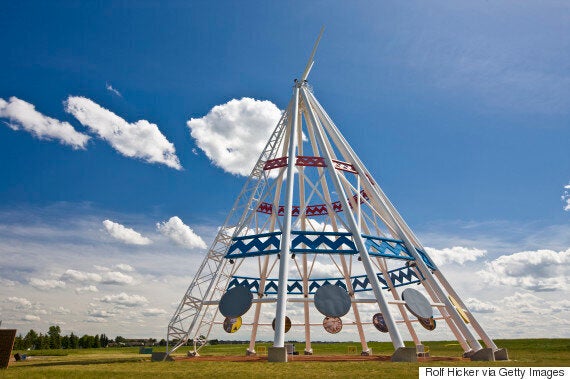 We're assuming they left the canvas off because it would be too heavy. (Photo: Rolf Hicker/Getty)
Legend has it Pincher Creek got its name after a pioneer lost a pair of pincers. The name was chosen when the pincers were later found along the river's bank, according to The Canadian Encyclopedia.
Redwater experienced a serious oil boom in the 1940s. A giant oil derrick was built to get that liquid gold out of the ground. No longer operational, the world's largest oil derrick is still standing as a town landmark.
St. Paul's UFO Landing Pad
St. Paul is ready to welcome otherworldly visitors with its designated UFO landing pad. Perhaps unsurprisingly, the Canadian UFO Survery says some of country's highest reports of unidentified objects are spotted in near Calgary.
If you pass a set of giant cornstalks on your trip, it's worth pulling into Taber for some of the tastiest corn-on-the-cob you'll find in North America. Consider these prairie giants just one big signpost.
Vegreville's Giant Pysanka
Can you imagine how big this chicken must be?
Vegreville's massive pysanka — or Ukrainian Easter egg — is a world-record-breaking ode to the 100th anniversary of the RCMP's arrival in Alberta.
The egg is a giant jigsaw puzzle made of 524 star patterns, 2,208 equilateral triangles and 3,512 visible facets, according to the town.
Wabamun's Giant Dragonfly
Alberta visitors should know this is definitely not an exhaustive list. There are plenty of other strange prairie giants out there, including boots, spaceships and bucking broncos.
If you spot a letter we're missing, let us know!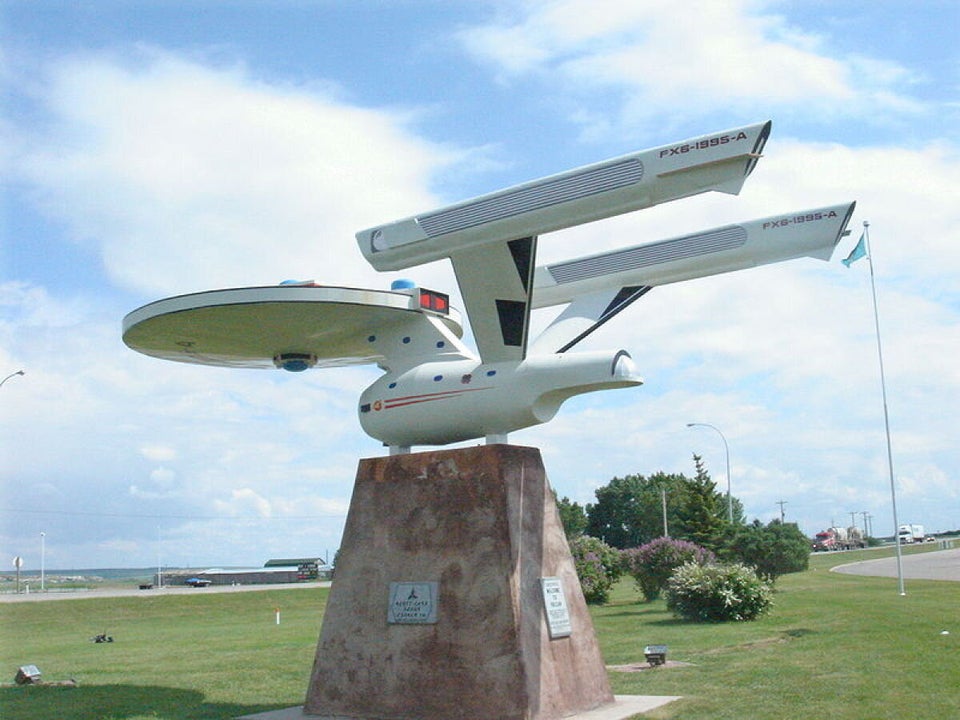 Wild Alberta: Have You Been To These Odd Spots?
Popular in the Community