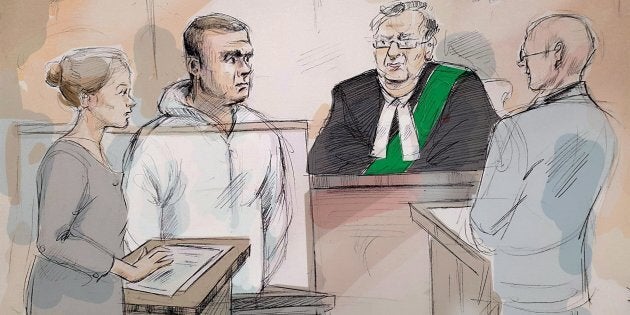 A man accused of driving a van into pedestrians along a stretch of a busy Toronto street has been charged with 10 counts of first-degree murder.
Alek Minassian, of Richmond Hill, Ont., is also facing 13 counts of attempted murder.
The 25-year-old appeared in a packed Toronto courtroom this morning clad in a white jumpsuit and only spoke his name during the brief hearing.
Police arrested Minassian less than half an hour after the incident, which took place at 1:30 p.m. on Monday.
Authorities say 10 people died and another 16 were injured as a result of the attack.
Prime Minister Justin Trudeau says that while the investigation into the attack is still underway, there is no evidence to suggest it was related to terrorism.
Public Safety Minister Ralph Goodale said there was no information to change Canada's risk level and the "horrendous" events "do not appear to be connected in any way to national security."
Toronto Police Chief Mark Saunders said it was too early to suggest a motive for the deadly incident.
I looked through the window and I saw someone just collapse.
Aras Reisn, who lives near the scene, said a family member told him someone had been hit in front of their condo.
"I looked through the window and I saw someone just collapse," Reisn said. "Granted, I have first aid training, so the first thing I did was put on my gloves and rushed out of the door to offer help."
He said he only noticed that other people had been injured while attending to the man hit in front of his home.
"I'm asking Canadians to please get first aid training — you never know when you will need it," Reisn said. "The more people we have, the better and very likely you will be helping a member your own community and your own family and friends."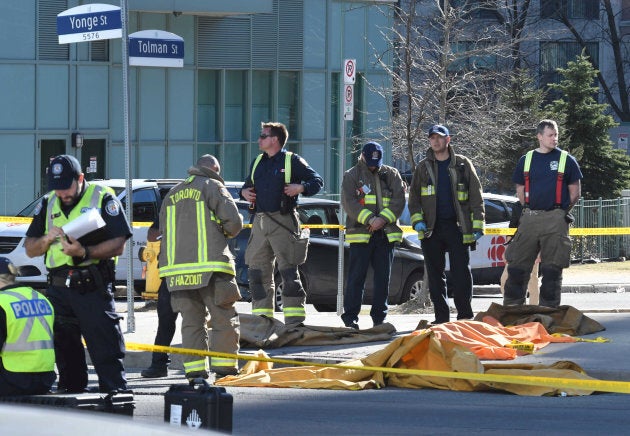 Henry Yang, who was making a U-turn on Yonge Street to head south, said he noticed a white van in front of him driving on the sidewalk, hitting mail boxes, news stands and bus stop signs.
"I realized then that something is wrong," he said, adding that the van didn't slow down and hit a pedestrian right after.
Yang said the van then veered into incoming cars heading north and hit a pedestrian crossing the street before it veered back into the southbound lanes.
"I kept on following him and I kept honking my horn non-stop and trying to make a commotion so pedestrians would know that something was going on," he said.
"I seen people being run over, thrown in the air ... it's very tragic."
A makeshift memorial has been set up along Yonge Street where residents have been leaving flowers and candles and writing messages of support and condolence on large cardboard squares.
A Muslim-Canadian non-profit group called DawaNet, which helped raise more than $800,000 for the victims and their families of last year's mosque shooting in Quebec, has launched a GoFundMe page for the victims of the Toronto incident. It had raised more than $9,000 by early Tuesday.
The stretch of Yonge Street where the victims were struck remains closed to traffic and was expected to stay blocked off for several days as police continue what is likely to be a lengthy investigation.
The incident prompted police to beef up security and close several streets around the Air Canada Centre Monday night for the Toronto-Boston NHL playoff game. Police tweeted that similar road closures may be in effect for the Toronto Raptors NBA playoff game on Wednesday night.
CLARIFICATION - April 27, 2018: Previous reports from Toronto police stated that 14 people were injured in the Toronto van rampage. Officials have since updated that number to 16.