Alessia Cara found her inner wild thing on stage at the 2016 MTV Video Music Awards pre-show in New York City on Sunday, but only after she emerged from a cloud of smoke.
The 20-year-old native of Brampton, Ont. was the first performer of the night, and got the VMA pre-party started by walking up and out of a smoky subway stop on 34th Street, right by Penn Station.
Cara — whose voice has a husky, raspy quality — appeared to embrace this creative parallel and kicked off her three-song medley with "Wild Things."
The hit was nominated for best pop video at the VMAs, putting Cara in a category with Adele, Ariana Grande, Beyoncé, and fellow Canadian, Justin Bieber. Naturally, this gave her all the more reason to celebrate on stage while dressed in a Gucci camouflage jacket with pink rose details, grey skinny jeans with black side panels and her signature sneakers.
As Cara began to get in a groove of whipping her hair and singing in front of the New York crowd, she was joined by Troye Sivan and the two transitioned from "Wild Things" to his song, "Wild." After a brief duet, Cara played her self-love anthem "Scars to Your Beautiful."
The crowd appeared to be enthralled by Cara's interpretations of two of her biggest hits, and the pre-show hosts did too.
Though radio and television personality Charlamagne Tha God originally fumbled while introducing Cara and dubbed her "Alessia Cariah," he later gave her props, and pronounced her name correctly.
"Alessia Cara kicked off the carpet with her awesome performance."
Something tells us that after this awards show and pre-show appearance, he will not bungle her name again.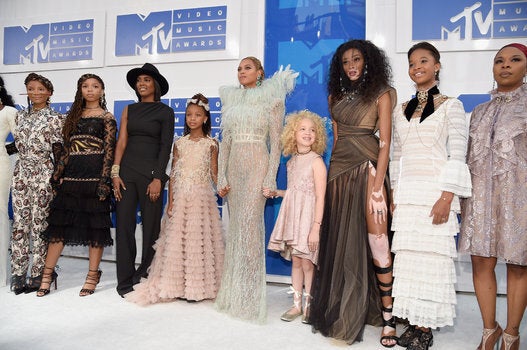 2016 MTV VMAs Red Carpet
Popular in the Community