The prime minister wasn't the only person making history at Vancouver's Pride parade on Sunday.
Alex Sangha was one of the annual procession's grand marshals this year and it was a big deal — for several reasons.
Sangha, who is the founder of an LGBTQ support group for South Asians called Sher Vancouver, was the first-ever Sikh grand marshal of the parade, now in its 38th year.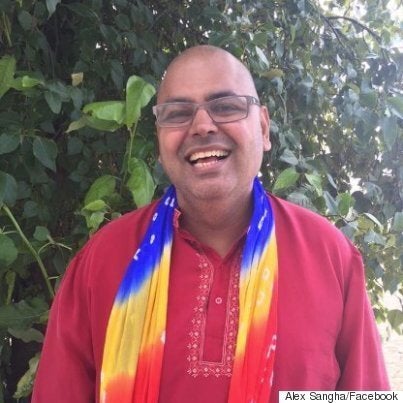 Alex Sangha dressed in a traditional Indian outfit for the event.
"I used to feel like an outsider, as a person of colour, as a minority in the mainstream gay-lesbian community," Sangha told Global News.
"And now as a Pride marshal, they're recognizing me and acknowledging me. I feel like, wow, I'm being embraced."
Along with Sangha, this year's parade had two other grand marshals — trans activist Morgane Oger and Syrian gay-rights activist Danny Ramadan.
They marched in the same parade where Justin Trudeau became the first sitting prime minister to take part in the Vancouver event. The PM's wife and three kids, as well as Defence Minister Harjit Sajjan and several other members of the Liberal caucus.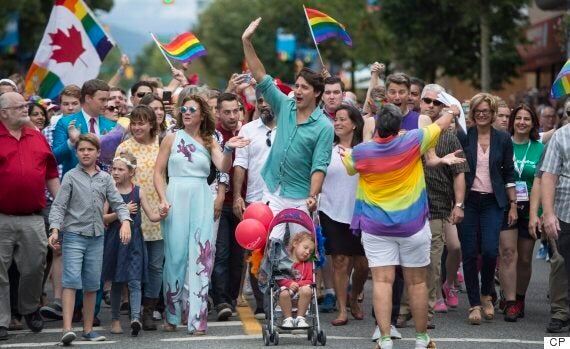 Justin Trudeau takes part in the Pride parade in downtown Vancouver on Sunday. (Photo: Jonathan Hayward/The Canadian Press)
Sangha wore traditional Indian attire — a bright red kurta, or tunic, and a multi-coloured scarf — in the parade, but embracing his heritage while being gay hasn't always been easy for the Surrey resident.
"It was very hard for me to come out of the closet," he told radio station CKNW.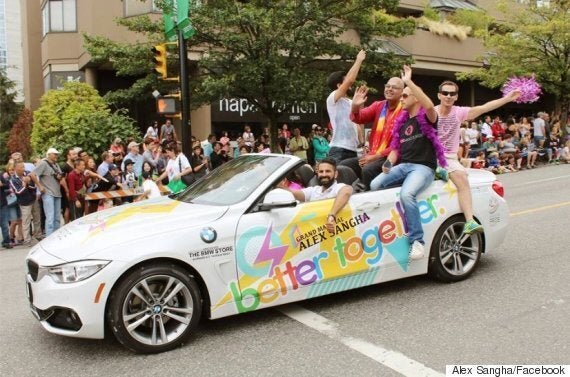 Alex Sangha drove down the parade in a customized car. (Alex Sangha/Facebook)
Many South Asians are reluctant to accept their queer family members, and often force them into marriages, Sangha told the Vancouver Courier.
But having such a prominent place in the Vancouver Pride parade is great progress in Sangha's struggle for acceptance, he said.
"It's like I'm coming full-circle."
Vancouver Pride Parade 2016
Popular in the Community