Canadian icon and "Jeopardy!" host Alex Trebek has died after a battle with pancreatic cancer.
The TV game show confirmed he had passed away at his home on Sunday, surrounded by family and friends. He was 80 years old.
"His belief in the importance of the show and his willingness to push himself to perform at the highest level was the most inspiring demonstration of courage I have ever seen," said "Jeopardy!" executive producer Mike Richards in a statement.
"His constant desire to learn, his kindness, and his professionalism will be with all of us forever."
Trebek said in September he fully expected to host "Jeopardy!" in 2021 after surviving almost two years with cancer and undergoing an experimental immunotherapy treatment. He'd hosted nearly 27 seasons, clocking in more than 8,200 episodes and setting a Guinness World Record.
The show said pre-taped episodes with Trebek will air through Christmas Day. His last day in studio was on Oct. 29.
"The show is not announcing plans for a new host at this time," the statement said.
Trebek was born in Sudbury, Ont., and attended the University of Ottawa. Early in his career, he hosted CBC shows, including a high school quiz show "Read for the Top."
In the 1970s, he moved to the U.S. and in 1984 began hosting "Jeopardy!" becoming a fixture of global entertainment and a beloved star. He won seven Daytime Emmy Awards for Outstanding Game Show Host, as well as the Lifetime Achievement Award from the National Academy of Television and Sciences.
In 2017, Trebek received the Order of Canada medal for his TV work and commitment to educational, environmental and humanitarian causes.
"Through his entire career, while dealing hundreds of thousands of clues, Alex has always been the arbiter of absolute facts," wrote "Jeopardy!" champion Austin Rogers in a 2019 tribute.
"Authoritative without being authoritarian, Alex informs us OF things we should know, things we don't know, and things we want to know more about ... He is an Icon, with a capital 'I.'"
The announcement of Trebek's death was met with an outpouring of support from celebrities and politicians, including Prime Minister Justin Trudeau.
Words of praise also came from former show contestant Ken Jennings, who holds the longest "Jeopardy!" win streak.
And fans who grew up watching the affable Canadian also shared their favourite memories.
Often described as kind and witty, Trebek was known for being a steadfast host, even when announcing his cancer diagnosis in 2019.
"I plan to beat the low survival rate statistics for this disease," he promised fans in a viral video from that time. "Truth be told, I have to. Because under the terms of my contract, I have to host 'Jeopardy!' for three more years!"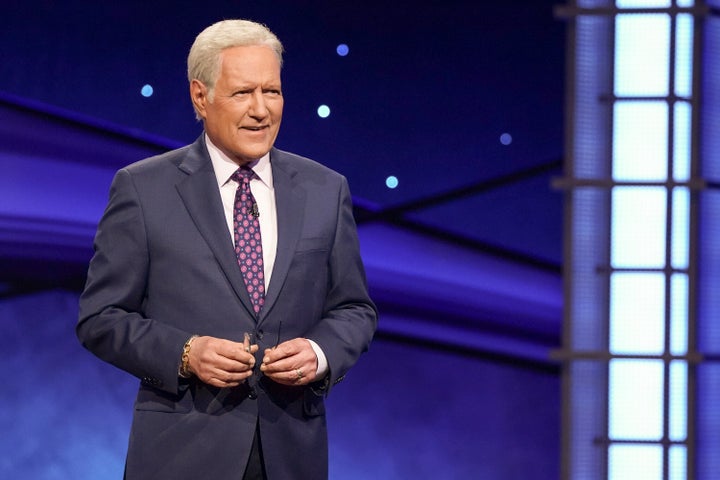 Trebek met his wife Jean in 1988 and it was love at first sight, he wrote in his memoir "This Answer Is …: Reflections on My Life," released this summer. They have three children, Emily, Nicky and Matthew.
Trebek credited Jean with keeping him alive throughout his battle with cancer.
"If it weren't for Jean, I'd have put myself out of this a long time ago," he told People in July.
Trebek was candid about the mental and physical struggles he endured through his cancer battle, including sadness and depression. He revealed that before he was diagnosed with cancer, he spent some tapings of the show "writhing in pain," he told CBS "Sunday Morning" in 2019.
Months after his diagnosis, Trebek had completed chemotherapy, was close to remission and returned to hosting the 36th season of the show in August 2019. But, he had to undergo treatment once again weeks later.
"I will say my goodbyes and I will tell people, 'Don't ask me who's going to replace me because I have no say whatsoever. But I'm sure that if you give them the same love and attention and respect that you have shown me ... then they will be a success and the show will continue being a success,'" he said.
"And until we meet again, God bless you and goodbye."