"The story got blown way out of whack," Trebek told reporters at a Toronto press event. The 72-year-old host said that he's not sure what his plans are after his contract expires in 2016. "I may not last 'till 2016. But I'm enjoying myself and we'll see."
Trebek also joked about the recent scandal swirling around Toronto mayor Rob Ford, saying that he'd consider a run at the top job in Canada's largest city.
"I have been considering going into politics but where and in what venue and at what level? Federal politics? Provincial politics?" Trebek said.
"Maybe municipal politics, you know.... It might be kind of fun to come back to Toronto after having left Jeopardy! and run for an office here. If there's one available. Wink wink."
Toronto Mayor Rob Ford has been fighting off a scandal centered around allegations that there is a video allegedly showing him smoking crack cocaine. Ford has denied the allegations and refuses to answer further questions about the issue.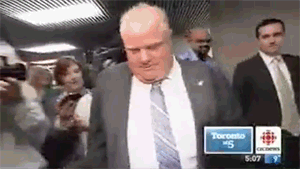 Best Rob Ford GIFs
Popular in the Community