One Toronto mom has received a lot of support online after she said staff at a golf club brought her to the basement because she was breastfeeding.
Alexandra Shimo, her partner and their two-month-old were at a charity event at the Lambton Golf and Country Club on Saturday when Shimo ducked into a hallway to feed the baby, she told CTV News.
She said she found a corner that was outside the dining area, but a restaurant manager came up to her to say that she was still visible to diners in a members-only section and that a few people had complained.
She told CBC News that he pulled out a tablecloth to hide her from view, then led her down to a basement, where her partner Lia Grimanis later found her.
"They sent Alex to the basement saying people didn't want to see her while they were eating," Grimanis wrote in a short account of the incident on Facebook.
Shimo told CBC News she didn't argue with the manager because she was so caught off guard. But she said she was upset, saying the manager made her feel like she was doing something shameful.
But after Grimanis' post, the couple received an outpouring of support from many people online.
Several posted photos of themselves feeding their kids or messages of support on the Lambton Golf and Country Club Facebook page, but those posts have since been deleted.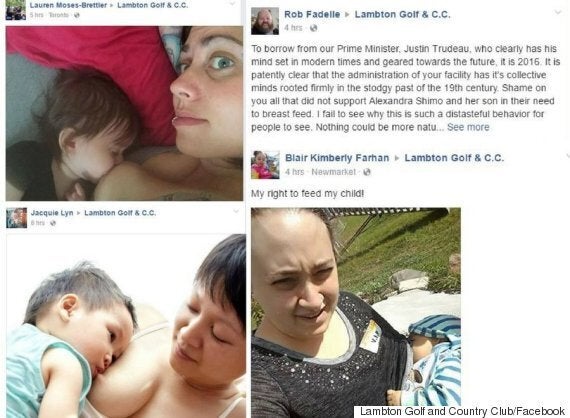 Supporters of Alexandra Shimo posted photos of themselves breastfeeding to Lambton Golf and Country Club's Facebook page. (Photos: Facebook)
The Ontario Human Rights Code guarantees the right to breastfeed in public spaces, saying no mother should be bothered, asked to cover up or move somewhere else.
However, it's unclear whether the golf club constitutes a public or private area.
Shimo told CBC News she wanted an apology from the golf club and sensitivity training for employees.
"The baby's head covers the breast anyway, this is a perfectly natural thing to do. It's necessary to sustain life, so why are we made to feel shameful of it?" she said.
"We deeply regret that this caused you to feel embarrassed."
It also said that staff would be notified of the Ontario Human Rights Code provision around breastfeeding, and they would undergo sensitivity training.
"Once again we unreservedly apologize for the discomfort this caused you."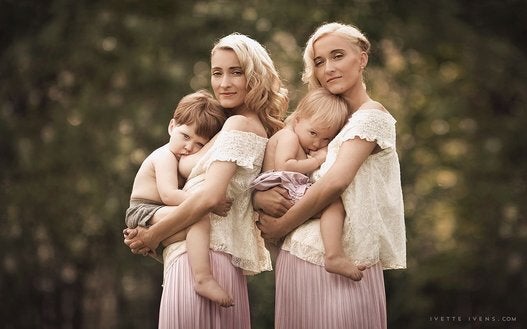 Stunning Photos Celebrate Extended Breastfeeding