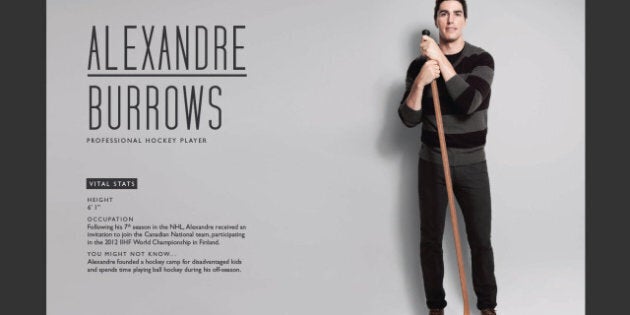 With the NHL currently locked out, there is one player that's using the off-time to make a fashion statement of sorts. Alexandre Burrows, star Left Wing for the Vancouver Canucks, is also the face of Canadian retailer RW&Co's new Perform Your Best campaign.
The hockey star describes his style as "trendy but comfortable," and says that he doesn't really have a personal style icon, but generally listens to the sales associates who work at the stores that he frequents. Well, he may not have a style icon -- but he is definitely an icon to many. That was more than evident by the scores of fans that lined up outside of RW&Co's Pacific Centre location yesterday to catch a glimpse of their hockey hero and also grab an autograph.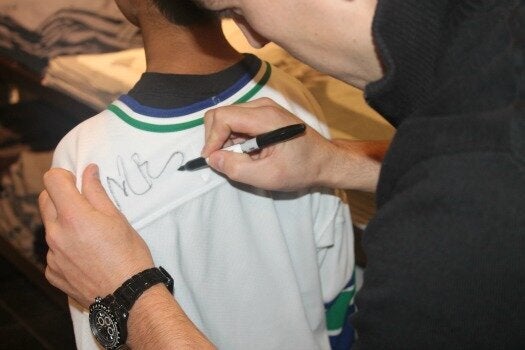 RW&Co had organized the event in an effort to bring more attention to their large offering of men's wear. In fact, Burrows arrived dressed in pieces from their new line, and looking very sharp. I had the opportunity to ask him a few questions about his decision to collaborate with the retailer and this is what he had to say; "It's a cool brand with really comfortable clothes and looks good -- I like to be dressed nicely when I go out, and wear comfortable clothes when I chill and relax so it really fits my style."
What was really great to see were all the young sports fans lined up to meet their favourite player and waiting patiently with their jerseys in hand. So I couldn't help asking Alex about his dad uniform, what does he like to wear on the weekend? "Just a casual look you know -- a sweater and jeans," was his response, with eyes that completely lit up when talking about being a dad.
After a quick picture and some chatter about wishing for a simple hoodie and not a Santa Clause tie for Christmas, Alex was kind enough to sign my son's jersey and pose for yet another picture. I guess he wasn't kidding when he said what he loved most about his job was interacting with the fans.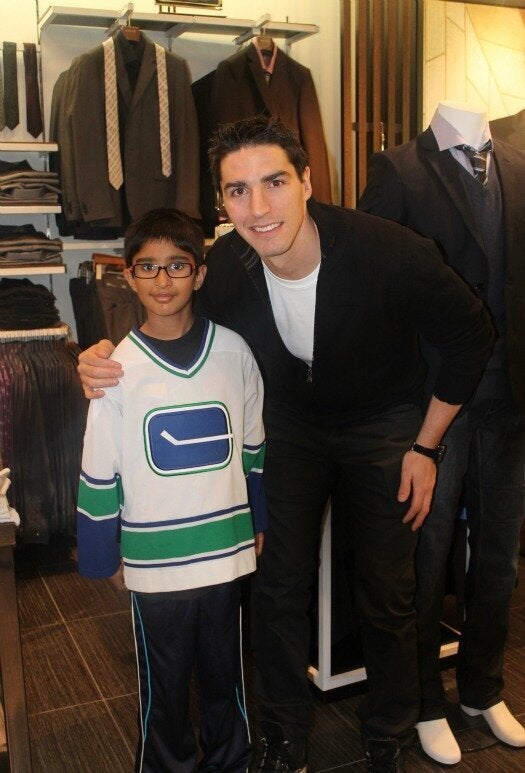 Burrows spent two hours at the store signing autographs and posing for pictures with his fans. I loved how interactive he was, asking questions and even making jokes. He fit perfectly into the "cool image" that RW&Co is trying to create with their new Cool Factor line (my favourite collection right now). The tagline is "dress up without losing your cool factor" -- and that fits Alexandre Burrows perfectly.
Before attending this event I hadn't thought much about RW&Co's menswear line, but last night I was equally impressed with their selection of men's clothing and their new brand ambassador. They really scored big with this collaboration and I'm sure they won some new fans just in time for the holiday shopping season.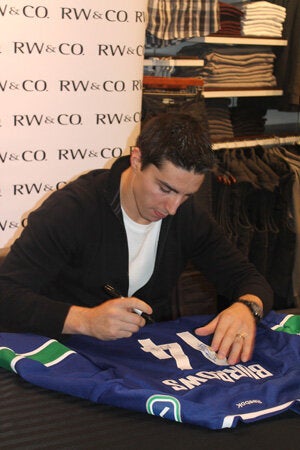 Popular in the Community