"I knit. Do you want me to sit on it and knit?" Alissa Afonina says with a smile few people get to see.
We are wrapping up our interview in her Vancouver-area apartment and need a few more shots. We ask about the black leather sex swing in one of the bedrooms.
"It's just like a hammock. I could sit on it and read," she offers.
We take her up on a suggestion to film her lacing up her black, six-inch high platform boots that go up to her thighs.
Afonina, 23, is a professional dominatrix who works under the name Sasha Mizaree. She gets paid to take control of a submissive client — typically male — in sadomasochistic role-playing sessions.
But she chose the occupation for "a very unglamorous reason."
"Part of why I became a dominatrix wasn't just because I had this inexplicable urge to spank people," Afonina told The Huffington Post B.C. in her first Canadian interview. (Watch video above.)
"Because as a disabled woman, sex work is a viable option.... I needed a lot of money fast because I needed to cover bills and I can't realistically work for eight hours."
Afonina became news in January, when a B.C. Supreme Court judge awarded her $1.5 million in damages for a brain injury that changed her personality so drastically, it essentially led to her job choice, he concluded.
"The only reason anybody even cares is because of this work that people are fascinated with, but I do want to use this as a platform to make other brain-injured people feel better," she said. "To tell them something that I wanted to hear earlier, that it's not your fault, and you're not making this up."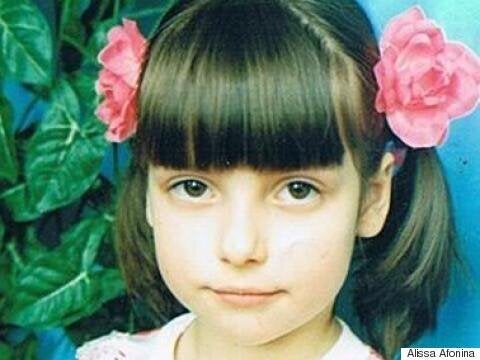 Born in Russia, Afonina moved to the Vancouver area when she was 12. By 2008, she was a North American teen interested in goth and vampire movies, and sometimes experimented with drugs and alcohol. (She points out, she wasn't kinky or sexual.)
That summer, she was a passenger — along with her brother and mother — in a Toyota pickup truck driven by Peter Jansson, her mom's then-boyfriend. Shortly after they left a gas station, Jansson lost control of the truck on Highway 1 near Salmon Arm, B.C.
Justice Joel Groves ruled that Jansson was negligent when he drove too fast in wet conditions and flipped the truck into a ditch.
Afonina's brother, Alexei, was not seriously injured. Her mother, Alla, was taken to the hospital with broken ribs, a collapsed lung, and a brain injury.
Afonina has no memory of the accident, but she emerged with a traumatic brain injury.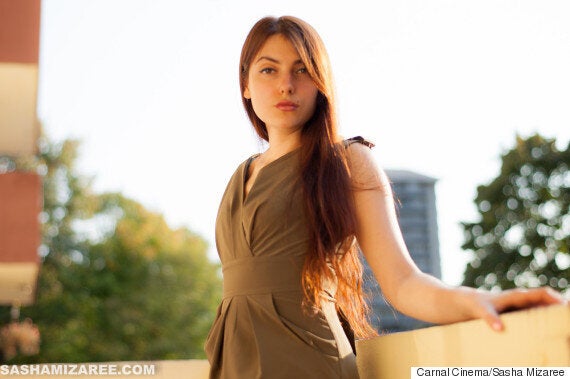 In court, teacher Phil Byrne testified that Afonina was a bright and engaged student who met deadlines and attended classes regularly.
But after the crash, the former "livewire" became lethargic and unfocused. She couldn't retain instructions, made inappropriate sexual comments during class, and became socially isolated, said Byrne.
Afonina ended up withdrawing from high school to finish Grade 12 at home. Over the next four years at two different post-secondary institutions, she tried to continue her education. According to her accounts, it was abysmal.
Amid constant headaches and neck and shoulder pain, Afonina couldn't concentrate or remember anything. Her hair fell out. She barely had enough energy to get to class.
"I'm always tired, but then also at the same time I can't sleep. If I'm in a bad mental state, I have a hard time even getting into the shower," she said.
Yet at some point, she decided to become a dominatrix, charging $250 an hour (which is an average session).
Afonina says she's good at it, because she can read people well and has a knack for anticipating what they desire. Yet working alone in her apartment, she failed to set up systems to protect herself if anything went wrong.
"The truth was I had no safeguards: not even basic texting a friend, no alarm system," she said. "It's hard to explain any logic behind it... I look back and I'm really lucky nothing happened to me."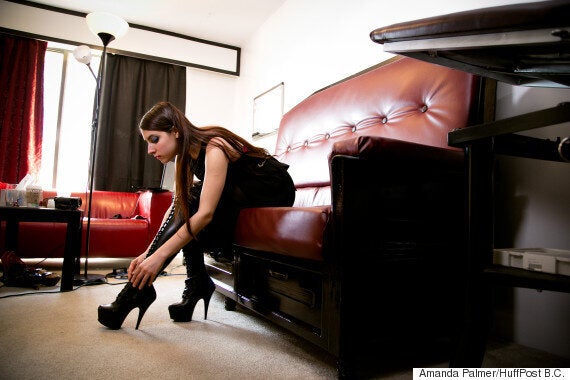 An explanation lies in the four zones of damage in Afonina's frontal cortex. This front part of your brain controls how you function as a social human being, explains Dr. William Panenka, a neurologist at the University of British Columbia who leads the Neuropsychiatry Concussion Program.
"So when you damage connections to this part of your brain, you often lose the ability to self-regulate, to control your behaviour and your impulses. When that happens, you make decisions like this lady did," he explained.
"To me, it's a legal slam dunk," said Panenka. "It is obvious from her scan that she severely injured this part of her brain, and I would be surprised not to see at least some of these changes in someone like her."
During a 28-day trial, Afonina's lawyers argued that her career choice showed a "lack of correct thinking … due to the loss of cognitive functioning from the brain injury."
The defence, however, countered that Afonina is able to organize clients on a regular schedule, and can maintain some level of employment.
The judge concluded if not for the crash, Afonina would have finished a post-secondary program and found related work. At best, she can now manage part-time hours at a minimum wage job, said Groves.
Afonina was awarded $825,000 for "future capacity loss," $377,000 for cost of future care, $300,000 for pain and suffering, and $23,500 for special damages.
(Afonina's mother, Alla, was given $944,000 in damages for a mild traumatic brain injury in the same court action.)
"It gives me the safety to know that I have something to fall back on or if I have a major medical bill," she reflected. "I thought it was very derogatory for people to be like, 'Oh look, she's rich now.' To be honest, I would give every penny of that money to have my health back."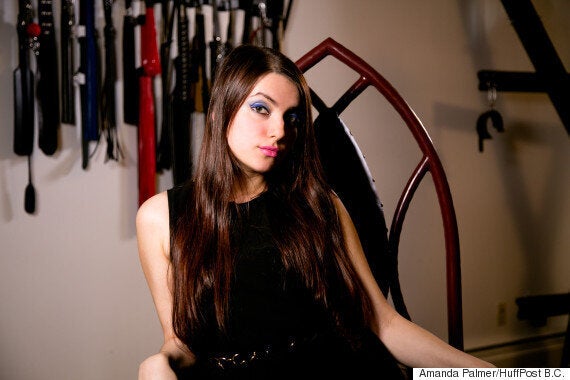 Cases where someone must show how an injury compelled a job switch after an accident usually involve heavy labourers forced into more sedentary work, said Eric Goodman, a personal injury lawyer based in Vancouver.
"This case further affirms the prevailing medical wisdom that even a mild traumatic brain injury can dramatically change one's personality and decision making processes, often permanently and with far-reaching negative effects on one's quality of life and earning capacity," he told HuffPost B.C.
Goodman applauded the court for disregarding Afonina's pre-accident teen "quirks" and focusing instead on evidence that she had a bright and prosperous future ahead of her before the crash.
"It was heartening to see the court refuse to judge the book by its cover," said Goodman.
Story continues after slideshow: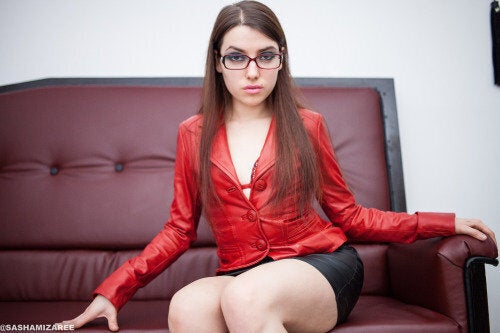 Alissa Afonina (aka Sasha Mizaree)
In photos published online and displayed on several walls of Afonina's apartment, she is pouting and posing seductively. There are no goofy, grinning pics — partly to maintain her dominatrix persona, and partly because she was simply depressed.
But therapy and the right medication have brought Afonina to a better place.
"There are better days and there are worse days. I appreciate every good day so much because I don't know what's going to happen later on," she said.
"People only see me when I have those short bursts of energy, when I'm at my best. So it's easy to assume, 'Well, she's fine, she looks good.' Because people have this really stereotypical idea of what a disabled person is supposed to like look."
"Part of why I haven't is not so much because of money anymore, but because I don't have anything else to identify with yet. For a long time, I identified as 'I'm a dominatrix. This is what I do' and that brought me self-esteem — as opposed to not being to answer the question 'What do you do?' which comes up in every social situation."
By now, Afonina has taken off her intimidating black boots and is sitting barefoot on the couch. I suspect she's tired, but she insists she's OK.
She says she wants to write a book about her experience, and maybe get into media, or acting, or singing.
"It's a blessing because I'm making the best of it, but the curse is that now everyone knows my business and my name."


Popular in the Community