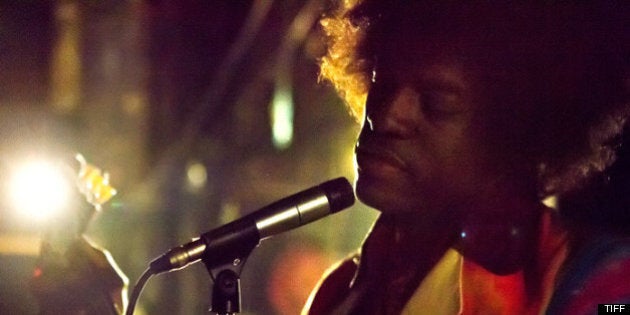 One of the truly great and original artists to emerge from the 1960s -- a decade packed to overflowing with truly great and original artists -- Jimi Hendrix remains to us an ambiguous, inchoate figure.
A dreamer, a visionary, prone to violent outbursts and fits of cruelty, a man somehow both childlike in his earnest open-mindedness and as cold and remote as a distant moon, Hendrix is almost always understood -- if, indeed, he is ever really "understood" –- through the music he left for us. His biographical details just aren't that helpful; even his closest bandmates seem to have found him mystifying.
Of course, Hendrix's extraordinary, revolutionary catalogue of three proper studio records, several live recordings, and various outtakes and bootlegs, are required listening for any serious student of rock'n'roll music. Which is why it is impressively daring and yet, finally, baffling that "All Is By My Side," writer-director John Ridley's dramatization of the year before Hendrix emerged on the international music scene uses exactly none of the songs we tend to associate with the man. No "Hey Joe," no "Purple Haze," no "Foxy Lady" are to be heard anywhere in this film. Indeed, none of these works is ever even mentioned.
Rather, Ridley has chosen to get at Hendrix -- a determined but, at 38 playing a 23-year old, distractingly old Andre Benjamin -- through the two women he was closest to in 1966.
Benjamin, better known as Andre 3000, one half of hip hop act OutKast, plays Hendrix with a mixture of charm and reticence, drawling his way through psychedelic lines of dialogue -- lots of talk of seeing music as colour, of future spacemen arriving to show us the way, and so on. He even generally looks the part in his spot-on wardrobe.
But when we see him onstage as Hendrix, forced to play and sing songs that do not exist in the Jimi Hendrix catalogue due to the refusal of the Hendrix estate to collaborate with this film in any way, it's never quite convincing. One of the most amazing things about Hendrix was his creative genius, his madly inventive songwriting, his manipulation of blues and British Invasion sounds into something wholly new and deeply exciting. But what we see here is a great guitarist playing old blues standards like Killing Floor. It's just not enough.
(Experience Hendrix LLC, which controls the copyrights, said the estate wouldn't license his music "without its full participation." The producers, however, told Rolling Stone they never asked. "This is the story of Jimi being discovered as a backup musician and how he went to London and became Jimi Hendrix." That prompted the Hendrix estate to reply that their plan was "like making a movie about Lincoln without being able to use the Gettysburg Address.")
Following the world premiere screening of "All Is By My Side" at the Toronto International Film Festival, Ridley (who also penned the screenplay) and Poots took questions from the audience, many of which were variations on the same theme: why did you choose to tell the story of Hendrix through the year he spent in London with these women?
Article continues after slideshow
"I think, like a lot of people, I consider myself to be a Hendrix fan," explained Ridley, looking very relaxed onstage in his neon sneakers and loose suit. He has answered this question before, one can be certain. "One night, very late," he recounted," I was crawling on the internet and I heard a song I had never heard before by Jimi Hendrix. […] For an artist who was amazing at interpreting emotion, [it was] probably one of the most searing, reaching and deep pieces of music.... And I looked at the title of the song that was on the screen and it was "Sending My Love to Linda".
I just thought, 'Who is Linda?' 'Who is this person?'"
Linda Keith was, in fact, Keith Richards' girlfriend, and soon to be immortalized as the subject of one of the Rolling Stones' best songs, the aching "Ruby Tuesday." In Ridley's portrayal -- which does not always jibe with what one might know of Keith's life story from other sources, notably Richards' autobiography "Life" -- she was a fixture on the music scene in the mid-1960s, a gorgeous and brilliant posh woman with an impeccable taste for American blues music (and the men who played it well, some might add).
She was not exactly a "groupie," in Ridley's rendering, but not exactly not one either. She introduced Hendrix to LSD, convinced music industry mavens to come and see his act, and finally connected him to Chas Chandler, the former bassist for The Animals who would become Hendrix' manager. In the film's telling, Hendrix might never have found his voice if it wasn't for Linda Keith's shepherding.
"For me," explains Ridley, "this part of the story had emotion, had depth, had a personal velocity. More importantly, for me, for a story to be relevant it has got to be informative. I wanted the audience to feel that sense of surprise, curiosity and revelation that I felt [while researching the film]."
"I always felt that it was very much of a partnership," adds Imogen Poots, whose Linda is the intellectual centre of Ridley's film. "Like partners in crime, [Keith] let him get away with things that other people would have been suspicious about. She encouraged him to embrace his wild side."
Perhaps the funniest, but also the most telling, line in the film comes when Hendrix, after taking Keith's advice to stop processing his naturally kinky hair, is described by one young woman to another as looking like "the wild man of Borneo." Racist assumptions of primitivism are the dark undercurrents in Ridley's examination of mid-1960s London, as they should be given the racial tensions of the day.
But, ultimately, Ridley's choice to access Hendrix through Linda Keith leaves us no more certain of his mind than when we sat down. "Maybe Jimi Hendrix played up this persona of being naïve, but he actually wasn't that naïve," suggests Poots. "Linda was very savvy about that. She knew where his mind was. And that's a real secret: to be that close to somebody's mind."
As the buzzing audience bled back into the balmy, rainy Toronto night, I wonder how many of them felt they had gained even an inkling of such a secret. More likely, what we came away with was the final acceptance that Jimi Hendrix will always remain to us unknowable, absent.
Maybe it's better that way. I don't know. But, I went home and listened to "Electric Ladyland." As magical as ever.