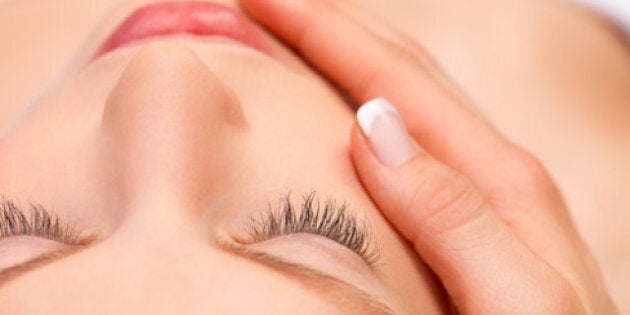 Beer for your hair? Milk baths? Raw egg for your skin?
These may sound like "beauty secrets" from the pages of a 50s Glamour magazine, found next to black and white photos of smiling women in girdles and bouffants. And in this day and age, when we all have a host of bottles and tubes of expensive creams, lotions and potions crammed into our bathroom (threatening to fall off our cabinets or tumble into our tubs), it might seem unthinkable to go back to the days when women raided their fridge to keep themselves smooth, shiny and blemish-free.
But with fears about chemicals and additives in beauty products mounting, there's greater interest in natural ways to get gorgeous skin and lustrous hair. According to health and beauty expert Margaux J. Rathbun, founder of Authentic Self Wellness, some of mom and grandma's wacky advice is more useful than you might think.
Here are some old-fashioned beauty treatments that really work:
Full story continues after gallery:
Think cracking open a cold one and pouring it over your head is just a waste of a good brewski? Not so, says Rathbun. The protein from the hops and malt in beer will actually encourage shiny, thick hair. "I recommend using a higher quality beer instead of cheap, light beers, which can be loaded with additives," she says. "If you can swing it, use a good quality organic beer. You can mix some beer with your shampoo, use it as a conditioner and even spray it on your hair as a setting lotion." And no, it won't leave your head smelling like a pub -- the scent usually disappears when your hair dries.
Raw Egg Facial Or Hair Conditioning Treatment
They may not smell like rosemary mint, but Rathbun says raw eggs can help repair the damage dry winter weather may have done to your hair. "It may sound gross, but the protein in the egg will help make your hair follicles stronger, helping prevent breakage and heat damage from the styling process," she says. Rathbun's recipe for body and shine: Beat one to two raw eggs in a bowl and add about a tablespoon of your favourite shampoo. Rub into your hair and set for 15 minutes (you may want to do it over the kitchen sink because this can get messy). Then rinse with cold water. Rathbun says a little ovo can also help keep your skin looking younger and healthier -- she suggests whipping a raw egg and gently massaging it into your face. Wait for 10 minutes then rinse with warm water.
Whether or not you like it on your sandwich, Rathbun says it's worth it to pick up a bottle of traditional mayonnaise for the benefits it can have for your hair. "Traditional mayonnaise contains eggs and oils that promote shine, body, and hair strength," says Rathbun. "Adding about a cup of mayo to you hair and letting it sit for 30 minutes will leave your hair looking like you just had an expensive treatment at the salon." One thing to watch for though -- mayo is harder to rinse out than raw egg, so you may have to shampoo your hair a couple of times to avoid looking greasy.
A Little Lemon Squeeze For Nails
Looking for an inexpensive, simple and divine-smelling nail treatment? Try fresh lemon juice, says Rathbun. "To keep your nails naturally strong and bright, soak your nails in lemon juice for 10 minutes," she says. "Brush them with warm water and a toothbrush after the soak for extra shine and polish." And if you're thinking of going all retro 70s and using lemon juice to lighten your hair, Rathbun says it's safe to do, but you'll need to sit in direct sunlight for at least 20 minutes to have any effect. And be aware on darker hair: lemon may turn the colour more red than sun-kissed blonde.
Will Milk Do Your Body Good?
If you rolled your eyes last time your auntie recommended a milk bath, you may want to reconsider. According to Rathbun, the lactic acid found in milk can help your skin stay soft and blemish-free. "In addition, the fat and protein content in milk makes your skin smooth to the touch and improves its condition and appearance," she says. Add about two cups of milk to a warm bath, relax and enjoy.
Break Out The Honey, Honey
While some of these old-fashioned beauty treatments go back 50 years or so, this one goes back thousands. And if it was good enough for Cleopatra, it just might work for you. Rathbun says honey is a great way to replenish moisture in our skin, remove dead skin cells and kill bacteria on the skin's surface. "Honey is generally suitable for all skin types so it shouldn't cause a rash, irritation, or a breakout," she says. "The next time you take a milk bath, add about half a cup of honey to the water."
Looking for more foodie face and hair tips? Rathbun says black, caffeinated tea bags can be great for dark circles (after cooling, place wet tea bags on lids for about 10 minutes). Organic green tea can be a fantastic skin toner to improve clarity and soothe any discolouration (let it cool and spray it on your face). And grab some coconut oil from your pantry for a great all-natural lip moisturizer.
"My grandmother would always apply cold-pressed extra virgin olive oil to her hair once a week for shine and body," says Rathbun. "Pure aloe vera gel is great for soothing sunburns and keeping the skin moisturized. And cucumbers on the eyes will help the puffiness go away."
One important note -- Rathbun advises you should always try a sensitivity test prior to applying a full treatment. Apply a bit of the food item to a small patch of skin and watch for any reaction. Though the treatments mentioned here tend to be safe for most people, "Even if it's an all-natural treatment with whole-food ingredients, some people can still have reactions."