Dwayne Johnson might be a man of muscle, but he's a big ol' softie at heart. The 44-year-old actor has two daughters and believes that being a dad is "the greatest blessing."
"I realized being a father is the greatest job I have ever had and the greatest job I will ever have," he said on "Oprah's Master Class" in 2015, before his second daughter was born.
"Throughout the years, throughout the ups and downs, I've realized that the most important thing that I could do with my daughter is lead our life with love," he said. "Not success, not fame, not anything else but, 'I'm always here for you. I love you.'"
The Rock had his first daughter, 15-year-old Simone, during his first marriage to Dany Garcia. He then welcomed his second daughter, one-year-old Jasmine, in December 2015 with his longtime partner Lauren Hashian.
Since having kids, Johnson has proven time and again that he is the sweetest dad. Here, we round up The Rock's cutest moments with his girls.
"I'm always asked - What inspires YOU?" he wrote on Instagram last year. "My answer's easy and honest.. what inspires me the most is always waitin' for me to walk thru my front door when I come home."
On an episode of "Oprah's Master Class" in 2015, Johnson recalled a time he asked his teen daughter, "What is the thing that you love most about our relationship?"
"She said, 'Well, that I trust you,'" he said, tearing up. "For a 13-year-old girl to say that to her dad... She said, 'I trust you, and we have a very special bond.' And that moved me. At 13, she's saying that and, you know, I couldn't ask for anything else. I love that girl."
Even though The Rock was tired and sweating, he kept on dancing just to make his baby girl smile. "It's what daddies do," he said in the video.
"It's the most unique, powerful, loving, irreplaceable, one-of-a-kind bond on earth. The bond between a father and his daughter," Johnson wrote on Instagram in October. "So proud [of] you [Simone] for the young woman you've become and so grateful for the bond we have. I take complete credit for your wit and charm. All that brains and beauty you got go to your mama."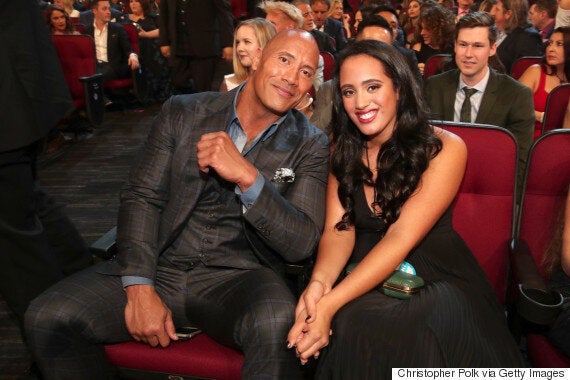 Dwayne Johnson and Simone Alexandra Johnson attend the People's Choice Awards 2017 at Microsoft Theater on January 18, 2017 in Los Angeles, California.
"I had an amazing philosophical conversation w/ my baby girl about the value of hard work and how respect is given when it's earned," the dad shared on Instagram last year. "I told her, 'Baby girl when you grow up, you get out there and dent the universe thru hard work and sweat. And always make sure you do it in a positive way with class, dignity and respect.'
"She responded by poo'ing on me in this moment as she plays her favourite game, 'Drum time on daddy's big head.' It was a good talk."