A new poll suggests that, all things being equal, most Canadians prefer female political leaders to male ones.
In a survey released over the weekend, Abacus Data asked voters who they would pick for party leader if the choice came down to an equally qualified man and woman.
Fifty-four per cent of respondents said they would pick a female leader in that scenario, compared to 46 per cent who would select the male.
Sixty-nine per cent of women said they would pick a female leader, compared to 38 per cent of men.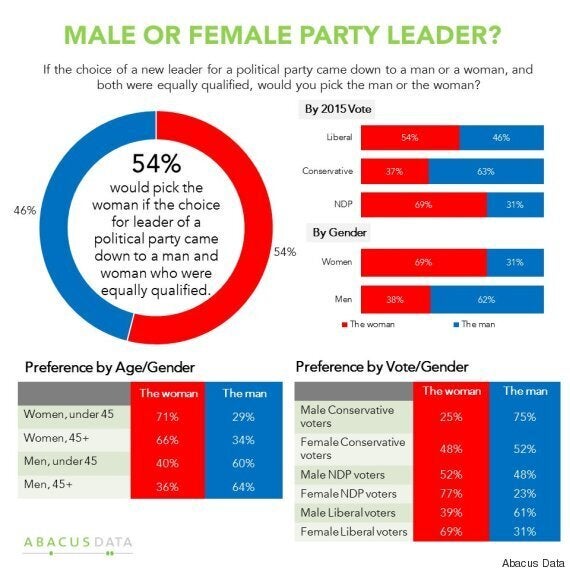 The breakdown according to political support is also interesting given that federal New Democrats and Conservatives are setting out to find new permanent leaders.
Sixty-nine per cent of those who voted NDP in the last election would select a female leader, compared to 31 per cent who would pick a man.
It's the opposite story for Tories, however, as 63 per cent of past Conservative voters would pick a male leader and 37 per cent would select the woman. The numbers also suggest that 52 per cent of female Tory voters would prefer a male leader, while 75 per cent of male Tory voters feel the same.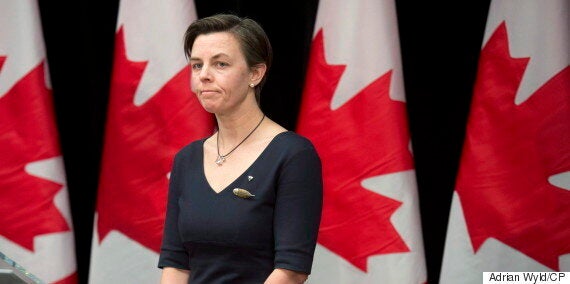 Kellie Leitch appears at a press conference in Ottawa on Feb. 27, 2015. (Photo: Adrian Wyld/The Canadian Press)
Ontario MP Kellie Leitch is the only female candidate in the Conservative leadership race so far, but fellow Ontarian Lisa Raitt and Manitoba's Candice Bergen are also mulling bids.
There are currently no declared New Democrats running for leader. Ontario MPP Cheri DiNovo quit the race last month amid health issues. Manitoba MP Niki Ashton is reportedly thinking it over.
As for Liberals, 54 per cent of supporters told Abacus they would pick a female leader, while 46 per cent would select a man. Unlike the NDP or Tories, Liberals have never had a female leader at the federal level.
Women under the age of 45 were most likely to prefer a female leader, while men over 45 were most likely to select the man.
What about the age of candidates?
The poll also tested who would win if the choice came down to a person under the age of 50 and a person older than 50.
Sixty-five per cent of Canadians said they'd prefer a leader under 50, while 35 per cent would select the older candidate.
Tory voters were the most likely to prefer the older candidate, with 59 per cent of that party's supporters choosing that option. In contrast, 68 per cent of Liberal supporters and 64 per cent of New Democrats would opt for the younger candidate.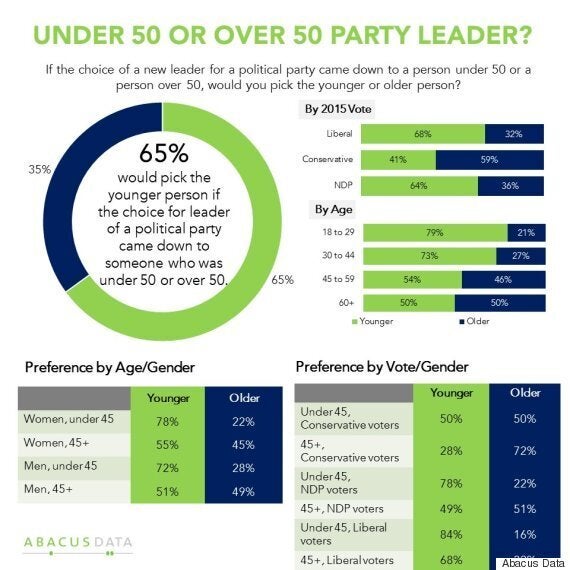 Of the five contenders who have formally joined the Tory leadership race, three are over the age of 50 — Quebec MP Maxime Bernier, 53, Ontario MP Tony Clement, 55, and Alberta MP Deepak Obhrai, 66.
Ontario MP Michael Chong is 44 — the same age as Prime Minister Justin Trudeau — while Leitch is 46.
Combining those preferences, Abacus found that 37 per cent of respondents would prefer a young female leader, while 27 per cent would like a young male leader.
Among Tory voters, however, just 13 per cent preferred a young female candidate compared to 43 per cent who preferred a male candidate over 45.
Tories 'see the world and politics' differently: CEO
In the poll summary, Abacus chairman Bruce Anderson said the results suggest the nature of political biases are shifting in directions that favour younger women.
"The numbers suggest women have been convincing more men that they have good leadership qualities, than men have been convincing women," he said in the release.
Anderson added that partisanship breakdowns show that Liberal and NDP voters "see the world and politics somewhat differently from Conservative voters."
The online survey was conducted from Aug. 22 to 25 among a random sample of 2,010 adult Canadians. The margin of error for a similar poll is 2.2 percentage points, 19 times out of 20.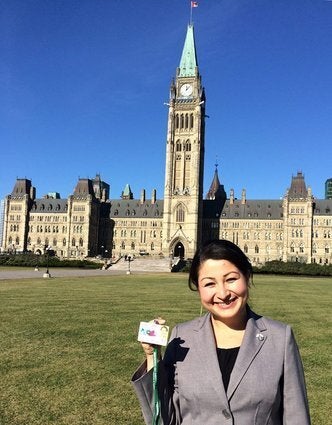 Rookie MPs To Keep Your Eye On