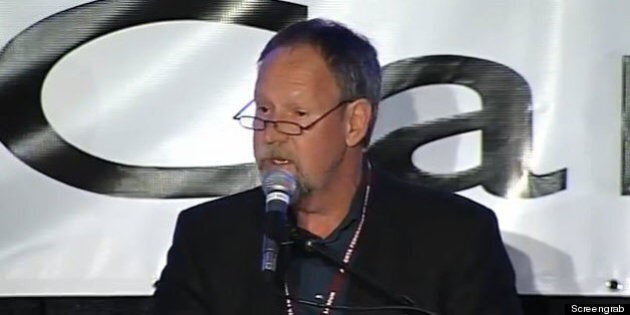 In a bold move on Alberta soil, Canadian pundit and former Progressive Conservative pollster Allan Gregg delivered a speech to the Alberta Federation of Labour in Edmonton last weekend, criticizing the "assault on reason" by the current federal government.
The former Edmontonian returned to his hometown to deliver a speech, titled "1984 in 2013: The Assault on Reason," to more than 500 trade unionists attending the annual convention.
"I came here to talk to you about a troubling trend, an assault on reason that doesn't look like much different than the one described by George Orwell in his dystopian novel 1984...," Gregg begins.
"Even more troubling, especially from the perspective of a public opinion researcher, is that Canadians seem to be, if not buying it, certainly accepting it," he continued.
Gregg rhymes off programs cut by the government in order to save money, including the long-form census.
"Why would anyone forsake these valuable insights and the chance to make good public policy, rather than bad public policy, under the pretense that rights were being violated when no one ever voiced concern? Was this a crazy one-off move … or was there something larger going on?" he asks.
Watch the full speech in the video below. Story continues after the video
Gregg encourages union members to speak out on the issue of temporary foreign workers in Alberta in the hopes of "advancing the public interest," as well as standing up for environmentalism in Alberta.
"Why not become the face of a new, pragmatic environmentalism? One that exposes the false-choice myth that we must choose between economic growth and protecting the environment."
Gregg has also called into question the use of attack ads in Canadian politics in recent weeks - specifically ads leveled at Liberal Leader Justin Trudeau by the Conservatives.
In a blog post he calls the negative advertisements, "callow...dangerous and wrong."
He advises politicians to stop treating politics like a "blood sport" and to stop "bludgeoning your opponent until they cannot stand."
Gregg is perhaps best known as a former regular on CBC's political At Issue panel on "The National." His resume, however, goes on and on.