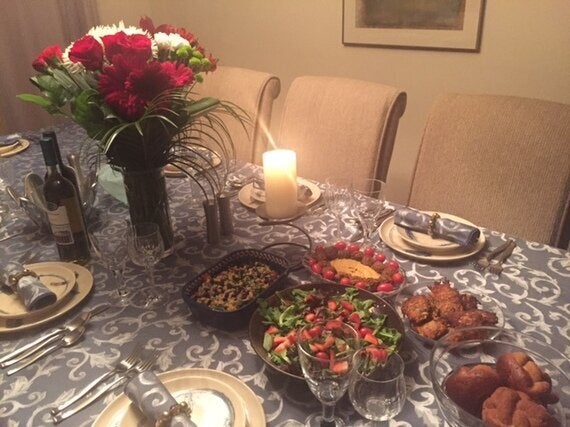 When I host for the holidays, I like to be creative and I like to make it memorable. I might buy for myself some fresh cut flowers or an arrangement that matches the theme. And when it comes to the meal, I always enjoy planning an outstanding menu. I have found over the past few years that more and more often the people I entertain have special requests around the food they do and do not eat so I try my best to accommodate them.
I have heard from some of my readers that they are frustrated and confused by the various allergies, restrictions and diets people are dealing with today. There is a veritable minefield of things to avoid when cooking for guests and I know what it's like to navigate the gluten free diet, as well cooking for vegans, and the gamut of allergies unique to each individual. I love sharing my recipes and tips to make things easy for holiday meal planning.
Let's focus on some very specific things you can do as the host for the holidays that will help you create your menu, plan with less stress and make everyone comfortably satiated with what you serve.
The first thing to do before you plan is to ask your guests what they cannot eat. Your meal will be planned around them. If it's an allergy that is life threatening, make sure you hide this ingredient during the prep and the meal. Wash your hands before starting and make sure you start with a clean counter, pots, pans and sponges. Keep reminding yourself that for one night, you can leave out whatever you must and all will be good! Nobody will miss it.
The pressure of having one large main dish is way too heavy for any host. I suggest making several small dishes and a variety of sides to choose from. If you make enough salads, soup and sides, those with diet restrictions will not go hungry. The idea is that there is something for everyone. Who doesn't like a buffet of food with a variety of flavours to tingle the palette?
Here is a Holiday Meal planner that you can use to help organize yourself. You can modify it you like, but it should give you a good start!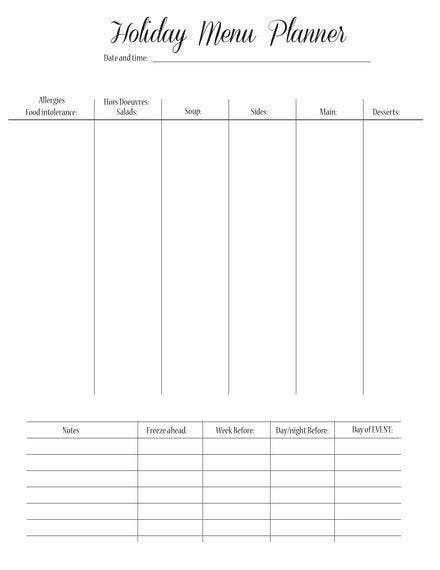 Once you know what food you cannot serve, start with the 6-steps to the meal:
1. Hors D'oeuvres: I love grazing on finger foods but I must say that I often use my salads in place of them. You can choose to make simple hors d'oeuvres like mini hot dogs, cucumber, dill and smoked salmon, basil, bocconcini and tomatoes, mini rice wraps or vegetable sushi. These are often made last minute or the day of, so choose something you are comfortable with preparing last minute.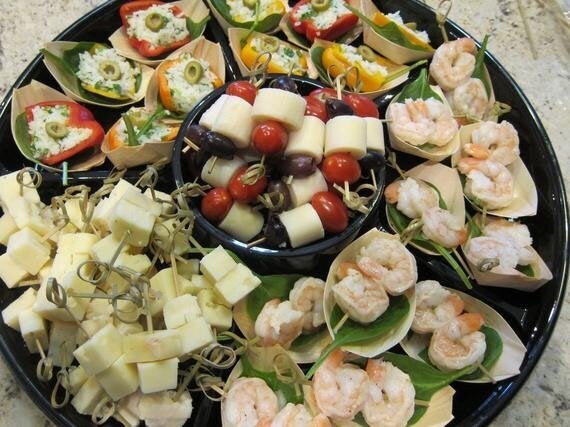 2. Salads: Variety is key. Since not every aspect of the menu will accommodate every taste or special needs, salad usually appeals to pretty much everyone. I am not talking about nice leafy green salads even though they are always nice. I am talking about substantial salads that contain beans, rice, pasta, vegetables in a variety of flavours.
To name a handful mine typically include; Mexican Bean, Lebanese Quinoa Tabouli, Asian Coleslaw, guacamole dip with tortilla chips, Greek Pasta, Fennel Apple, and Strawberry Mango Spinach.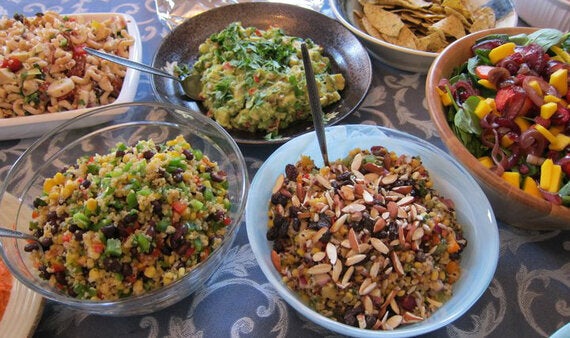 3. Soups: A must have because this will be filling and when using basic ingredients most soups are safe and friendly for everyone. If your guests love nothing else, at least they will not go hungry! Most importantly these can be MADE AHEAD! Some of my favourites; Thai Coconut, Lemony Lentil, and Roasted Vegetable.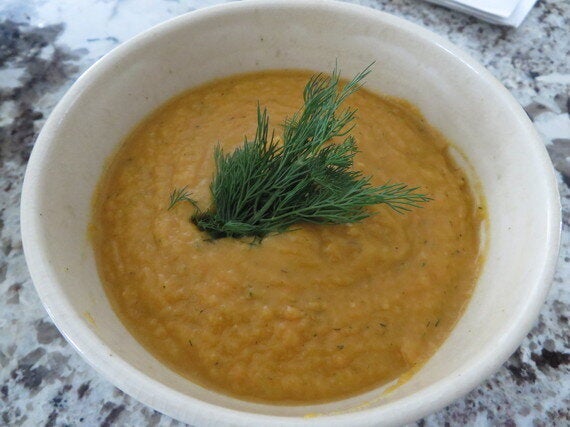 4. Mains: Depending on your guests' allergies you can choose between meats, poultry or fish or keep it all vegan. If your guests have Celiac Disease or don't eat wheat or gluten, your only challenge is to keep the spices and sauces gluten free. All meats, poultry, fish and vegetables are naturally gluten-free! If your guests are vegan, you can add vegan sides to round it out like bean lentil or quinoa burgers to go along with the variety of salads and soup.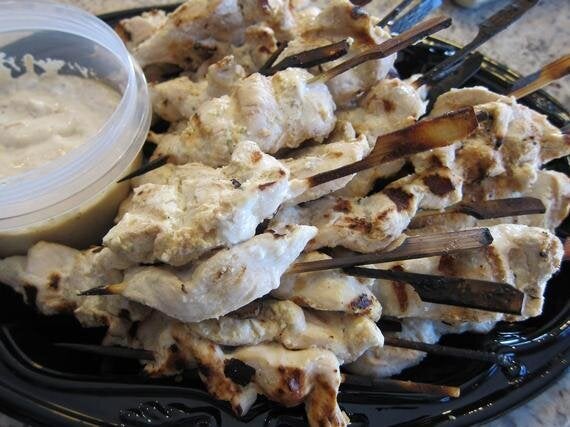 5. Sides: Rice, potatoes, pasta and vegetables are easily made gluten and allergy free. So are scalloped or mashed potatoes, mushroom risotto or roasted veggies. Replace dairy such as milk and butter with non-dairy milk (hemp, rice, coconut, etc) and margarine. Use vegetable when choosing broth.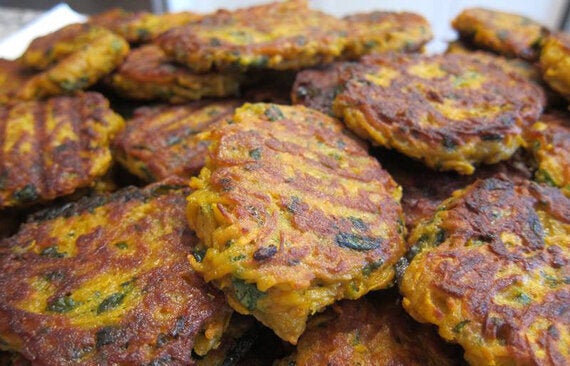 6. Dessert: If baking scares you because of cross contamination, consider keeping it simple: a fresh fruit arrangement is perfect, some vegan ice cream or sorbet and/or a quick chocolate mousse or pavlova may be simple enough to make! If you are brave to tackle a dessert from scratch, do it ahead of time so you are with less stress for the evening. Choose a dish that you can easily freeze and serve up without any fuss!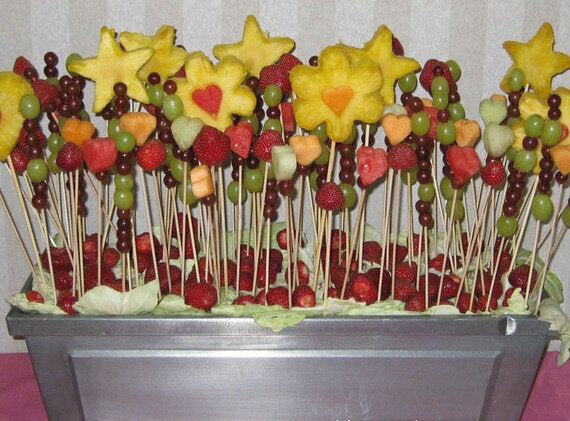 I have many of these recipes up on my website. Feel free to look them up at www.deliciouswithout.com in the recipe section. I also have a substitution list for dairy and eggs and a gluten free flour mix on there to help you.
Don't forget if you are really stumped, you can ask your guests for help! They'll be so happy knowing you care enough to make sure they are eating safely. Who better to ask than the person who is an expert in their own eating! Ask them to bring their favourite dish along. Ask them which restaurants or bakeries they choose to eat from so you can order takeout from them. You can also ask them to send you their favourite recipe so you can be sure there is something they like. Use short cuts when you can and enjoy the process!
Remember, your guests are coming to see you not to torture you.