Here's how to make a moist and flavourful, allergy-friendly banana cake with dairy-free cream cheese icing: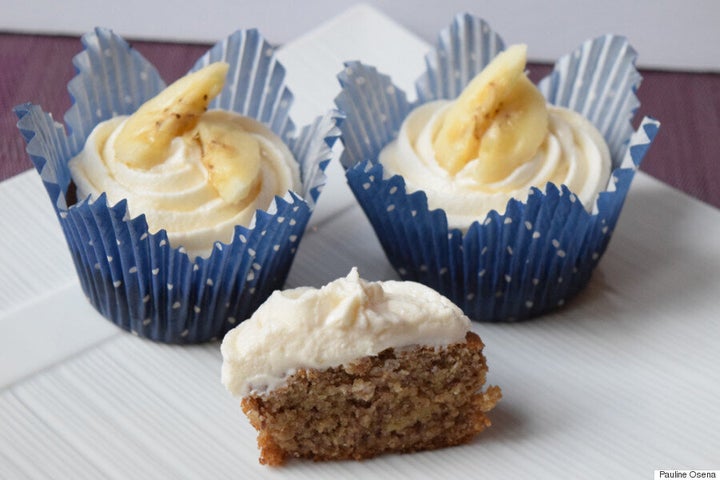 3 very ripe bananas, mashed (about 1.5 cups)
1/2 cup dairy-free milk + 1/2 tbsp. of white vinegar
1/2 cup light brown sugar, lightly packed
1/4 cup unsweetened applesauce
1 tsp. pure vanilla extract
2 cups gluten-free flour blend (I used Robin Hood Gluten-free)
1 tsp. xanthan gum (optional)
3⁄4 cups dairy-free butter
1 1/2 tbsp. dairy-free milk
1/2 tbsp. apple cider vinegar
4 cups powdered sugar (sifted)
Preheat oven to 375F.
Mash bananas with a fork in a bowl and set aside.
In large mixing bowl, add dairy-free milk and vinegar, and allow to curdle for about a minute.
Add the mashed banana, sugar, vegetable oil, applesauce and vanilla to the mixing bowl. Mix well with a spatula until sugar dissolves.
In a separate bowl, sift the remaining dry ingredients together.
Slowly stir in the dry ingredients with the banana mixture until fully mixed in.
For cupcakes (makes 18 large cupcakes):
Grease a large muffin pan, or line with baking cups.
Use an ice cream scooper to distribute the batter evenly across the muffin cups.
Bake for 20 to 25 minutes, or until a toothpick inserted through the middle of the cupcakes comes out clean.
For large cake or bundt cake:
Grease springform pan or bundt cake pan.
Pour batter into pan and distribute evenly.
Bake for 35 to 45 minutes or until a toothpick inserted through the middle of the cake comes out clean.
Cool completely on a wire rack, and then top with dairy-free cream "cheese" icing (recipe to follow).
Bring dairy-free butter to room temperature.
Beat the dairy-free butter for 1 minute in large bowl of standing mixer, until fluffy.
Add dairy-free milk, apple cider vinegar, vanilla, lemon juice and salt. Beat for an additional minute or until fully blended.
Add sifted powdered sugar slowly. Continue to beat the icing until light and fluffy.
Note: If the frosting is too thick, add in some extra milk to thin. If the frosting is too thin, add in more powdered sugar to thicken.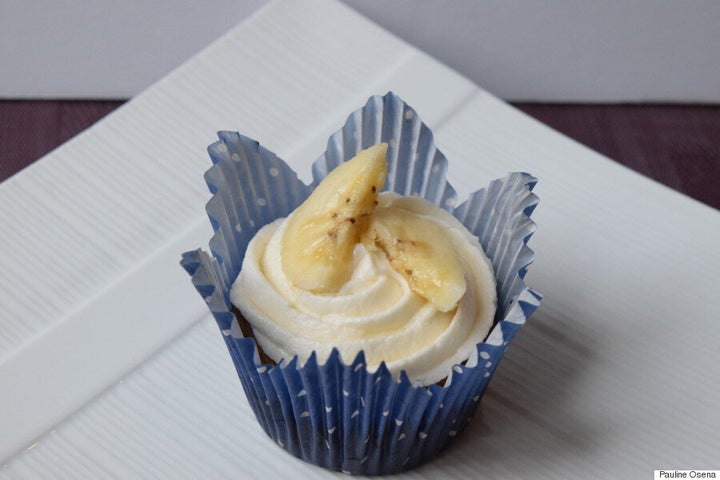 Pauline Osena is a food allergy advocate and founder of HypeFoodie.com, an online resource for allergy-friendly living. This former dairy junkie became an expert in allergy-friendly cuisine while figuring out how to feed her child with multiple food allergies. Pauline aims to inspire culinary adventures and experimentation with her series, "An Allergy-Friendly Makeover," and shares the valuable knowledge she has gained from her trials, errors and adventures in living with food allergies with "The Allergy-Friendly Top 10." Pauline's short-term goals include getting a full night's sleep and drinking her entire cup of coffee while hot.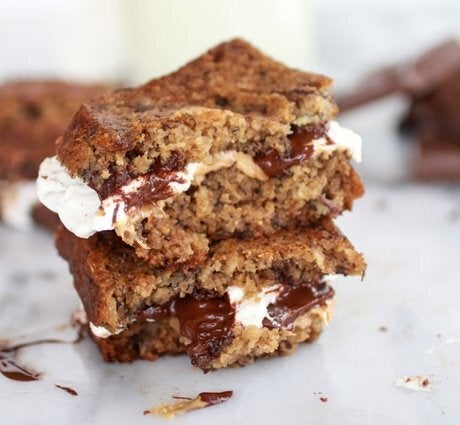 Ripe Banana Recipes