Eggnog is a rich, sweet and creamy beverage traditionally made with milk or cream and sugar, with whipped raw eggs to add a frothy texture. It is flavoured with spices like vanilla, nutmeg and sometimes cinnamon. This cold drink is typically mixed with brandy, rum or bourbon and served during the holidays.
Whether you love or hate eggnog, there's no contesting the fact that drinking eggnog is a Christmas tradition that will not wane in the near future.
People with food allergies or intolerances to dairy and egg can also be a part of this festive Christmas tradition with this dairy-free, egg-free, soy-free 'nog.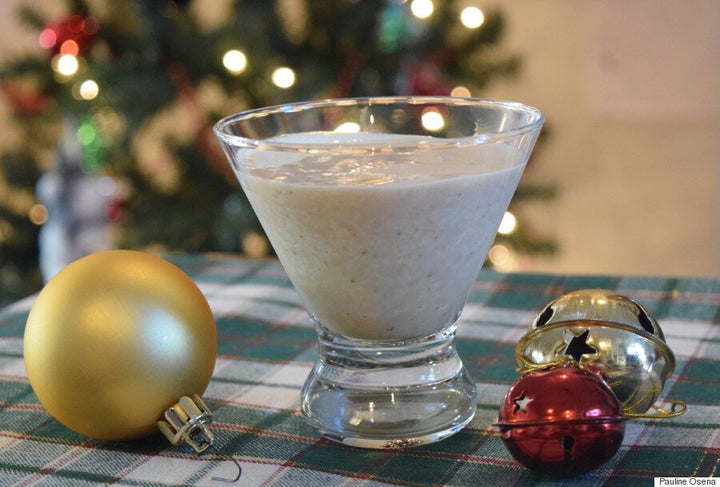 Here's how I made allergy-friendly egg-less eggnog (vegan, soy-free, gluten-free):
Delicious and authentic-tasting 'nog is thick, creamy and sweet. In order to accomplish this, traditional eggnog is thickened with whipped egg yolks and sugar, and mixed with milk and/or cream.
To replace the whipped egg yolks and sugar, I used frozen banana, maple syrup and a little bit of nutritional yeast to give it an "egg-y" flavour. I replaced the milk with full fat coconut milk from a can, although any dairy-free milk alternative will work.
To make the 'nog, I put all ingredients into a blender with some nutmeg and vanilla extract, and blended with ice until the beverage was creamy. To make an alcoholic beverage, add some rum or bourbon (or both) to your ingredients in the blender and blend all together. Serve immediately.
Allergy-friendly egg-less eggnog
1 frozen banana
2 tablespoons maple syrup (or honey)
1 teaspoon nutritional yeast
1 can full fat coconut milk (or 2 cups of dairy-free milk alternative)
¼ teaspoon grated nutmeg
½ teaspoon vanilla extract
1 ½ cups of ice cubes
½ cup of dark rum or bourbon (optional)
Freeze a peeled ripe banana in an airtight container for at least 4 hours.
Put all ingredients into a blender and blend until smooth.
Pour into glasses and serve immediately.
Pauline Osena is a food allergy advocate and founder of HypeFoodie.com, an online resource for allergy-friendly living. This former dairy junkie became an expert in allergy-friendly cuisine while figuring out how to feed her child with multiple food allergies. Pauline aims to inspire culinary adventures and experimentation with her series, "An Allergy-Friendly Makeover," and shares the valuable knowledge she has gained from her trials, errors and adventures in living with food allergies with "The Allergy-Friendly Top 10." Pauline's short-term goals include getting a full night's sleep and drinking her entire cup of coffee while hot.
Popular in the Community