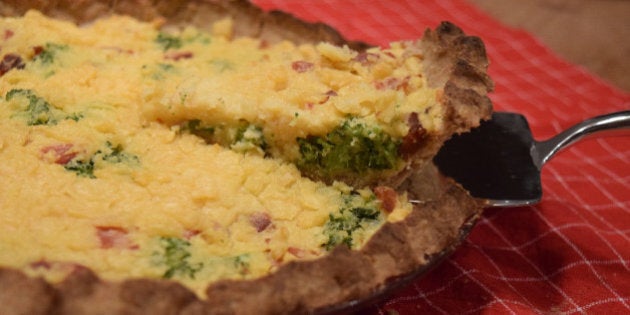 A delicious, easy-to-make quiche that is egg-free, dairy-free, gluten-free and soy-free.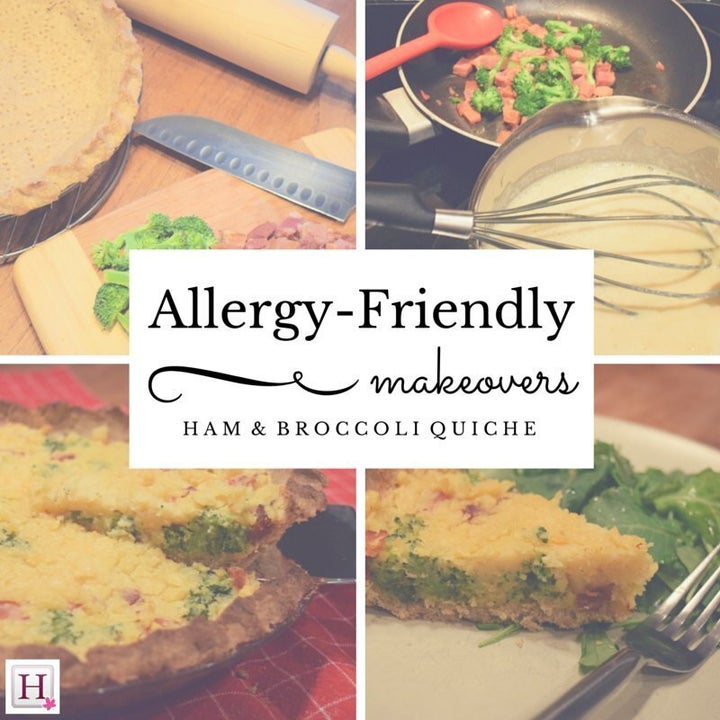 1 ¼ cups gluten-free flour blend
½ cup cubed palm shortening, well chilled
Place flour, sugar, xanthan gum and salt into a food processor and process for about 10 seconds, or until the dry ingredients are fully mixed. Add cubed shortening and pulse until combined. Add cold water and vinegar to the mixture with motor running, and process until dough comes together.
Wrap dough in plastic wrap. Chill for 30 minutes. While dough is chilling, prepare quiche filling (see instructions below).
Roll dough between two pieces of parchment paper from centre outward with steady pressure to form a circle that is 2 inches wider than a 9-inch pie plate. Carefully remove top piece of parchment paper.
Brush pie plate with oil, or spray generously with cooking spray. Invert dough on the parchment paper into the pie plate. Keep parchment paper on to press dough into pie plate, and then gently remove the paper and patch any tears.
Flute the dough by trimming the pie crust and leaving a 1-inch overhang. Fold the overhang under to create a thick rim and pinch sections of the dough to create a scalloped pattern all around the pie.
Use a fork to prick the bottom and sides of the unbaked pie dough at least 50 times. This will prevent the crust from blistering or rising. Bake crust in lower third of oven, at 425°F for 16 to 20 minutes or until edges and bottom are golden brown. Cool on wire cooling rack.
1 ½ cups chickpea flour (also called garbanzo bean flour or besan flour)
1 tbsp. nutritional yeast
1 cup of broccoli florets
1 cup of ham chopped into cubes
Optional spices: garlic powder, onion powder, basil, oregano, cumin, turmeric
Preheat oven to 375°F.
In a medium bowl, combine the chickpea flour, nutritional yeast, salt, pepper and any other spices you choose to add. Slowly whisk in the fresh water, and continue to whisk until there are no lumps. The mixture will thicken and should resemble eggs.
Heat the olive oil in a frying pan, and then sauté the broccoli and ham for about 5 minutes, until the broccoli is tender.
Mix the broccoli and ham filling into the "egg" mixture, and then pour the entire mixture into the prepared pie shell.
Bake at 375°F for about 25 minutes. Brush the top of the quiche with olive oil, and then return to the oven for an additional 5 minutes.
Serve hot or warm.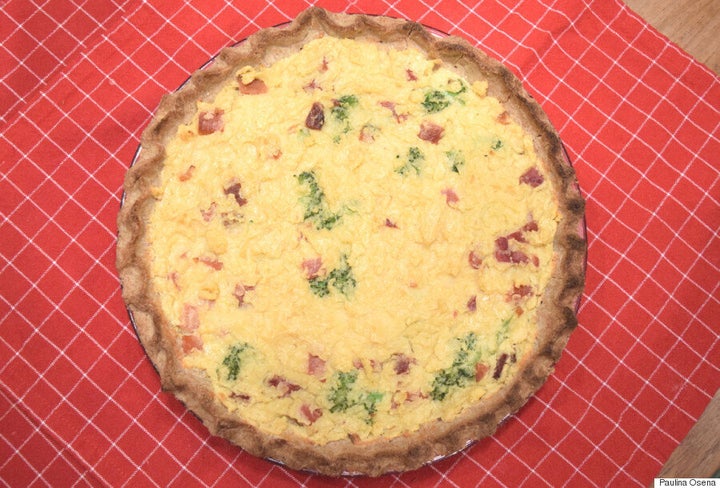 Pauline Osena is a food allergy advocate and founder of HypeFoodie.com, an online resource for allergy-friendly living. This former dairy junkie became an expert in allergy-friendly cuisine while figuring out how to feed her child with multiple food allergies. Pauline aims to inspire culinary adventures and experimentation with her series, "An Allergy-Friendly Makeover," and shares the valuable knowledge she has gained from her trials, errors and adventures in living with food allergies with "The Allergy-Friendly Top 10." Pauline's short-term goals include getting a full night's sleep and drinking her entire cup of coffee while hot.