Edmontonians were shocked to find racist posters promoting white nationalism posted around the downtown core Monday morning.
The posters proclaimed "It's Only Racist When White People Do It," and "Tired of Anti-White Propaganda? You Are Not Alone."
The posters also featured links to various websites and YouTube channels connected to the "alt-right" movement.
Jesse Lipscombe has been working to combat racism in Edmonton after he was verbally attacked for being black in August. He told the Edmonton Journal the posters highlight the need for more conversations about racial intolerance.
"It definitely has alt-right flavour...but nobody's culture needs to be wiped out and that's not happening," he said. "If you have a conversation, that's the first step toward healing anything."
Another person also posted images of defaced posters.
Similar signs were spotted near a Toronto elementary school earlier this month.
"The American election and Trump's hate speech has given legitimacy to these types of organizations. It's very frightening," she told the East York Mirror. "It's very troublesome that the Trump election has unleashed this kind of hate."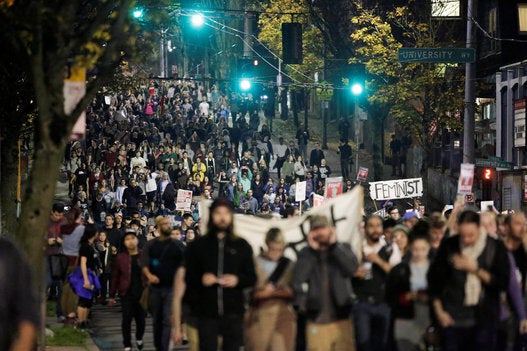 Donald Trump Protests