The small town of Alvinston, Ont., population 2,500, has more than lived up to its slogan this week: A Sweet Place To Bee.
The pun is because the southwestern Ontario town is a bastion of honey farmers, but sweetness seems to flow outside of the apiaries, too, as the local little league baseball club, the Alvinston Indians, announced they want to change their name and mascot from one they unfortunately share with Cleveland.
"They want to be respectful, they don't want to hurt anyone's feelings."
"They want to be respectful, they don't want to hurt anyone's feelings. So when they heard that our team name and our team logo was disrespectful to indigenous community, I think kids get that. They understand that and see this as a positive," explains Dan Cumming, a board member of the Alvinston Minor Ball Association who coaches two teams of tweens and has two boys of his own who are in the 220-player league.
"I think the kids are all actually quite excited about it and looking forward to new possibilities to have a new team name," he adds.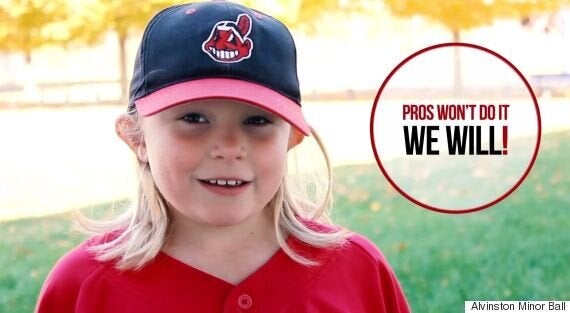 A screenshot from the Rename our Alvinston Indians video
Cumming, who himself played for the team back when he was a kid, said that nobody thought much of it back then. Local "old-timers" recall it going back 60 years in the community. An older men's league had adopted the Indians name, as well as the Chief Wahoo logo, and the little league followed suit later.
The organization started having informal discussions "from time to time" and started discussing the issue with other coaches in the league. But the increasing media coverage when Cleveland went up against the Toronto Blue Jays gave them a final push to start taking action.
They started a GoFundMe page, Rename Our Indians, to raise the $29,000 they estimate they'll need to re-outfit the team with the to-be-determined new name and mascot.
What makes this a particularly personal issue for Alvinston minor league ball is that "there are indigenous people who live in our community, and play on our teams," Cumming says, adding that there are also First Nations communities nearby that they play baseball in.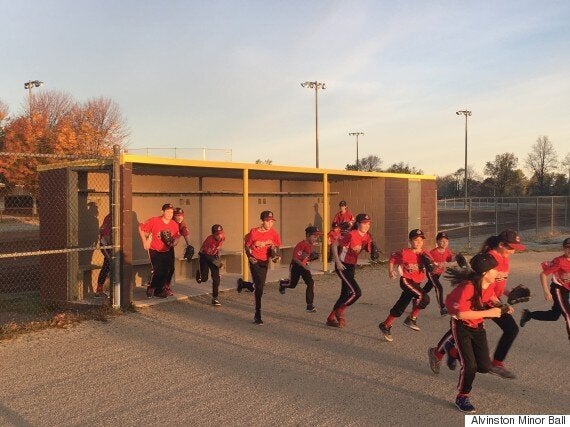 The Alvinston minor team gets ready to play ball
A few years back, Ottawa area musician, activist and father Ian Campeau, of A Tribe Called Red, filed a human rights complaint to get the Nepean Redskins youth football club to change their name. They eventually did, switching to the Nepean Eagles, but not before Campeau faced a furious backlash from newspaper columnists and talk radio, and even received online death threats.
But times are apparently a-changing as the Alvinston team has experienced very little of that.
"To be honest, the response has been overwhelmingly positive," says Cumming. "It is a hot topic, and we knew to expect a few people who would think political correctness has gone too far, right? That sort of thing. But they are the minority by a long shot."
While most of the focus of the indigenous sports names and mascots controversy has been on professional teams in Cleveland, Washington, Atlanta, Chicago and Edmonton — and the #NotYourMascot and #ChangeTheMascot social media campaigns that catch fire whenever these teams reach the playoffs — the issue is much more vast when you include youth leagues and school teams.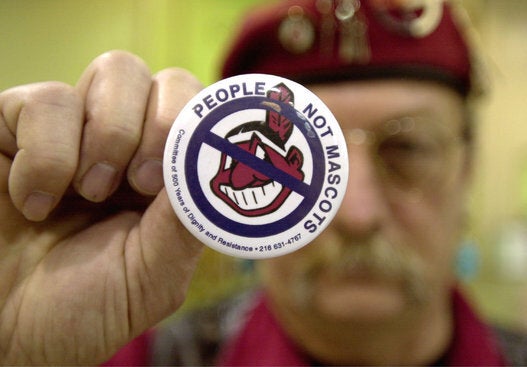 Indigenous Team Name Protests
However, after peaking at well over 3,000 across North America, the number of teams with indigenous names and mascots had fallen two-thirds by 2013 and there are now fewer than 1,000 remaining.
This has particularly picked up steam since 2005, when the American Psychological Association called for "the immediate retirement of all American Indian mascots, symbols, images and personalities by schools, colleges, universities, athletic teams and organizations... Research has shown that [it] has a negative effect on not only American Indian students but all students."
There is still a ways to go, however, and currently in Mississauga, Ont. there's a human rights complaint that has been filed over the city's sponsorship of five minor league hockey clubs by Brad Gallant. The local Qalipu Mi'kmaq hockey dad told the CBC, "I've witnessed parents do the tomahawk chop during games. I also heard a less than gracious parent spout anti-Native bile."
"Research has shown it has a negative effect on not only [indigenous] students but all students." - American Psychological Association
Gallant initially asked for municipal subsidies to "racially insensitive" teams, including the Mississauga Chiefs and the Mississauga Braves, to be cut but the city refused and told him to speak to the teams directly, prompting his official complaint to the Human Rights Tribunal of Ontario in April, 2015. Two of the teams have since changed their names voluntarily with the Lorne Parke Ojibwa becoming the Lorne Park Clarkson Wild and the Meadowvale Mohawks becoming the Hawks.
While tradition is a big obstacle when it comes to change, the other is simply the cost to schools and local leagues that are already operating on bare-bones budgets. One way that the government might help, be it municipal, provincial or federal, would be to put together a fund to help with costs.
After all, Justice Murray Sinclair of the Truth and Reconciliation Commission specifically called for an end to using offensive indigenous names and mascots in Canadian sports.
"It's only indigenous peoples' symbols that are being utilized by sports teams. I don't think there is any cultural group that is subject to that anymore. People need to re-examine their behaviour — all aspects of their behaviour — the way they are doing business," Sinclair told the Canadian Press in 2015.
"It boils it back down to the real issue -- [whether] they want to cling to that more pejorative expression or not."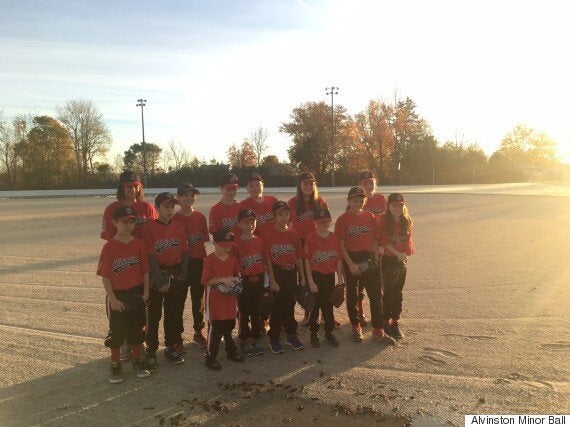 Alvinston minor league team poses with their old uniforms
When Alvinston decided to make the change they had no choice but to use crowdfunding. They've already raised almost $16,000 from over 200 people in five days.
"Would I welcome money from the government? Absolutely," says Cumming. "It would be great, and I don't suppose any other community would be opposed to that either."
"We'd like to reach our fundraising goal sometime over the winter, decide on a new team name, design a new logo, and have our uniforms ready to go play ball in the spring," he says.
Top contenders are the Aces, the name of the men's team before they switched to the Indians, or the Buzz because, as mentioned, it's a honey town.
And as Cleveland heads into game seven of the World Series against the Chicago Cubs, Cumming hopes that the major league team might use the off-season to reconsider their stance.
"We as an organization hoped that they would take the lead on that at the professional level," he says. "But the way it worked out we decided that if they won't take the lead, we will.
"But I would say to them, join us. It feels really good to make this decision, and to see all the support that came to us. Cleveland certainly have a lot more resources than Alvinston minor ball, I can tell you that for sure.
"I encouraged them to visit our Go Fund Me page and make a donation while they're at it."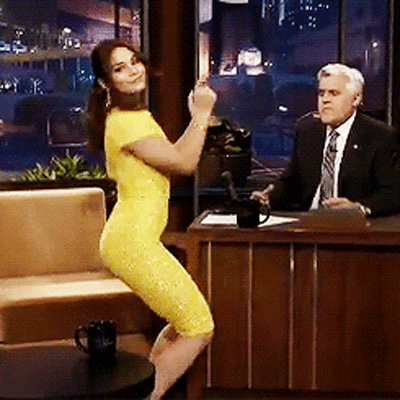 The Year In Cultural Appropriation