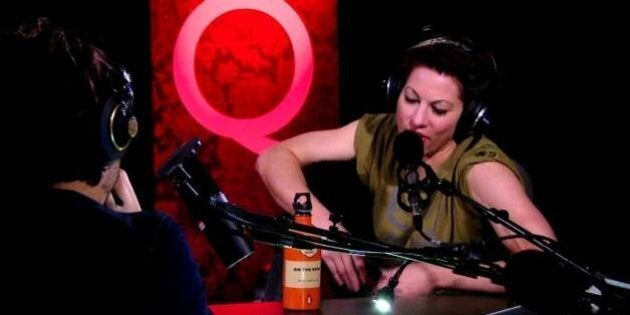 UPDATE II: Amanda Palmer has officially cancelled Gian Ghomeshi's planned appearance. Read full story here.
While Lights and Owen Pallett were on polar opposites of the spectrum with their opinions this week regarding Jian Ghomeshi, Amanda Palmer said she won't alter her plans during a Toronto stop next month as part of a book tour, a stop which still lists the former Q host as a guest for the evening.
And yes, the book is really called The Art of Asking.
UPDATE: While Palmer has not announced whether she plans to un-invite Ghomeshi as the special guest at her Toronto show, she has further addressed the issue via twitter following considerable pressure from fans on social media.
When news broke regarding Ghomeshi, Palmer -- as reported by Stereogum -- took to her Facebook page to post Ghomeshi's Oct. 26 statement denying the accusations while also including the following statement: "Jian Ghomeshi fired from CBC radio after 14 years of Q....writes directly about it on his facebook. (edit; for those asking, yes, of course he will still be guesting at the toronto show)."
The show, slated for Lee's Palace on Nov. 25, is part of a tour behind Palmer's new book. According to her site the Art of Asking show, a 19+ seated event states Ghomeshi will be the "special guest."
Later in the same Facebook post, Palmer added a link to a Q interview Ghomeshi conducted in early 2013 with Cissy Houston, mother of the late Whitney Houston while adding that "listening to jian interview her was like watching a ninja interview MASTER. i remember stopping in the driveway and being like...yeah."
The musician also said in another reply that "what happens behind closed doors is never knowable."
"honestly, like the rest of the nights/guests on the tour, we're going to talk about whatever we feel like," she wrote. "It looks like Jian is having a pretty rough month any way you slice it. maybe we can talk about how hard it is to live in public, regardless of whether people think you're a hero or a villain. or maybe we'll just talk about our favorite eighties band. I'm looking forward to the tour a lot for this reason. there are. no. plans."
News of Palmer's stance was met with different reactions on Twitter including several who strongly disagreed with her. Some of those reactions include:
In 2009, Palmer referred to the issue of rape while responding in a lengthy blog post entitled "on Abortion, Rape, Art and Humor" to her song "Oasis," a song Palmer made a video for but one which British outlets refused to air "due to it 'making light of rape, religion and abortion.'"
Palmer, who said she wrote the "tongue-in-cheek, ironic up-tempo pop song" in 2002, elaborated on her own personal experiences.
"I could try to win points by talking about how i've been date raped (i have been, when i was 20) or how I have every right to joke about this if i want to because i've had an abortion myself (i have, when i was 17), but i actually DON'T believe those experiences should lend me any credibility, any more so than i believe the director of 'life is beautiful' had to have been an auschwitz victim in order to direct the film," she wrote. "i'm sure there's a part of me (it seems obvious) that was processing my pain, coming to terms with my experiences through the song. that's what i do. i'm a songwriter who writes about personal shit. but because i chose to do it in a black-humor way, with my tongue shoved firmly in the side of my cheek....does that make it less valid?"
Regardless of Palmer's wishes for Ghomeshi to appear, the embattled former CBC host has made no public comment since his original Oct. 26 Facebook post.
Popular in the Community