Happy birthday baby girl!!! No words can describe how I feel as I sit here and write these words to you on what is and should have been your 17th birthday or what would have been your 17th birthday. You would have by now been learning to drive, have been one year closer to the graduation you always dreamed of. Remember how you would look at dresses all the time and talk about which ones you would get for "prom." You have missed many landmarks in life that you were looking so forward to.
I continue to ask myself WHY? I have no answers and only you hold them my lovely princess. So sadly, I will never know. I see all the people whose hearts and souls you have touched in the past 13 months. Your message has reached so many people. And it has gone far across Canada and beyond the international waters. I have received many emails and messages from young people and parents saying how your words have saved their children. I met a mom in person last night who told me the same thing. You have somehow inspired hope into others. That is the most wonderful gift possible. You couldn't be an organ donor but you surely have given a piece of yourself in other ways. For that, I am proud to be your mom.
Despite what still appears on social media about you, no one knew you like those who were the closest to you and supported you through your ups and down, your childhood events and activities. It's words like this that bring back all the good memories that we all have as the words describe you exactly as you were.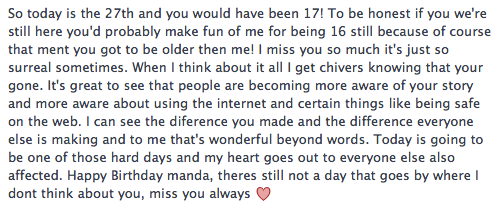 People have asked how I can talk about you as I do. I have to say that Amanda, you have given me strength and also hope for others. You couldn't stand up to what you went through with the cyberthreats and the real threats. I saw you go from a strong young woman to one that had given up hope.
As a young child, you would always argue your points (not always logically) but then as a teen, you became silent. You once told me when we were driving that it was pointless to talk and report anymore because no one was listening anyways. I wish I could have foreseen your future. We never know what it holds. I would have held you tighter and made sure our voices were heard more.
In the past few days, I have spoken to so many moms and even dads who have lost their kids. Many have upcoming birthdays. And then all of us are sad knowing that Christmas is coming and our kids won't be there to rip open Christmas presents, eat the turkey and pull on the wishbone as you liked to do. I sit here and smile as I remember that you would think so hard about making the right wish. Sometimes it would take days.
Your friends miss you as much as I do. I went to your bench yesterday and saw snowflakes tied there, even a purple one. Someone had put a snowflake on Bailey's bench too and I took a picture and sent it to his mom. Bailey's mom told me that when she goes for a walk at the pond, she often sees people sitting on your bench. Tonight, your snowflakes from heaven are falling peacefully in eastern Canada. And everytime someone hears the story about the meaning of a snowflake, it becomes a personal story for them.
It is not snowing here in Vancouver but it did in other parts of Canada. The christmas lights will be turned on for you in our neighbourhood. I saw one household putting them up in the dark last night and there are many houses across the world with snowflakes and purple lights shining brightly for you.
Today comes with a heavy and sad heart, and it will be one filled with many emotions. You were born on November 27, 1996 at 1 p.m. and I will always always remember that day because you came out like a firecracker. You fizzled at your weakest moment but then your memory turned into something that is trying to make RIGHT out of what has been WRONG!!
I can't say enough times how I wish you were so I could hold you again, hug you again, even argue with you again. One thing that I have learned is what the book title says 'HOLD ONTO YOUR KIDS'. Be safe in heaven and look after everyone like you always did here at home.
Love always to you Amanda, my Princess Snowflake -- LOVE from your mom, your dad, your brother and all your friends that truly cared FOREVER AND EVER xoxo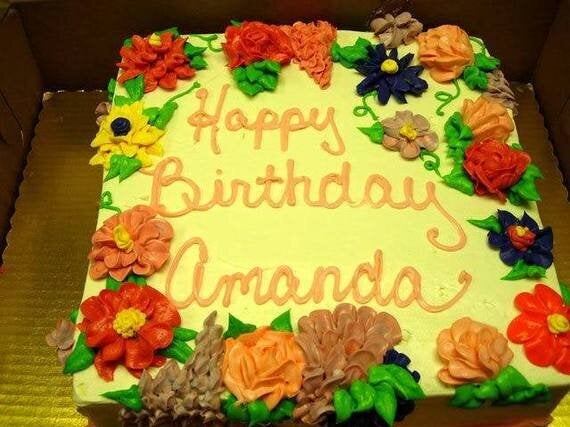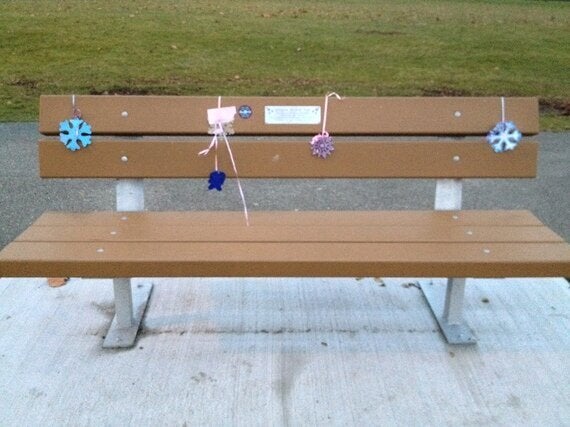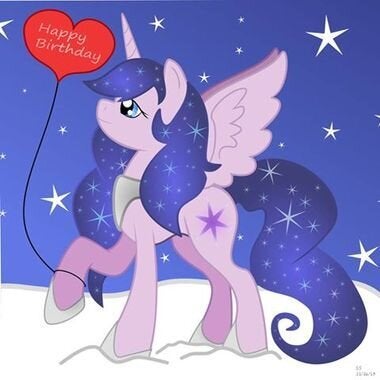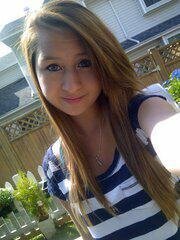 Amanda Todd
Popular in the Community