A Vancouver-area teen who used YouTube to share her heart-wrenching story of being bullied online and beaten at school has killed herself, unleashing a torrent of social media condolences and soul-searching.
Amanda Todd was found dead in Coquitlam on Wednesday night, less than a month before her 16th birthday.
News of her torment and death are being shared on social media through Tumblr, Facebook and Twitter, where #RIPAmanda is trending.
"I'm saddened to see that this was the only [way] this young girl could escape such torment. May she rest in peace," posted one woman on Facebook.
Last month, Todd posted a nine-minute video on Youtube featuring her holding up cue cards that chronicled the cyber-bullying and cruelty she suffered, despite changing schools and cities.
In the video, the teen reveals she started doing webcam chats with her friends to meet new people when she was in Grade 7. One day, she agreed to flash someone on a whim.
A year later, a male contacted her on Facebook threatening to circulate an explicit photo if she didn't "put on a show." Todd says the male knew her address, school and names of her family and friends. A few months later, police arrived to tell her that the explicit photo was sent to "everyone."
Story continues after slideshow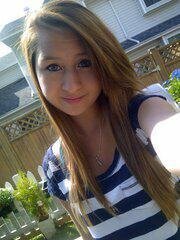 Amanda Todd
That sent Todd into panic attacks, anxiety and depression. She changed schools and experimented with drugs and alcohol.
One year later, she says the male created a Facebook page and featured the explicit photo of her. "Cried every night, lost all my friends and respect," reads one index card Todd holds in the video. She says she started cutting herself.
Todd moved schools again and things were improving – until she began texting with a former male friend. Their relationship culminates in a schoolyard fight where Todd is punched several times by the boy's girlfriend.
Todd reveals she tried to kill herself by drinking bleach and overdosing on anti-depressants after the torment continued on Facebook despite her changing schools and cities again.
The description that Todd posted with her YouTube video is haunting:
I'm struggling to stay in this world, because everything just touches me so deeply. I'm not doing this for attention. I'm doing this to be an inspiration and to show that I can be strong. I did things to myself to make pain go away, because I'd rather hurt myself then someone else. Haters are haters but please don't hate, although im sure I'll get them. I hope I can show you guys that everyone has a story, and everyones future will be bright one day, you just gotta pull through. I'm still here aren't I?
Coquitlam RCMP said they were called to a Port Coquitlam home on Wednesday evening for the "sudden death of a teenager." The death is not considered suspicious, said police, adding that the family does not want to speak publicly.
B.C. Premier Christy Clark posted a short YouTube video in response to Todd's death on Thursday, stating that no one deserves to be bullied, and all kids should feel safe in school.

Amanda Todd Remembered
"I'm sorry I didn't see the signs before it happened. I'm sorry no one was there for you, or protected you from the vicious world that hurt you so much, it drove you to take your own life. I want you to know, that even though I didn't know you well, you're in my heart. You will always be that girl I could relate to, who was the new girl with me. -- Chloe posted on Tumblr