A video warning about the dangers of sending private photographs to others is eerily similar to the last video posted by Amanda Todd, the Canadian teen whose story ignited a worldwide bullying debate.
In the public service announcement from B.C. group Children of the Street Society (watch above), a young girl sits on her bed showing a series of placards. As we read the cards, we find out that she sent a photo online to someone she trusted, only to have the image shared thousands of times.
At the end, a message reads, "There's no such thing as 'just one photo.' Protect yourself from sexual exploitation. Be safe online."
We're guessing it's not an accident that the story and video mirror those of 15-year-old Todd, who took her life in her B.C. home last October after relentless bullying both at school and online.
In a video posted the month before her death, Todd also held a series of cards and shared how she had flashed someone in an online chat. That person took screenshots and threatened Todd, saying he'd circulate the photos if she didn't "put on a show."
Later, the man created a Facebook page featuring explicit photos of Todd. The B.C. teen experienced panic attacks, anxiety, and depression before later committing suicide.
The PSA is meant to show that "just one photo" is never just one photo when it gets passed around the Internet thousands of times.
Stephanie Owen, program manager at Children of the Street Society, said that perhaps the PSA was inspired by Todd's story, "But we know that this has been happening long before this tragedy."
The organization has been working against the sexual exploitation of children since the '90s, but Owen said they've since seen the issues move from the street to online.
"There's a piece missing where we forget to educate our kids about strangers on the Internet," said Todd last week.
She said her daughter sought friendships online, but that once she was betrayed by a contact, there was little action available. "Once it's out there, it leaves a digital footprint and you can never get it off," she said.
The difference, according to a recent Slate article, is what happens to these images. Young men are almost twice as likely to distribute private photos from other people and much more likely to receive second-hand sexts.
Owen says that Children of the Street Society recognizes both girls and boys can fall victim to online sexual exploitation, and they also work with young men to stop the spread of images.
"We talk to young boys about not perpetuating sexual exploitation. We build empathy and social responsibility among young students," Owen told The Huffington Post Canada on Tuesday.
Owen hopes that what young people take away from the PSA is that one mistake, one photo, opens them to continued exploitation: "We want young people to think about the permanency of what they're putting out there, that you can't get it back when it's out there."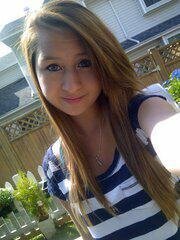 Amanda Todd