Things got dirty on this week's episode of the Amazing Race Canada and that doesn't even include the sneaky tactics teams have resorted to get a leg up on the competition.
Episode three broke free from the monotony of Vancouver for a diverse look at Alberta, spanning the cities of Calgary, the province's Badlands and even squeezing a look at the famous Hoodoos. Sure, things may have been saturated with long pans or rolling skies, mud-brown hills and stretches of asphalt-grey highways but beneath a muted palette, the show managed to showcase Alberta's vibrant side.
Whether it was line dancing at Ranchman's Cookhouse, gazing at fossils at the Royal Tyrrell Museum or getting a coal-miner's workout at the Atlas Coal Line, the Amazing Race managed to show off a side of the province that's more than oilsands or cattle and cowboys.
If you missed out on this week's drama, head over to Huffington Post Canada TV for a full recap. For a look at where contestants have been so far in the race, check out the gallery below.
The Amazing Race Canada 2013 Destinations. Slideshow text follows for mobile readers.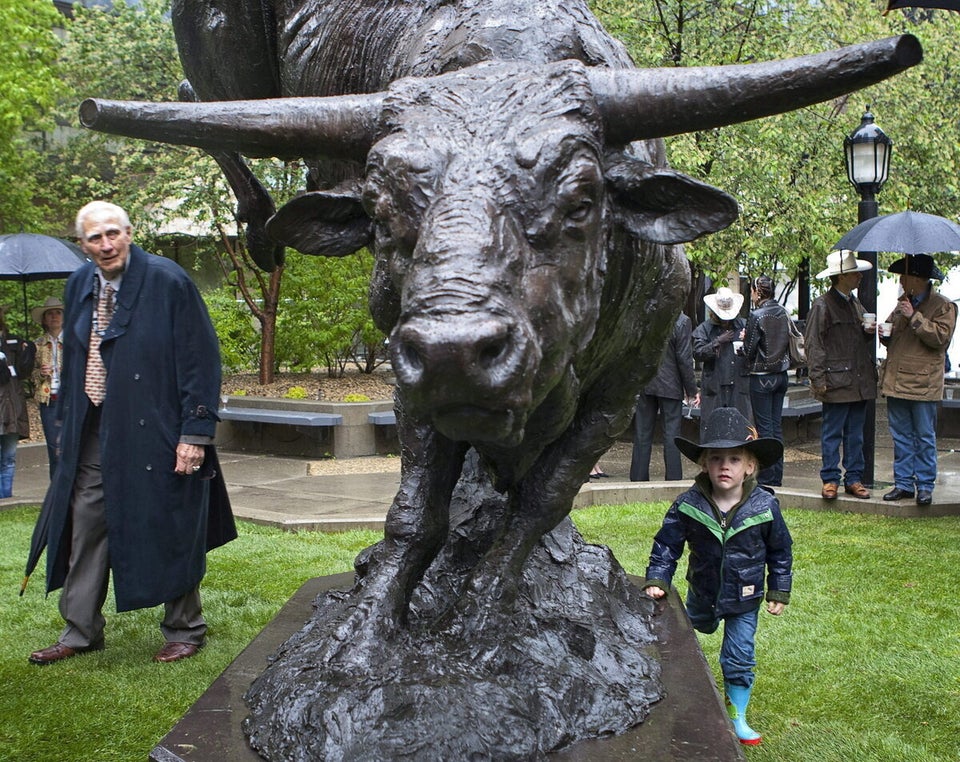 The Amazing Race Canada 2013 Destinations
Like Vancouver's Millennium Gate, one of the episode's first stops involved the statue of Outlaw. If you've ever wondered why there's a bronze statue of a bull in downtown Calgary, it pays homage to the city's ties to "western heritage and the entrepreneurialism, grit and determination symbolic of the capital markets," according to the CBC. The $450,000 sculpture is fashioned after an actual bull named Outlaw who bucked 71 riders during the 2004 Calgary Stampede before letting one rider hop on.
If you've watched this week's episode, you'll recognize this place as the spot that nearly cost married doctors Brett Burstein and Holly Agostino the race. Located near Drumheller, Alberta, over a third of the museum's 11,200 square meters is devoted to exhibits. The museum is widely renowned for its Dinosaur Hall with over 40 mounted dinosaur skeletons but is also home to a "Cretaceous Garden" filled with over 600 living species of plants and a to-scale replica of a 375-million-year-old reef.
Viewers know it as the spot that teams struggled to complete the line-dance roadblock, but Ranchman's Cookhouse pegs itself as "Calgary's most iconic western bar". When it's not serving up ribs, chicken wings or steak, Ranchman's Cookhouse is also a museum of rodeo memorabilia and photographs. Then there are the restaurant's dance lessons which range from beginner toWest Coast Swing. Come for the 30 cent wings, stay for the lessons in beginner's double shuffle.
Another one of Drumheller, Alberta's attractions, the Atlas Coal Line is a national historic site designated to protect the last of Drumheller's mines. Regarded as one of Canada's major coal producing regions, these mines were responsible for 56,864,808 tons of coal responsible for keeping Canadians warm until the mid 1960's.
Next week has teams heading to the Great White North. Where would you like to see them go? Let us know in the comment section below or on Twitter at @HPCaTravel
Popular in the Community