Just call it The Amazing Race Canada: Fievel Goes West -- or perhaps, How The Amazing Race Canada Got Its Groove Back.
After last week's lacklustre sophomore episode, the reality freshman reclaimed its mojo this week in Calgary. Leaving the "Birthplace of Greenpeace" (Vancouver) behind, the teams finally encountered challenging Roadblocks, excessive "strategery," stress and do-si-dos "where Jon (Montgomery) now proudly calls home" (Calgary).
The foreshadowing was strong in this episode; Brett and Holly, married pediatricians with "integrity," kicked off the leg by proclaiming they were not a physical team, and that "Strategy is the only thing they have on them (the other racers.)" The doctor duo would later fall from first to sixth, as a result of various missteps throughout the race, both literally and figuratively.
The Montreal-based pair saw their plan through by using a 20-minute first place head start to hide all of the Calgary maps at the YVR convenience store. Classy. Of course, Jody and Cory quickly spotted this attempted trickery, and called them "sneaky pricks." Type-A free spirits Kristen and Darren realized something was amiss after making a frontrunner-to-frontrunner Express Pass deal with the doctors in the first episode, and opted to give their second Express Pass to the clueless sisters, Vanessa and Celina, instead.
"[Brett and Holly are] going to be pissed, but whatever," said Kristen. "They're a competitive team, and [we] don't feel the sisters are as much of a threat to us." And boy, are they right. Vanessa and Celina are directionally-challenged, easily flustered, but truly fun to watch. In spite of their frequent fumbles, the two genuinely support each other, and seem to have a golden horseshoe in the race, firmly cementing themselves in the middle of the pack.
Upon landing in Calgary, the teams drove to Ranchman's Cookhouse for the series' best and most-contentious Roadblock yet -- line dancing! Soon, in spite of a one-hour advantage for Hal and Joanne, Jody and Cory, Brett and Holly, Darren and Kristen and Vanessa and Celina, the remaining pairs showed up to the challenge, which looked incredibly intricate and precise. Finally, we see an actual bottleneck in the race due to a competitive task, not travel-related or transit-specific scheduling.
These non-commuting catch-up opportunities are integral to building the drama, and necessary jockeying for position in The Amazing Race, and help develop its highly competitive, engrossing storyline. In The Amazing Race 7, reality all-stars Rob Mariano and Amber Brkich memorably began a Roadblock, then, upon realizing the Robfather could not stomach four pounds of Argentinian meat, opted to take a four-hour penalty for not completing the task. Soon, other teams followed suit, and the then-engaged pair used this logjam to their advantage. It made for great TV, because by having each team on similar timelines, it added more variables to the race, creating more unpredictable and engaging conflict.
Clad in plaid, it took Joanne three attempts to complete the task, and her opponents -- save for Dave and Celina -- even longer. "We had done line dancing for BodyBreak many years ago, and it was simple compared to this!" said Joanne near the start of the Roadblock. Adorable. As an aside, does anybody know why Vanessa was wearing a silk slip, and not her country best, while participating in the roadblock? I digress..
Meanwhile, it doesn't take long for Kristen and Brett to confront each other about their lapsed Express Pass deal. As Kristen explains her team's decision, Brett opted to, instead, talk about how he and Holly are pediatricians, who work with families, and would never back out of a deal. Right. Soon after, Kristen said she "Wanted to punch him in the face!" How's that for brewing tension?
Next -- the teams head to the Hoodoos in Drumheller, AB, where they're faced with a Detour. For the second week in a row, the Detour is a choice between a memory-based or physical task, although this time, the physical task is much simpler. In "Lump by Lump," teams had to head to the Atlas Coal Mine Museum, ride a caboose named Linda, and fill a two-tonne rail car with coal, while in "Bone by Bone," the duos had to assemble a 46-piece dinosaur skeleton by memory at the Royal Tyrrell Museum. Yikes. After all, according to Darren, the latter was "Just shovelling coal!"
Naturally, every team except the hubris-battling doctors opted for "Lump by Lump," then proceeded to the Pit Stop at Horse Thief Canyon for this non-elimination leg of the race . Next week, as the teams head to the Northwest Territories and the Yukon, last-place finishers Tim Sr. and Tim Jr. will have to perform a Speed Bump as a time-related penalty -- and I can't wait to see what's next.
Until next week, here are the five best watercooler moments of the episode, in no particular order, in the form of a hashtag.
In case you needed another reason to love Team BodyBreak, did you notice their charming love story play out on-screen this episode? Swoon. At the start of the episode, Joanne said "Hal has been my rock for 25 years." Later, he cheered his wife on in the Roadblock, complimenting her line dancing form, and telling her, upon completion, "Jo, you looked fantastic, you really looked good. You did a wonderful job." Joanne responded with a smile, and welled up while driving. The pair, who finished in first this leg, won a free trip for two to "anywhere Air Canada flies in the U.S." -- and will certainly put it to good use. After all, in the words of Jon Montgomery, they went from "Third, to second, to Gold."
Is there any better reality show competition than one that involves a bad dancing montage? Doubtful. We saw each Roadblock competitor struggle with the challenge, and remain in relatively good spirits despite their frustration -- with the exception of Holly, who completed the task on her ninth try.
3. #StrategeryNotStrategy
Oh, Brett and Holly. Your performance as a team this week made it very hard to root for you. You deliberately tried to deceive the other racers, while boasting about your "honour." Then, you got frustrated at each misstep, however small or large, and were noticeably flustered upon counting the cars at the Roadblock, and realizing two teams had advanced past your position. The race is certainly stressful, but Brett, talking about how your wife is not good at failing (while participating in a difficult Roadblock), is hardly helpful to her, or the team's performance. You fell from first to sixth in the race, largely due to your mutual inflexibility. For the next leg, just keep calm and race on.
4. #AndersonCooperCameo / #SassyChallengeRefs
Was that a Stetson-clad Anderson Cooper officiating the Roadblock? A girl can dream. One of the contestants pointed out the challenge judge's likeness -- and cocked eyebrow -- to the onetime host of The Mole, and it's one of those things you just can't unsee. But, the faux-Vanderbilt was not the only sassy challenge referee in this leg of the race. An honourable mention has to go out to the "Lump by Lump" Detour judge, who continuously told Jet and Dave, Vanessa and Celina and Jody and Cory that, "I'm sorry, this car is not ready for haul." So good. Plus, Holly and Brett's "Bone by Bone" Detour judge also told them, "No, you do not have a correctly-articulated dinosaur." Hilarious.
Welcome to the game, Jet and Dave! The best buds (and jacked "bros") did not make much of an impression in the first two episodes, but in this leg, we not only learned that Dave was a champion cheerleader with impressive quick feet, but that the duo is capable of some great one-liners.
After reading the clue about chucking coal: "My role is chucking girls!"
"What does 'exterior' mean in Alberta?" "Dude, it's right here! Oh my God!"
"The Amazing Race Canada" airs every Monday night at 9 p.m. ET on CTV.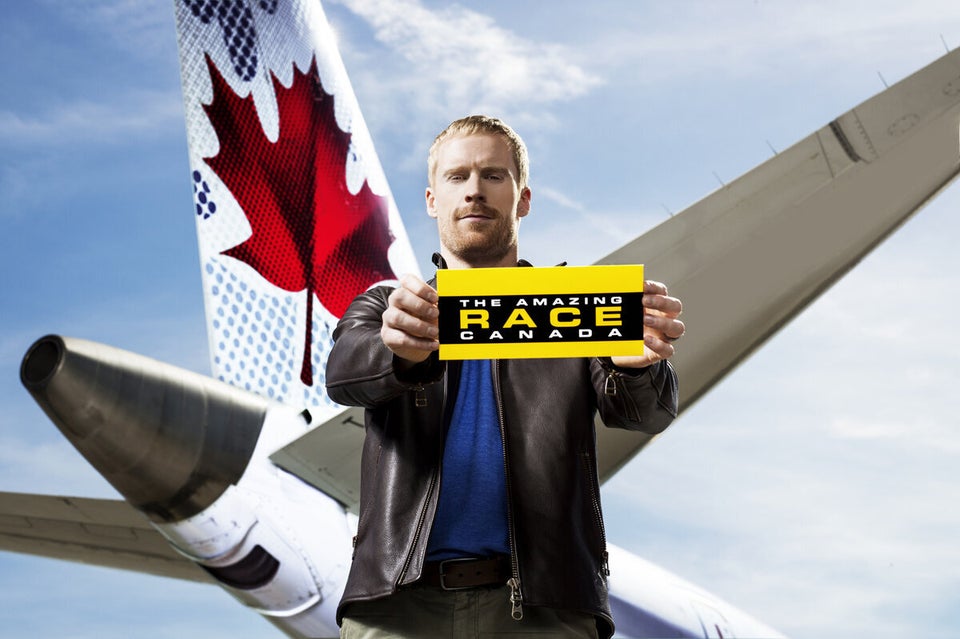 'Amazing Race Canada' Teams
Popular in the Community