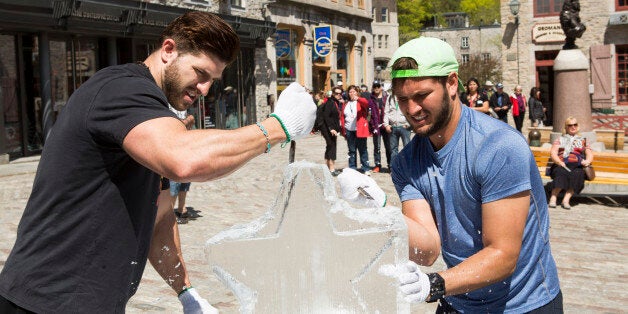 Note: Contains spoilers. Do not read on if you haven't seen Episode 6 of Amazing Race Canada
"We want to be champignons [mushrooms] at the end of the race," said Dave, upon leaving picturesque Regina. "Champignons!"
Make no spores about it, but if they can conquer a 13-and-a-half hour race equalizer with the other teams, a language barrier, the kitchen, and still manage to win their third consecutive leg, the best buds must be doing something right. Also, can we put in a formal petition for an official spinoff of The Amazing Race Canada, called Jet and Dave: Eurotrip? It's already sponsored by Air Canada as the prize for the Quebec City first-place finish. We're just saying.
The dynamic bromantic duo were first to leave Regina and head to Quebec City, which Jon Montgomery called the "crown jewel of French Canada." But, from the start of the episode, it was pretty clear it would be a non-elimination leg. For one thing, the teams were on an even playing field for most of the leg, and none of the tasks posed an exceptionally challenging level of difficulty.
Upon landing in Quebec City, the teams trekked to the Levis Forts, where they stayed overnight before hunting for their next clue. Looking to have a little bit of fun, Jet and Dave wrote a (misspelled) message in the sand, instructing the teams to "check the cannons." Jody and Cory took the child's scrawl as gospel and ran outside, only to have the bros tag along behind them, and let them know it was a teambuilding-style joke. They even hugged it out.
Next, the teams took a ferry across the St. Lawrence River, before heading to the Chateau Frontenac to search for the statue of Samuel du Champlain. Vanessa and Celina and Jet and Dave got off to a 30-minute lead on their ferry, before discovering Quebec City's "large and ecletctic arts community," which included a dog in a blue hat and sunglasses. Eclectic! Here, the pairs were presented with a Detour -- Sculpt It (carving an ice sculpture), or Spot It (filling in the missing pieces of a mural-like puzzle ... using French words).
Since this leg is in a French-speaking province, Brett is wearing a scarf in his talking head interviews, as one does. The duelling Montreal pediatricians faced off against Jody and Cory for much of the episode, though their truly Canadian rivalry barely extended past, "Oh, you again!" Brett and Holly and the brothers both opted for 'Spot It,' and the latter cited their grade-eight French Immersion schooling as a possible advantage. However, Jody and Cory found themselves blanking at the French words in the puzzle, so they asked for help, and were quickly able to complete it.
At the Road Block, one member of each team was responsible for preparing and serving four crepes for a pair of customers, all in French.
"That's cooking, that's you, bro?" asked Jet.
"That's me, bro," answered Dave.
Dave soon donned a red apron, and flipped his lime green baseball hat backwards, and began to prepare his crepes while taking his time. Soon, all the teams except for the Tims showed up, but Dave still finished the task first. After all, according to Jet, he chose a table with two young women -- "Quel surprise" -- so the odds were in his favour.
At the crepe station, Vanessa couldn't quite master the flip, and prepared, instead, what Dave called, a "dog's breakfast," or the order for somebody who wanted their "crepe in a blender," or who wanted their "crepe destroyed." But, working through flighty, stressful meltdowns seems to power Vanessa and Celina forward during these tasks, even if it takes them slightly more time than some of the other teams. Besides, they were able to make it to the Road Block via cab by using a map that had holes in it. After preparing an order incorrectly -- it was blueberry and "cerise," not blueberry and strawberry -- Vanessa asked Tim Jr. for help on what "cerise" was, and once he told her it was cherry, she was able to cook it up and move on to the next task.
Before checking in with Jon, the pairs played a quick round of lacrosse, "Canada's national summer sport," at the Plains of Abraham. Here, though, Holly starts to break down, saying she can't do it, before Brett talks her out of it, and the doctors tie non-rivals Jody and Cory at the mat in a foot race.
In the end, it was another non-elimination last-place finish for the Tims, who seem to have luck -- and the U-Turn -- on their side. At the start of the episode, Tim Jr. revealed he, in fact, married young, but this did not carry any weight in the episode until he hit the crepe station. Then, at the Pit Stop, Jon dropped a line about how the Tims and their respective wives would be pleased with their performance in the cooking challenge.
Until next week, here are the five best watercooler moments of the episode, in no particular order, in the form of a hashtag.
If there's one good thing that comes from BodyBreak's shocking elimination last week, it's that we got more screen time for Jet and Dave's classic one-liners. Still, we can't help but shed a tear for the fallen fitness gurus and hope they make a comeback on the next season of the show. Yes, even with the swearing non-troversy.
Speaking of Hal Johnson, Jody and Cory and Brett and Holly took a page out of his Air Canada negotiation guidebook this week. The two teams wisely booked another flight from Toronto to Quebec City, via Montreal, buying them an extra two hours only to wait at the Levis Forts until it opened at 10 a.m. A mixed bag, but still a smart move!
So, why did Tim Jr. give Vanessa the answer to what "cerise" means in English? It's hard to say. This French smoking gun gave the sisters a brief leg up before the Pit Stop, and could have ended the race for the Tims. Thankfully, it didn't matter. Maybe the Tims could smell the non-elimination leg from a mile away, too?
In addition to the hilariously enthusiastic spectators at the cold (and warm!) weather tasks, The Amazing Race Canada also boasts an impressive array of sarcastic referees. In this leg, we were introduced to the sassy ice sculpture judge, informally known as Michel, and a way-too-happy-to-be-on-camera crepe chef. Hopefully, more are on the way.
What's more fun than the "Jet and Dave Show"? Their shorthand, of course. Brotato is a gender-neutral term of endearment, right?
"The Amazing Race Canada" airs every Monday night at 9 p.m. ET on CTV.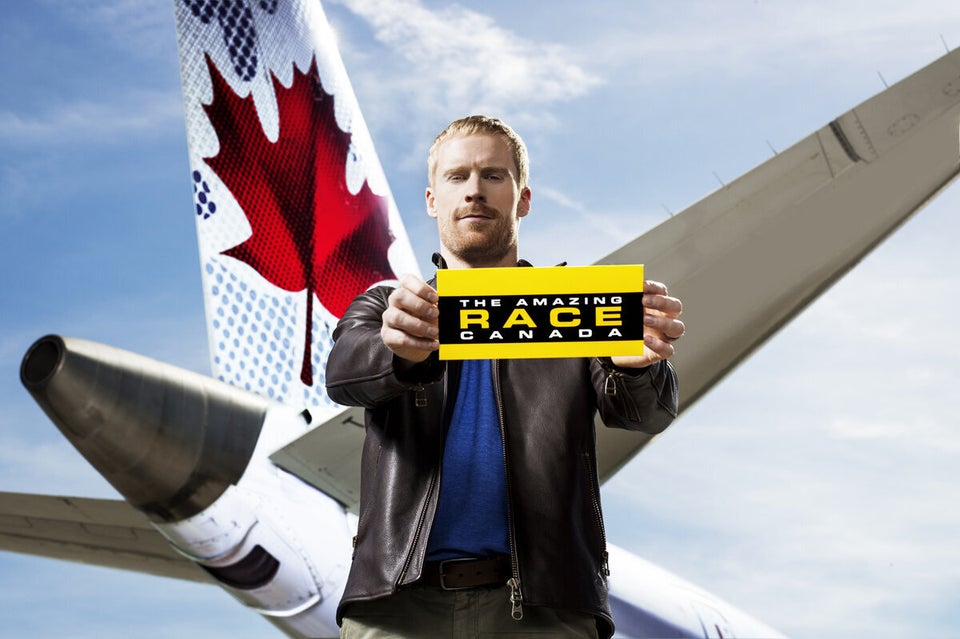 'Amazing Race Canada' Teams