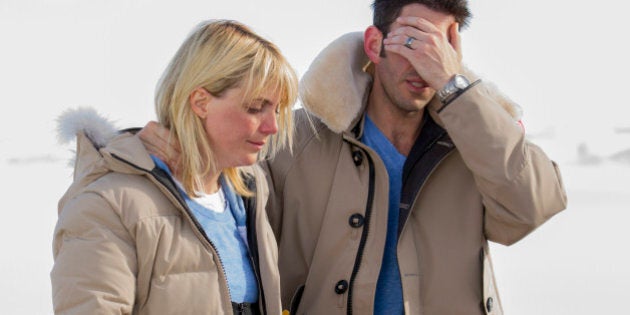 Note: Contains spoilers. Do not read on if you haven't seen Episode 7 of Amazing Race Canada
Of course, that's not to say the Type-A, married Montreal pediatricians didn't play their hearts out, but after weeks of watching Holly emotionally break down while testing her physical and mental limits, it was clear these physicians had simply reached the end of their rope. The Race, after all, is a not just an endurance test, but also a test of will, and it became more and more gut-wrenching to watch Team Peds unravel at the seams.
How could you not feel for them? Even en route to their last pit stop, the sometimes-gruff couple still pledged support for each other, knowing they were out of the running. An exasperated Holly looked at the one-kilometre steep climb up a hill to the mat (and Jon Montgomery), and said to her partner, out of breath, "Oh Brett, I'm so tired."
"Let's just finish this, Hol!" Brett said. "Let's go up there and stand at the top of Iqaluit!"
In fairness, this was an incredibly grueling leg of the race. Imagine leaving sunny -- and scorching! -- Quebec City for the -17C Iqaluit (in the middle of summer). As has become the norm, Jet put it best: "Ugh, my pants are at the bottom of my bag."
Fueled by wisecracks and finesse, Jet and Dave started the race in first, and attributed their success to ability, and not just "pretty eyes and great hair." Having tied at the mat, Jody and Cory and Brett and Holly were right behind them, with the remaining teams on their tails. At the start of the leg, the brothers announced their plan was to try to "get ahead of Brett and Holly, and hopefully never see them again." Little did they know they would get their wish.
But when it comes to zombie references, the Tims came back from the dead -- er, surviving their second non-elimination leg -- surprising the other pairs. Yet Jet and Dave could "not even [fake] joy" upon meeting them at the Quebec City airport, and soon, the five teams were off to "the transportation hub of the eastern Arctic."
Once landed, the teams had to translate an Inukitut phrase, which spawned this gem from the flighty Vanessa and Celina, "What does that mean? What does that mean? Wow! That's like, a different language!"
Sigh. Mini-challenge aside, the duos sped off to meet two local throat singers for their next clue. Then, they headed to the Detour, where the pairs had a choice between Harpoon Hunter, and Igloo Builder. In the first option, one member had to drag the other in a sled, before both had to hit a target with a harpoon from a sizable difference. The latter, which was deceptively simple, involved building a structurally-sound igloo ... with a partner inside.
Vanessa and Celina, Tim Sr. and Tim Jr. and Jody and Cory picked Harpoon Hunter first -- and boy, was it gruelling! Cory collapsed on the one-kilometre drag, and, like usual, Celina used her tears to power her through another task. Over at Igloo Builder, Holly and Brett cited their "difficulty with physical challenges" as the deciding factor for their choice, but the quickly-collapsing snow-and-ice structure had other plans for the team.
"Please don't bury me!" said Holly, bemoaning her own physical strength.
Jet and Dave also gave their igloo-building skills a whirl, only to encounter similar structural challenges. Dave soon gave sassy side-eye to the ref, and asked, "You don't give any hints, eh?" Eh! The best buds quickly left the task behind, and ran to the other Detour, leaving Brett and Holly in the snow.
Back at Harpoon Hunter, the "dragger" Tim Sr. wasn't going to let his Parkinson's hold him back, saying, "I can't change Parkinson's, that's fine, but it can't take The Amazing Race away from me." You go, Tim! The Winnipeg father-son team soon beat all the odds, successfully completing not only their Speed Bump, but finishing in second overall.
Meanwhile, Jody and Cory found their footing, and established a clear lead over the other teams. The two trekked across Frobisher Bay to the Roadblock via snowmobile, where Jody downed 10 pieces of Muktuk, a.k.a. whale skin and blubber. Not too shabby for somebody who, admittedly, would not even eat a tomato on a normal day!
The brothers soon made their way up the aforementioned one-kilometre hill to greet Jon at the mat, holding hands along the way. "Don't be a hero, let me help you," said Cory, referring to Jody's artificial legs, while scaling the hill. Finishing at the top of the pack for the first time this race, Jody and Cory also got their wish as far as Brett and Holly were concerned.
The duelling doctors pulled out of Igloo Builder, but hit a major snag at the throwing section of Harpoon Hunter.
"I'm not strong enough," said Holly, through her tears. "I'm not any more close to getting it. I don't think I can do it Brett, really." Firmly in last place, she later succeeded, after 28 attempts.
And they weren't the only squabbling pair. After Celina ate the 10 pieces of Muktuk (while gagging up a storm), the sisters started racing up the hill, only to have the uber-fit Jet and Dave at their heels. With the bros gaining on them, Celina yelled at her sister to pick up the pace, to which Vanessa replied, "Stop picking on me Celina, I can't move any faster!" "Shut up, and come!" yelled Celina. Ah, siblings -- that's real true love.
Though Jet and Dave beat them to check in with a bundled-up Jon Montgomery, the sisters are proving to be real contenders in the race, in spite of their flighty decision-making and snarky bickering.
Until next week, here are the five best watercooler moments of the episode, in no particular order, in the form of a hashtag.
Winnipeg! The Children's Hospital that Brett and Holly work at! Several shoutouts... In... Well... Just under an hour. And, why not? If you're on one of the most-watched Canadian TV shows of all time, you might as well send some love to those at home. After all, Brett and Holly were doing it all for the kids.
One of the great things about The Amazing Race Canada is its ability to fuse mini-challenges and cultural heritage moments into a leg rather effortlessly. In Iqaluit, we saw a Inukitut language deciphering contest, and got a chance to watch authentic throat singing, all because of how the episode was structured. Instead of elongating these moments into low-octane challenges or detours, we saw events that tested the physical, mental and emotional limits of the contestants, and were still able to have these brainteasers and appreciation of cultural traditions.
So, we can all agree that the Speed Bump is the Tims' lucky charm, right? Besides, how could anyone say no to dogsledding? The Tims may use the strategy of acting first and thinking later, but whenever they encounter a non-elimination leg, the repercussions of coming in last certainly play in their favour.
I love Jet and Dave. There, I said it. They're entertaining, they're humble, and not only that - they're co-operative! Plus, they're hilarious. Eating the muktuk proved no challenge to Jet, once he made it through the initial wincing. However, it did cause him to abandon his beloved health regimen, but who else can take on a #SixPackWithBlubber with such humility?
They may have lost their cool at certain points for every episode, but it's hard to bid farewell to Brett and Holly, and their competitive spirit. But, at least they can take solace in the fact that they beat their rivals, Team BodyBreak, in the official race standings - even if it's only by one place.
"The Amazing Race Canada" airs every Monday night at 9 p.m. ET on CTV.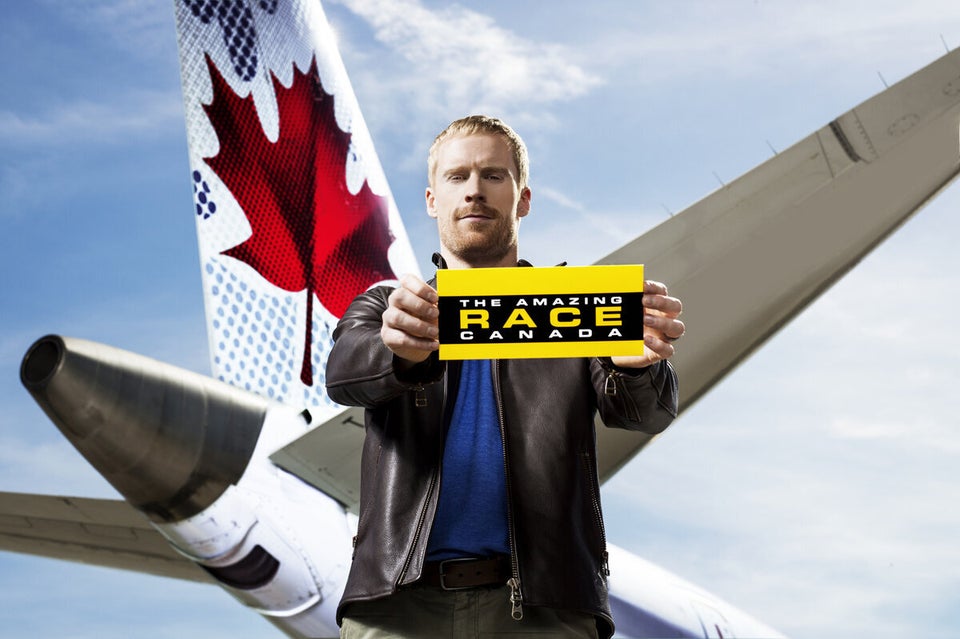 'Amazing Race Canada' Teams
Popular in the Community