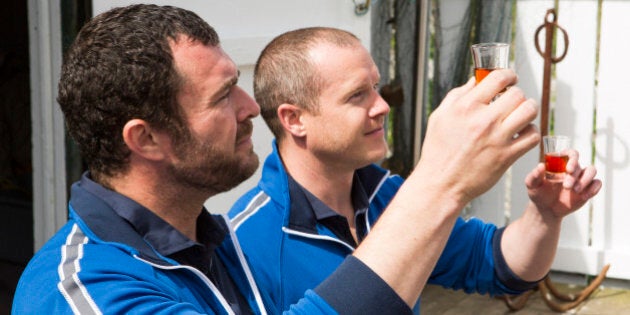 ***NOTE: Contains spoilers. Don't read on unless you've seen Episode 9 of The Amazing Race Canada***
"This is our race to lose," said Jet, at the beginning of last night's episode of The Amazing Race Canada. "We can only beat ourselves at this point, and we have no intention of doing that."
The talking head smoking gun strikes again!
Who would have thought the most entertaining, dynamic and wisecracking team on The Amazing Race Canada would find themselves eliminated due to a series of challenges involving, well, nothing but performance?
Still, bros will be bros. Best buds Jet and Dave kept us laughing on every leg of the race, thanks to their three-time first-place brawny domination, effortless charm and social elegance. But, surprisingly, that didn't help them in Newfoundland.
After being instructed to "keep on racing" back in Lunenburg, N.S. on the last leg, the pairs travelled by bus to Sydney, N.S., only to end up in the "quaint fishing town" of Channel-Port aux Basques, Newfoundland. The duos then took one of three 11-hour shuttle buses in to St. John's, where they had to find the Terry Fox monument, erected to commemorate the start of the Marathon of Hope.
Naturally, Fox's story resonated strongly with war veteran Jody, a double amputee below the knees. "Terry Fox is obviously a personal hero of mine," said Jody.
The teams then had to memorize the credo on Terry's monument before making their way to a kitchen party, where they had to kiss a cod, and drink a shot of rum, known locally as Screech. (I'm sure Dustin Diamond was thrilled about the indirect character shout-out!)
The bottle-necking left the teams tightly next to one another -- it was any team's game. But, it was here where the bad luck started for Jet and Dave. First, they hopped into a cab with a driver who had only been on the job for four days. Then, at the Detour, when given a choice between 'Tell a Tale' (memorize a folk tale story in a Newfoundland-style dialect) and 'Wag a Tail' (grab a Newfoundland dog and deliver milk up Heart Attack Hill without any spilling), they opted for the memory-based folksy challenge, an area of expertise that did not bode well for them in prior challenges. Remember Jet's scarecrow? Or his RCMP-ready bedroom, which took almost three hours to pass the inspection? Despite these specific shortcomings, the London, Ont. bros were not discouraged, even after failing to tell the story three times previously. Jet walked up to the peanut gallery of judges and said, "Just stop me if you've heard this before."
Meanwhile, the Tims highlighted their tenacity, with Tim Sr. saying, "We're not quitters. You're going to have to drag us off this race." Hmm.
Then, the teams were instructed to busk for $50 on St. John's' George Street, in a Roadblock. Jody took to telling his veteran story for toonies, while Tim Sr. showed off his secret talent: juggling. Who knew?
With Dave left to fend for himself with just his sly remarks on the street, for some reason, this showboat captain wasn't bringing in the big change. Through no fault of his own, he just was not as big of a draw, as say, Celina. The older sister from Ottawa embraced the Roadblock, and opted to use a ribbon and a hula-hoop to help garner the cash she and Vanessa needed to move on. But, that's not to say she didn't have some help. Younger sister Vanessa, in her infinite wisdom, reminded Celina to "push those boobs out!" After all, she was wearing a tight-fitting pink t-shirt that reads, "Mighty," so all the more power to her.
After a seemingly short amount of time hula-hooping, an ecstatic Vanessa and Celina were off to meet Jon Montgomery at the mat, and earn a top spot in the show's Final Three. Taking off to the Pit Stop at Cape Spear, the easternmost point of Canada, the sisters ran up a hill, only to realize that Jody and Cory, who were right on their tails, were heading in a different direction, which actually led them to Jon. The only remaining women in the race may have lost their lead, but still finished in second place, and rightfully earned themselves a spot in the finals.
But, back at the Roadblock, Dave continued to struggle. "Please donate to me," he asked of passersby. "I'm pathetic!"
Awww. As he began to use devil sticks, Jet showed his support, and great spirits, by dancing in the streets. But sadly, the surge came too late for them. Tim Sr. quickly earned $50 through his act, and the father-son duo landed at the mat for the third spot in the Final Three.
When they checked in with Jon some time later, the affable Dave broke down in tears. "This is literally like getting a Roadblock I didn't do well on, and I totally let myself down, just one leg away from the finals," he said. "I'm sorry, buddy."
The two hugged it out, and Jon said what we're all thinking (and hoping) -- "I have a sneaky suspicion we haven't seen the last of Jet and Dave."
It was, indeed, a fond farewell to a pair of talented, humourous racers. Next up, it's Toronto for the big finale!
"The Amazing Race Canada" airs every Monday night at 9 p.m. ET on CTV. The finale of Season 1 airs next Monday.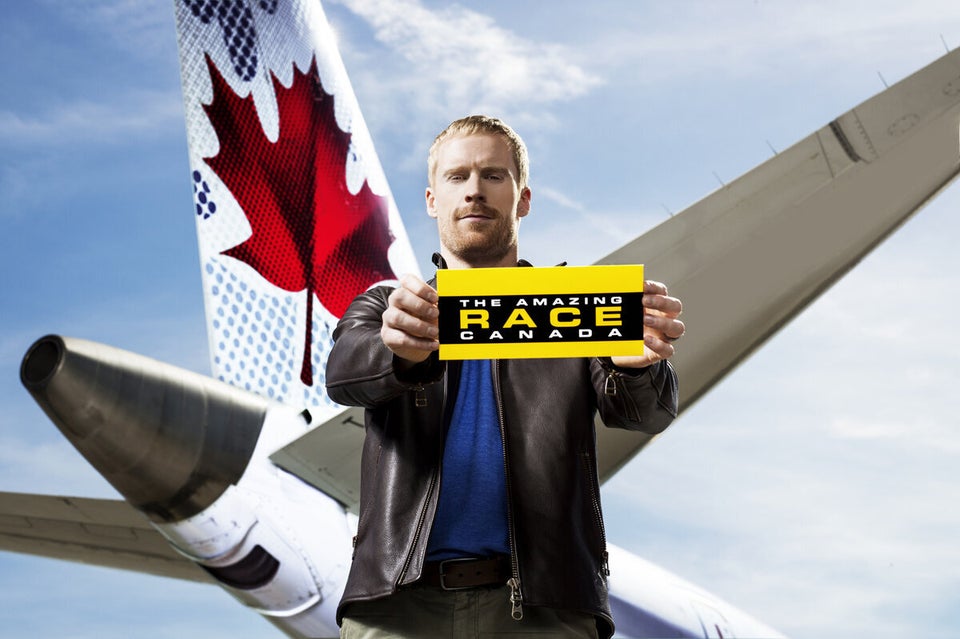 'Amazing Race Canada' Teams
Popular in the Community