 'The Amazing Race' is coming to Canada, but the reality TV show is taking a different approach with its newest backdrop.
Canadians hoping to get off of their couch and onto the streets of far-flung countries will have to scale back their expectations. According to CTV, the show will be shot exclusively in Canada. Bertram van Munster, one of the show's creators, says the decision will showcase Canada to Canadians who have yet to leave their own province.
"With the world's second largest country as its backdrop, 'The Amazing Race Canada' will offer a unique glimpse of the broad and diverse Canadian landscape and culture, while maintaining all of the excitement, spontaneity and challenge inherent in 'The Race,'" said van Munster in a press release.
The announcement marks the first time Canadians can compete in the contest, which pits teams of two against each other in order to win a million dollars. Canada has twice been featured as a destination in the U.S. edition of the show, but that's the closest the country's come to standing in the spotlight.
"Canadians deserve their own summer version, distinct from what is seen in fall and winter," said Phil King, CTV's president of Programming and Sports. Countries in South America, Europe and Asia, as well as Australia, already have their own spinoffs of the show.
Details behind Canada's take on the show are still in the works, as the spinoff has to yet to announce an air date, casting, or who will be hosting. Also up in the air are the destinations to which contestants will venture, though CTV notes there is the potential for stops in all of Canada's 10 provinces and three territories.
But we didn't think it was enough to sit and wait for the executives to tell us where the show was heading. So the team here at HuffPost Canada put together a list of the spots we'd like to see.
Which destinations would you like to see on The Amazing Race Canada? Feel free to sound off in the comment section below.
Destinations We Want To See On The Amazing Race Canada. Slideshow text follows below for mobile readers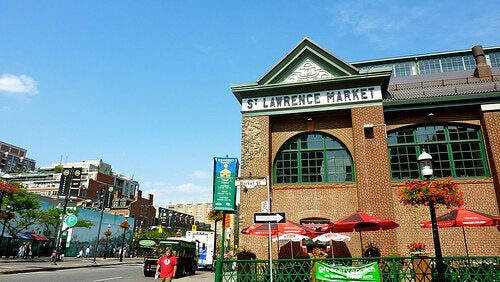 Destinations We Want To See On 'The Amazing Race Canada'
With files from Joanna Adams
It's located in Toronto and according to National Geographic, it's the best market in the world. That in itself has to give it some credibility for a potential show location. It'd also make for some good reality TV fun. Contestants could be tasked with a scavenger hunt in pursuit of specific ingredients to make a Canadian inspired dish... say a sandwich made with Canadian bacon and Kozlik's mustard on a freshly baked baguette from the basement floor?
You're travelling across Canada and you didn't stop at a sugar shack to make maple syrup? Blasphemy! As one of Canada's most popular breakfast condiments, travellers would have to stop in any one of Quebec's or Ontario's sugar shacks to see how the sweet, sappy stuff is made; to go out into the wilderness to tap some maple trees and then bring it back to to a log cabin for processing. Those who are successful will advance. Losers will at least get some maple taffy.
If you're going to Manitoba, then expect to see some bears (polar bears or otherwise). But rather than subject contestants to sub-zero temperatures in Churchill, Manitoba (don't worry, they'll be plenty of cold spots later in the list), participants would be tasked with navigating through the city of Winnipeg to arrive at the national park. There, they would have to find their way to the zoo, and find out the link between a famous bear and the Assiniboine Zoo.
Canadian cuisines and zoos are interesting but it wouldn't be the 'Amazing Race' without some physical activity. This is is where the Athabasca Sand Dunes come in. Located in the province of Saskatchewan and accessible only by float plane, contestants would have to paddle through Lake Athabasca, trek up to the top of the sand dunes and possibly sandboard their way down to uncover the next clue on where to travel to.
Dinosaurs: If they're cool enough to make it onto Canada's currency, they're cool enough to be on a Canadian TV show. The park itself is located in Alberta, where those vying for the prize money could camp out overnight before trekking 48 kilometres to the Royal Tyrrell Museum of Palaeontology, where the next route information hidden inside a puzzle of dinosaur bones awaits.
The show expects racers to discover the world's diverse cultures and terrain within Canada, so a trip to Vancouver's Chinatown is in order. It's not just the largest Chinatown in the province of British Columbia, but all of Canada . As the Race enjoys a showing, racers could be faced with trying delicacies outside some contestants' comfort zones. Century egg, balut and chicken feet anyone?
Dog Sledding In The Northwest Territories
No roads? No problem when you're in the Northwest Territories. Here, contestants would start from Inuvik, N.W.T and brave the elements via a sled powered by a team of huskies as they travel to the Yukon.
Speaking of the Yukon, contestants could try their hand at white-water rafting, but we'd rather see them get schooled with a visit to Dredge No. 4, one of Canada's National Historic Sites. The landmark can be found on Bonanza Creek in the Klondike goldfields just outside of Dawson City. It's a symbol representing the importance of dredging to the Yukon community and the hard work of locals in pursuit of gold.
It's Canada's largest island and can be found in the territory of Nunavut, and it's here that we imagine racers would be tasked with using an ancient art form in Canada's newest territory: Building inuksuit. For the unfamiliar, inuksuit are stone sculptures that the Inuit have used for a number of purposes, like navigational aids or to direct travellers to caches of food.
A Fishing Boat Off The Coast Of Prince Edward Island
There's two things that Prince Edward Island is known for: Anne of Green Gables and some stellar seafood. Not to knock Anne, but we feel that her place belongs on stage in a musical rather than on reality TV. That being said, it'd probably make for more interesting television if contestants had to sail into the Atlantic in pursuit of some fresh lobster, oysters and mussels — while wearing a red-haired wig — before uncovering the new route information.
It's pegged as Nova Scotia's natural wonder, partially for the high tides and beautiful coastline. The bay also features a scenic bike route where contestants can take a break from running, sandboarding, kayaking and flying across Canada in pursuit of the next task's information.
Whale watching from a boat is easy. Watching out for whales while kayaking to the next race point is an entirely different story. Witless Bay, Newfoundland would provide an interesting mix as racers sail or kayak to retrieve route information against the backdrop of breaching whales in the Atlantic ocean.
It's nearly 300 kilometres in length and one of Nova Scotia's most popular tourist attractions, drawing in walkers, runners and bikers of all levels. However, for the purpose of 'The Amazing Race Canada,' we imagine the last 50 kilometres as a scenic last stretch as the remaining teams race to the end to claim their prize money.
Popular in the Community