Going into the first-ever "Amazing Race Canada" media challenge on July 9, 2013, the two of us (Chris Jancelewicz and Sarah Kelsey) weren't sure about how we would fare; Chris is a former runner, and Sarah is a runner, so we figured we were OK in that arena, and both of us were raised in and around Toronto, so local landmarks wouldn't be a problem. Or so we thought.
After assembling in the parking lot at Bell Media headquarters (aka MuchMusic HQ), we were off -- sent out to our first challenge. We were ordered to take public transit to the big red canoe. Hmm.. both of us had seen the canoe, but where? After running around the block, Sarah's mind suddenly popped into focus: the big red canoe next to the Gardiner Expressway. That was it. We took the streetcar too far, and ended up having to run back to reach the landmark. Unfortunately, we were the last team to arrive. (We were so far behind our cameraman was worried.)
Then we had to take a taxi to St. Andrew's Park, where only one of us could perform the Roadblock, memorizing "The Maple Leaf Forever." Sarah is a trooper (and was obviously less winded after all the running -- see the video above) and took on the task. After several attempts, she succeeded, and the HuffPost Canada team moved up a few notches.
Next, we had to find a giant thimble, and luckily we knew where it was: very close to the HuffPost office! From there, we had to take a taxi to the Detour. Our choices were Whack It or Wiz It. Wiz It was strictly music trivia, whereas Whack it involved playing croquet with a blindfold. Initially we chose the trivia because it seemed easier, but because of traffic from power outages (the Toronto flooding was the night before), our taxi ended up stopping directly in front of the croquet course, so we opted for that (after much deliberation).
We finished the croquet course in four-and-a-half minutes flat, and from there it was off to the final pit stop at Maple Leaf Square, right outside of the Air Canada Centre. At this point, we didn't know we were in the lead, but we knew we had certainly moved up, since no other team was at the croquet and we finished the task quickly. We eventually had to get out of our cab and run to the finish line, where we were crowned as winners of "The Amazing Race Canada" media challenge!
We learned a few things on this race -- and here they are in no particular order. For a video of our victory, watch above.
1. You Absolutely Need To Be In Shape
There's a reason why most "Amazing Race" winning teams are usually the most fit -- you have to run, a lot. There are sprints and slow jogs, and sometimes how fast you run makes all the difference. Seconds count. So get on the treadmill or take up a tri-weekly run if you ever plan on winning this thing.
2. Your Taxi Driver Is Key
This is definitely somewhat of a "luck" factor, but if you hail a taxi and the driver is gruff or rude, chances are he's not going to help you out. We experienced both kinds of cabbie, and the nicer ones always helped us out. If you watch the video, you can see how one's attitude not only brightened our spirits, but it took us further in the Race.
3. Read The Clues Carefully
We can't stress this enough. After producers drilled it into our heads at the starting line, we made sure to read and re-read everything. One other team was penalized for taking the wrong method of transportation to a pit stop, and we all know that can be the death knell for your Race run.
4. Keep Track Of Your Belongings -- Especially The Essentials
The two most important things on this Race: your money and your passport. Of course the passport wasn't involved in our Race, but it's super-important to keep track of it. At one point, we left our money behind, and realized it almost immediately -- but we had to run back and retrieve it, wasting precious minutes. Sarah highly recommends pockets, since she kept having to put stuff in her sweat-soaked bra.
5. Communicate With Your Partner
This is probably the most important thing. The two of us never made a decision unless we were both on-board, and we talked everything out, weighing pros and cons as fast as possible. If, in real life, all you and your prospective partner do is argue, then perhaps the Race won't be for you.
"The Amazing Race Canada" premieres on July 15 at 9 p.m. ET on CTV.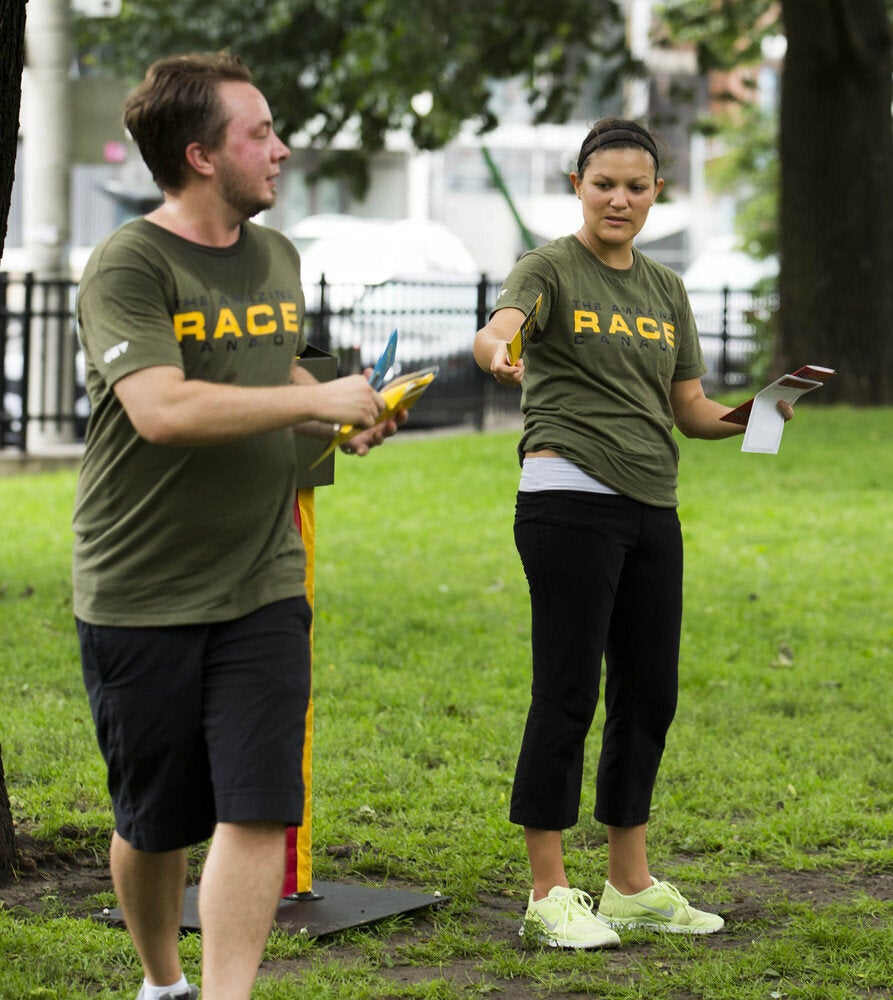 'Amazing Race Canada' Media Challenge