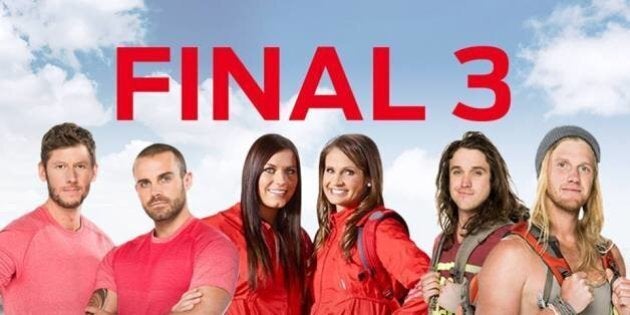 ** Contains spoilers. Please do not read unless you've seen the finale of 'Amazing Race Canada.' **
Way to go, Mickey and Pete! Much like last season's winners, the Tims, these hippies had one win over the course of the race, but they made sure to bring home the Canadian bacon and glory when it counted most. The long-haired, chilled out twosome may not have been the favourites to win (HuffPost Canada originally gave them 30:1 odds, with dating couple Alain and Audrey at 2:1 alongside perennial frontrunners, the Olympians Natalie and Meaghan), but they walked away with the aforementioned cash prize, free gas for life from Petro-Canada, and 10 round-trip tickets for two to anywhere on Air Canada's travel roster — in business class — for a year, as well as two matching Chevy Silverado High Country editions.
In other words: cool story, bro(s).
So, how did Mickey and Pete usurp seven-time first place finishers Natalie and Meaghan? It was all about timing.
Arriving in the capital from a Tidal (and Total) Bore in New Brunswick, each team was neck-and-neck upon leaving the Ottawa airport. In what has become classic Ryan and Rob fashion, particularly in a French-speaking region, they immediately got lost in their cab en route to the first challenge. Quickly, it became a two-team race to the finish, starting with a rocky whitewater kayak ride through the Rideau Canal. Though they had a lot of heart, Meaghan's injured hand slowed the Golden Girls down as they paddled to the end of the riverbank. And they never stood a chance in this task competing against Mickey and Pete, the former of whom (surprise, surprise!) runs his own eco-friendly white water rafting business.
Off to a quick (and clear) lead, the best buds then travelled to Hansard, the House of Commons' hall of records, to identify a specific moment in Canadian history. With the hockey players close behind, and Mickey's sweaty grey tank top hogging most of the camera time, the team then schlepped to the Diefenbunker for a military miniature scavenger hunt Roadblock. Again, like several "Amazing Race Canada" tasks this season, this was a cute idea, but did not translate to good, or compelling television.
It was quite the opposite at the next Roadblock. One half of each duo had to climb up 60 feet of rope and show off their aerial skills in the Canadian Museum of Nature's atrium, to receive their next clue. Luckily for Mickey, he channelled his inner Spider-Man and became the "friendly neighbourhood Mickey" and save for some extended grasps, swiftly completed the task. Meaghan, however, had a different experience. Since Natalie went hunting for tiny tanks and boats at the Diefenbunker, Meaghan was forced to take her hand, which was now "swollen up like a balloon" and make her ascent. Visibly cringing, and in pain, the hockey player fought through it like the champion she is, in spite of her physical limitations and the fact that Ryan and Rob were right on her tail. Natalie was moved while watching her partner struggle through the challenge.
"Seeing Meaghan up on those ropes and seeing how hard she's struggling just reminds me of how close we've grown over this race," said Natalie. "She's willing to put herself through all this pain just so we can make it to the end and win this race together."
Even though they're trailing behind Mickey and Pete, it doesn't stop the two from skating through the final task of the race: solving a "Paintings of the Race" puzzle at the National Gallery of Canada. The teams were asked to rearrange 12 rows of three paintings in the precise order they occurred on each leg of the race, amidst decoy landmarks, like the Taj Mahal. Interestingly, Natalie and Meaghan quickly caught up to the Muskoka, ON bros, but both teams made similar mistakes in recalling their times in Paris, and Montreal. Finally, Mickey and Pete corrected their Parisian faux-pas, and raced to Rideau Hall to meet Jon at the mat first, while each eliminated team cheered for their victory. With a celebratory strip-down, the two showed off their audition for "Magic Mike XXL" as they took in their big win.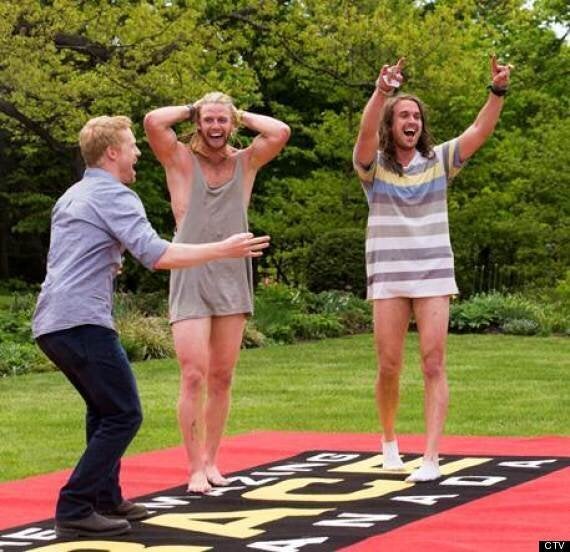 What did you think of the season finale of "The Amazing Race Canada"? Did your favourite team win? Sound off in the comments below.
A more thorough recap of the season's best and worst moments is coming shortly.
Popular in the Community