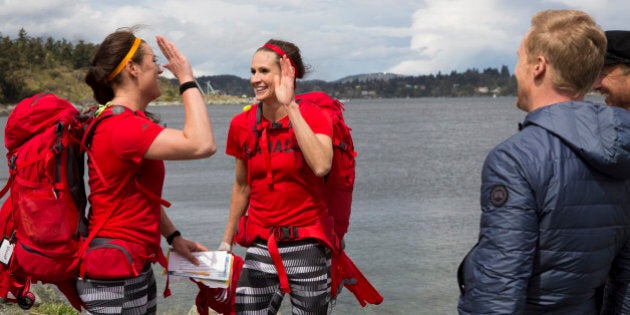 WARNING: Spoiler Alert! Do not read on unless you've seen "Amazing Race Canada" Season 2, Episode 1. Unless you like spoilers, then go right ahead!
"The Amazing Race Canada" is back with a vengeance! And if you're packing for the second season, don't forget your Scotiabank Gold American Express card.
Canada's most successful reality series has returned with product placement as in-your-face as ever, 11 new teams, and a fresh list of prizes which includes the gasp-worthy "Petro-Canada gas for life."
Don't believe the hype? Just "jump in one of the waiting Chevrolet Tahoes," and come along for the nearly "40,000 km" ride. But, for the racers looking to stand out, they should take some "pointers" from ballet dancer Rex Harrington and his fiancé, Bob Hope (seriously, yes, that's his name).
"Our first date lasted three days, 28 days later we bought a house, and 10 years later, here we are on 'The Amazing Race Canada,' and we're going to win," Rex said, at the start of the episode. Judging from what we've seen so far, this is clearly the competitive couple to beat; at least as far as camera time is concerned.
"You're strapped to a guy!" said Bob, during a skydiving Roadblock.
"I know!" replied Rex. "It's the only reason I'd want to do it."
Breaking the ice, the race kicks off from an Athabasca, AB, glacier as the teams make their way to North America's fastest zipline, "The Monster."
Here's a perfect example of where "TARC" really shines. Kinetic and co-operative, both team members are forced to take the plunge before they can move on to the next task; a litmus test for how each partner can handle stress and exhilaration. Nicole and Cormac, mother and son, give us a taste of their team dynamics, cheering each other on with Type-A precision.
Then, thanks to Jon Montgomery: Action Star, we learn the next Roadblock involves a 12,000 ft. (not metres?) skydive over Victoria. At the challenge, Olympian Natalie Spooner shows a teensy chink in her demigod armor, vomiting twice. Even though we (definitely) didn't need the close up of her "mess," her airsickness hardly interfered with her and partner Meaghan Mikkelson's eventual first place win on this leg. Congrats! (This is how Natalie performs after she's sick? Wow.)
And what better way is there to cleanse the palate than to see fellow Olympic gold medallist Jon dressed for tea? Ah, what a campy sipper.
Tasked with memorizing a hilariously complex menu, and serving afternoon tea to "lords" and "ladies," this Roadblock serves two purposes: to frustrate the teams as much as possible, and pull the viewers into the drama while showcasing the players' personalities under pressure. While some, like Michel, rock the challenge on their first try, others, like Cormac, aren't so lucky. As an aside -- does Jinder need to showboat after every challenge? Sigh. Soon, the teams catch up, and Ryan and Rob, the charming bartenders, find themselves in trouble. Muskoka, ON's Mickey seals his success with a kiss, telling a patron, "I love your hat!"
Keeping with the theme of opposites -- from etiquette to military, the competitors head to Canadian Forces Base Esquimalt and become naval recruits. Assigned a problem-solving challenge, the pairs are forced to seal nine leaks in a flooding room.
"Dear God, it's freezing," said Rex.
"My calves are cramping, get me out of here!"
Claustrophobic to both the viewer and the racer, the task posed major problems for the competitors as they fought against the frigid flooding. Soon, it became obvious that best friends Shahla and Nabeela were fishes out of water. Dropping their equipment in the water on two separate occasions, the BFFs had to bow out and took a medical-based penalty after Shahla could not continue.
"I'm almost heaving, it's so freezing," she said.
Sadly, it added extra time the two could not overcome. Already fighting for last place against married bikers Jen and Shawn, this was the final straw for the Markham, ON duo.
So, it's a fond farewell to these "besties." It's a shame we won't see them "Vanessa and Celina" their way to the finals, but from our first look at this season, it's clear there will be lots more hijinks in store. Already criss-crossing around the Western front, who knows where the race will go next? Once again, with its premiere, "TARC" surpasses the already-high audience expectations, and may even exceed the entertainment value of last season's epic run. But, if I could just make one request ... can Brett and Holly come back? They deserve a second shot.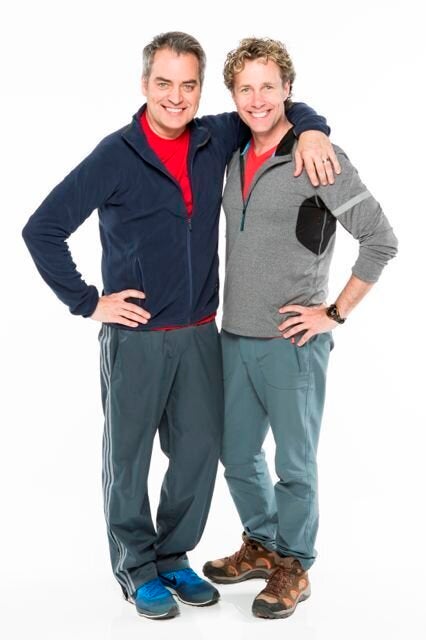 'Amazing Race Canada' Season 2 Teams