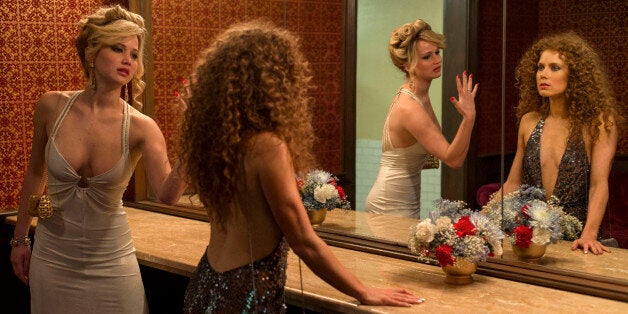 The Oscars are approaching, but who cares when you can just watch "American Hustle" in theatres as often as possible? (Well, we care. But this makes it better.)
If you've seen it already, you understand. Frankly, since this Best Picture nominee opened in December, "American Hustle" has cemented itself as not just a movie, but also a lifestyle. (A polyester-heavy, elaborate, comb-overed lifestyle.) But because living vicariously through (mostly) fictional characters will only get you so far, here's how to achieve the "American Hustle" aesthetic inexpensively. Nail varnish absolutely included.
Story continues below slideshow: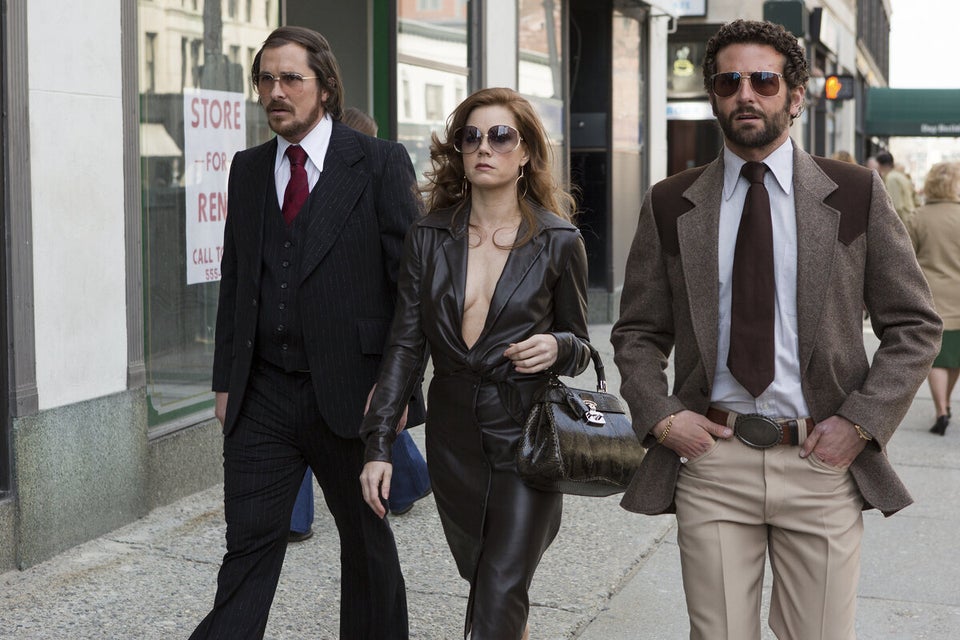 American Hustle Costumes
For the record, nobody here expects anybody to buy a new fur or leather coat because that would be obscene. But fortunately, it's prime jacket time at thrift stores like Value Village thanks to winter clearance: fur and leather coats with fur trim (and 100% fur coats) are slowly being marked down to make room for spring product (as per the associate at the Value Village we were just at), so you can pick up a Rosalyn or Edith-approved fur number for something around $20. Then pair it with…
For the exact opposite of an enormous coat, enter: a white bodysuit (come to mama), which you can pick up at a chain like American Apparel (and wear it underneath something for the love of all that is good -- unless you work in a very liberal environment), or you can save for a fancy piece from Genny's Spring/Summer 2014 collection (which you can also wear in a liberal environment). Now we can all look like the Picasso of passive-aggressiveness!
4. The Most Elaborate Updo You Can Muster
Listen, Amy Adams' wavy and at-times crimped hair was fantastic, but we all know the most important piece of "American Hustle" is the greatest contribution to what Golden Globe hosts Tina Fey and Amy Poehler dubbed, "Explosion at the Wig Factory": Rosalyn's updos, worn preferably when cleaning to "Live and Let Die." Fortunately, there's almost no way you can get this wrong, but in case you're worried, pull your hair back into a French twist, then curl and pin the rest of it into a pile. (Seriously, go to town. Pile that hair. Curl it more, then pile it again. Just leave one piece out for a Miami mobster to touch and call beautiful.)
First things first: from experience, thrift stores are currently packed with old '70s dresses just dying for a night at a disco, steak house, or more realistically, Swiss Chalet (if you are us). But if you're gunning for something new, Jenny Packham's Spring/Summer 2014 collection is basically a one-stop shop: from deep v-neck blouses to full-length dresses, she's covered all aspects of '70s wardrobe. These are not the kinds of clothes you'd leave behind at the drycleaners (but if you do, we will take them, yes).
6. Crisp Blouses And Skirts
Meanwhile, in the land of everyday wear, Michael Kors' Spring/Summer 2014 line seems like an elaborate tribute to Amy Adams' Edith/Sidney. The designer's wide-legged pants, blouses, knee-length skirts, and a belted trench are just part of the collection, but they're enough to help build a wardrobe a talented con artist would be proud of. Of course, this means these pieces will bleed into chains and department stores for a more affordable alternative – or you can head to a vintage shop or thrift store for the real deal.
But what kind of a guide would this be without loungewear? Exactly: it'd be a garbage guide. Which is why we won't deprive you, me, or anyone for a chance to don a bright polyester housecoat we can fall asleep under a heat lamp in. And you don't even need to leave the house to order one: Etsy's selection is stacked, and it's always being updated.
And we're not talking stilettos of the '90s or 2000s: we're talking shoes with either a substantial heel (as seen at Miu Miu), or strappy sandals (that you can pair with your sparkly, polyester dress and fur coat) by the likes of Elie Saab. The name of the game is shamelessness: so if you want to wear heels with a short dress and fur coat, or a wrap dress you can dance to Donna Summer in, this is your world. From the feet up (baby).
We know not all of us can wear "American Hustle"-esque plunging necklines. But if you can, Donna Karan's deep V-neck blouses are a good starting point for building a look on par with the movie's. Though alternatively, you can pick up a blouse at most stores and just not button it all the way. Options, you have them.
Praise all of the lords, we've saved the easiest component for last: jewelry, lots of it. As much as you can handle, all worn at the same time. Fortunately, chains like H&M, Hudson's Bay, and even American Eagle have more than enough rings and bracelets to do justice to your late '70s look, but we promise you'll have the most luck at vintage and thrift stores, where jewelry just sits. Is it fake? Absolutely. But remember: people believe what they want to believe.