An untold, but significant, number of people are turning to virtual private networks (VPNs) to mask their IP addresses and trick Netflix, and other geo-blocked services, into believing they reside in the United States.
A quick look at some analytics from Google shows that there has been a steady uptick in searches for how to use VPNs for just this purpose since Netflix was introduced to Canada in 2011.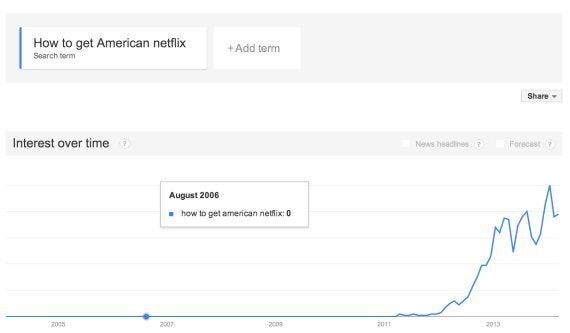 On average, there are thousands upon thousands of searches each month in Canada aimed at figuring out how to gain access to Netflix's American library.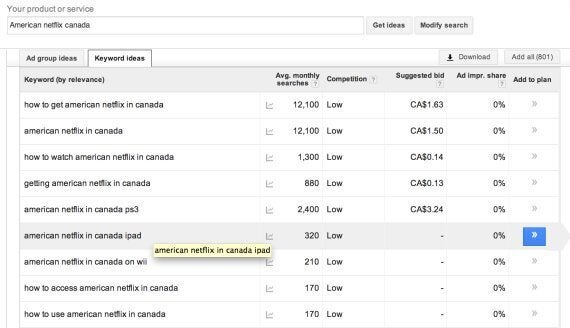 A bevy of new services have rushed to meet the demand. Canadian companies SurfEasy and Unblockus are two of the most prominent, but there is a whole slew of businesses offering to help you get around geographical restrictions. There are thousands of YouTube tutorials to help guide you through the process.
But, unless you're willing to use pirated VPN codes that will likely be unreliable, you'll have to pay. The average fee per month comes in at around $5, nearly doubling the $7.99 price for Netflix. But many Canadians seem to think it's worth it.
A quick look at the content that's only available to U.S. users explains why.
Story continues below slideshow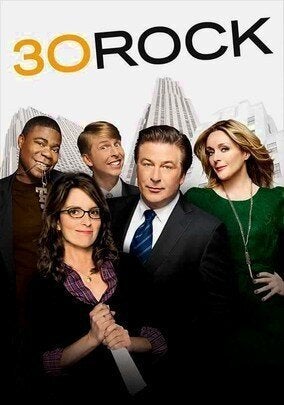 Titles You Can't Get On Canadian Netflix
Netflix doesn't condone VPNs and using one clearly violates the company's terms of service agreement. Nevertheless, Netflix doesn't seem to be doing anything to stop consumers from using a services that spokesperson Jenny McCabe said are "like pirating."
But so far, it seems that using VPNs is legal in Canada.
"I don't think they're an obvious copyright infringement," said Canadian professor and internet expert Michael Geist. "If it gets bigger we may see efforts to restrict it."
"I guess my view would be: so long as it remains a relatively small part of the market it will fly below the radar screen even if people are aware of it," he added.
Geist, who works as an advisor to SurfEasy, said VPNs are an important tool in ensuring the internet remains a tool for promoting freedom.
"I first starting using a VPN when I travelled to China and was seeking to circumvent their firewall," he said. "These tools are important for protecting privacy, they're important for free-speech issues, and so any attempt to regulate would have to take that into account."
But it seems most Canadians are using VPNs to gain access to the ever-increasing bounty of video content available online. And VPNs aren't just for Netflix, they can also be used to access Hulu, music-steaming service Spotify and all the rest of the content protected by geo-blocking.
And it doesn't stop with the United States. Many VPN companies will hook you up with an IP address for a number of different countries. The United Kingdom, for example, has its own unique Netflix catalogue.
Once a VPN is set up (changing the DNS settings on your home router makes the most sense for the majority of users), you can usually change your location via your service's website. This makes switching back and forth between countries easy.
For many, however, the technical details may prove daunting. Enter VPN browser extensions, perhaps the easiest way to get an American IP. While sometimes unreliable, these easily downloaded add-ons for Chrome and Firefox make using a VPN much easier.