Amy Schumer thinks there's nothing wrong with being plus size.
But labelling her that way in a magazine, without her consent? That's "not cool."
In an Instagram post on Tuesday, the comedian criticized Glamour magazine for including her in its plus size edition without asking.
"Plus size is considered size 16 in America," she wrote. "I go between a size 6 and an 8.
"Young girls seeing my body type thinking that is plus size? What are your thoughts? Mine are not cool Glamour, not glamourous."
The post had about 73,000 likes as of Tuesday afternoon.
In a subsequent post, she said labels like "plus size" are "unnecessary":
Glamour editor Cindi Leive responded to Schumer on Twitter, saying that the magazine never called her plus size, and that she was included under a section labelled, "Women Who Inspire Us," alongside Adele, Melissa McCarthy and Ashley Graham.
Schumer's not the only one who's not a fan of the "plus size" label.
Neither is Ashley Graham, who told TMZ that people won't be talking about models' sizes within five to 10 years.
Nor is Melissa McCarthy, who told E! News last month she hates the term "real woman" and hates the term "plus size."
"I've got plenty of friends [of all sizes] and different shapes and everything, and I don't want any of them to feel like they aren't 'real women,'" she said.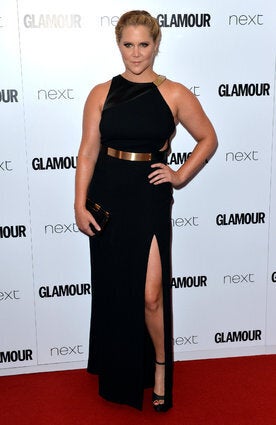 Style Lessons From Amy Schumer