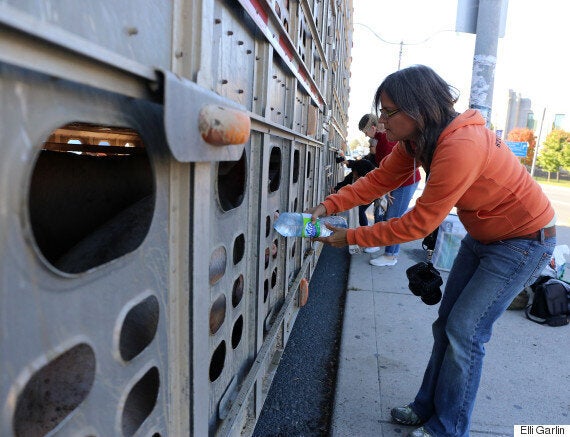 Bacon is no longer a popular breakfast staple.
Just check out any number of recent articles, from this past week alone, on the slow decline of the meat industry. The title, "The End of Meat," is a sure giveaway.
Those still insisting that bacon, pork and sausage are healthy, or that animals don't feel pain when killed, are comparable to skeptics still thinking global warming is a myth. (It's not.)
Pigs, like all animals, should be treated as individuals with rights, not as property.
This issue is a theme in court proceedings that took place on Monday October 3 in a packed-to-the-brim Burlington, Ontario courtroom. The room was so full in fact that the kind judge allowed the press to sit in the "prisoner's box," which he temporarily renamed the "press box" to the amusement of the crowd.
Anita Krajnc, 49, is on trial for giving water to thirsty pigs inside a transport truck on the way to slaughter. The scared young pigs were headed to Fearman's Pork Inc. in Burlington on June 22, 2015. Krajnc saw pigs panting and foaming at the mouth that day and performed an act of compassion -- she gave them water.
"It's their basic right," she testified.
In August during previous trial proceedings, Dr. Armaita May, an expert in veterinary medicine and animal welfare, testified that the pigs were in distress.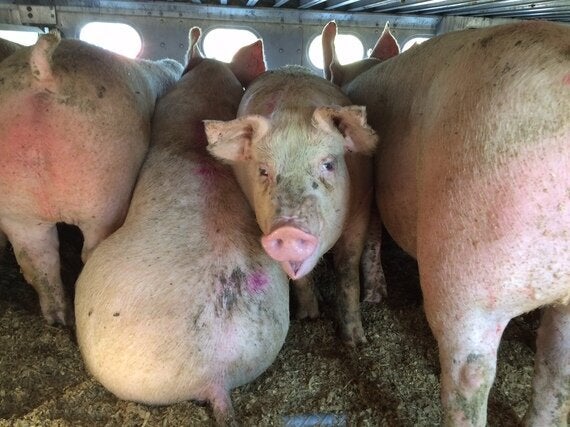 As the truck idled to make a left turn, Krajnc gave the thirsty pigs some water. A tense confrontation with the truck driver followed, and the owner of the pig farm filed a police complaint against her the next day.
Krajnc was charged with criminal mischief for "interference with the use, enjoyment and operation of property," the property being a pig. She initially faced up to 10 years in prison. She now faces up to six months in jail and a $5,000 fine.
But Krajnc, along with thousands of supports around the world, believes pigs are not property.
"Animals should be persons under the law. They are sentient beings," she testified.
Krajnc is an organizer of Toronto Pig Save, a group that holds peaceful vigils outside slaughterhouses. Hundreds of activists give water to terrified and dehydrated pigs, and not just in Toronto. Since Krajnc's arrest there has been tremendous growth for The Save Movement; there are now over 60 Save groups worldwide including 10 new Save groups in the United Kingdom. Attendance at vigils has risen tremendously as people come together to show compassion for animals.
They don't hear their screams when they are murdered behind the walls of the slaughterhouse.
In court Monday we listened to Krajnc's testimony about the importance of bearing witness to animals being sent to slaughter; the mass disconnect that exists in society where eating meat is concerned; and the importance of creating a cultural shift to support a non-violent vegan world.
"We are trying to put a face on the nameless numbers when we bear witness," she said.
Krajnc is referring to the over 70 billion land animals that are killed every year as part of an unhealthy diet that people continue to eat despite the harm they are doing to their bodies and the environment.
"At the supermarket you don't hear their cries. You don't see their eyes. You just see the cellophane-wrapped meat," she testified.
This disconnect is why some people still continue to eat animals. They don't hear their screams when they are murdered behind the walls of the slaughterhouse.
But everyone in court on Monday was in fact bearing witness -- digitally at least -- including the President of People for the Ethical of Animals (PETA), Ingrid Newkirk, who came to show support for Kranjc.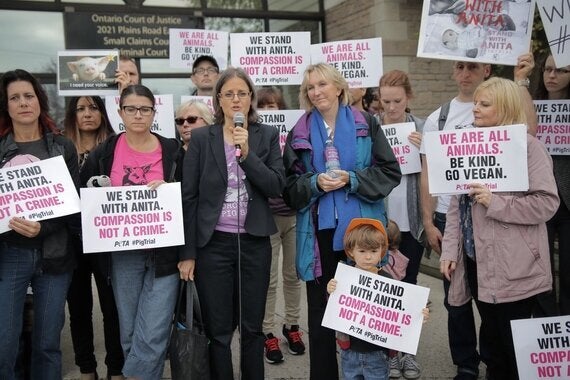 We saw and heard the pig's pleas on a court monitor before they were forced into a gas chamber in Quality Meat Packers, a slaughterhouse in Toronto that has since gone bankrupt. Krajnc's lawyers also played footage of pigs on the kill floor in other slaughterhouses and several people left the room it was so horrific. Others wiped away tears as the pigs squealed loudly before they took their final breaths.
Krajnc testified, "Pigs are just like dogs. Murder cannot be justified."
The poster campaign by Toronto Pig Save, "Why Love One, But Eat The Other," depicts a photo of a dog and a pig side by side and has run throughout the Toronto subway system.
Krajnc has a PhD in Political Science and Environmental Studies and has done case studies on global climate change. She explained the effects of global warming on our planet and how going vegan and following a plant based diet can save our planet from catastrophic climate change. "If we destroy the environment we destroy it for everyone," she said.
Krajnc mentioned David Suzuki, a world-renowned leader in environmental issues who has claimed that "the environment and climate would benefit substantially if more people gave up or at least cut down on meat and animal products."
Factory farming has been linked to huge environmental issues for years and now it's being played out issue by issue in an Ontario courtroom, all because a woman showed compassion towards pigs.
It is no secret that factory farming contributes to fossil fuels, carbon emissions, water pollution, deforestation, and air pollution.
"We are eating the planet to death," Krajnc testified.
So, think about it. Who is really on trial here? Perhaps it is factory farming.
The trial resumes November 1.
Follow HuffPost Canada Blogs on Facebook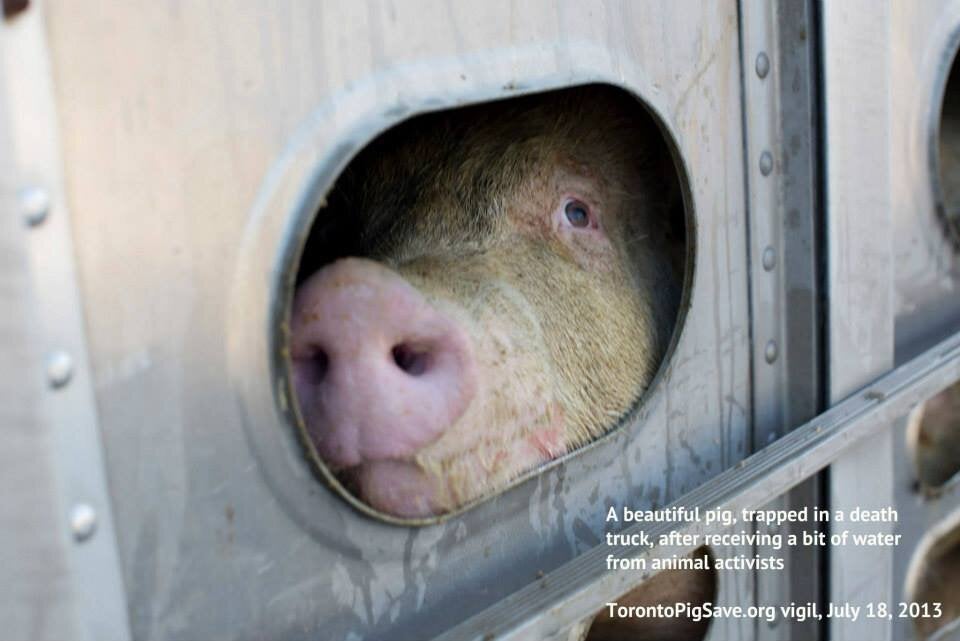 Pigs Left To Swelter In Toronto Heat Wave