On May 29, a large group of Chinese Canadians, descended upon Queens Park in the number of thousands, (according to organizers, 1500 + registered participants) to show solidarity and support for Bill 79, An Act to proclaim the Nanjing Massacre Commemorative Day.
Bill 79 is first tabled by Ontario Liberal MPP Soo Wong in December. Since its inception, MPP Soo Wong has called for a massive petition campaign to support the bill. However, little result has been seen in the past two months due to a lack of organization and awareness. It was not until Peter Lin, the newly-elected president of the Confederation of Toronto Chinese Canadian Organizations (CTCCO) stepped in, opened up all his supermarket chain stores, the petitions have poured in. In just two short months, they have received almost 100,000 petitions urging the Ontario Liberal government to pass Bill 79.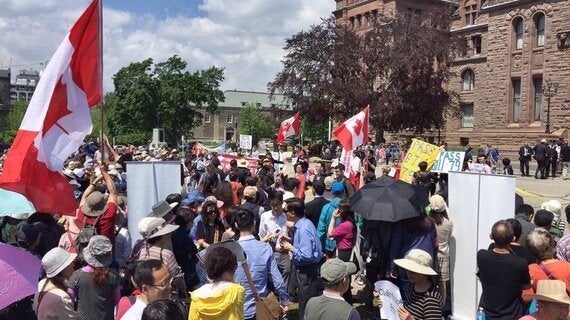 More than 1000 people rally in solidarity in support for Bill 79 : Nanjing Massacre Commemorative Day Act in front of Queens Park, Toronto City, on May 29 2017. (Photo: Karen Lin)
CTCCO was the chief organizer for the May 29 rally at Queens Park. In contrast to past events the Chinese community has organized, event organizers have become more attuned to Canadian values and Canadian customs. I served on the organizing committee along with Peter Lin for the May 29 rally. I have heard some oppositions from the Japanese Canadians Cultural Center that Bill 79 will create racial tensions and hostility between Japanese Canadians and other Asian Canadians. To address this concern, I had suggested to the committee that they invite a Japanese Canadian to MC the rally.
At first, I really wasn't sure how this would be perceived. After all, the age old wound between China and Japan runs deep in the psyche of many first generation Chinese Canadians. To my surprise, the committee signed on to the idea with no hesitation. Japanese Canadian actress, Lisa Jai was invited to co-host the rally. She was awarded The Unsung Hero Award by the City of Toronto 2012 for her advocacy work in diversity in the mainstream media. And her track record is consistent with the theme of the rally "Truth, Reconciliation and Peace."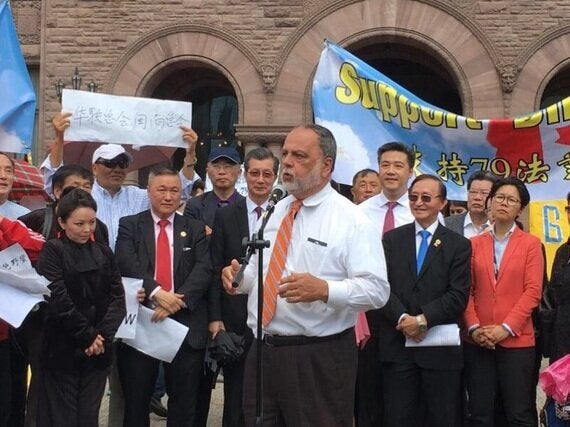 NDP House Leader Giles Bisson Speaks in favor of Bill 79 while PC and Liberal caucus members show their support for the bill. (Photo: Karen Lin)
In the past, any political rally organized by mainland Chinese Canadians usually had ties to China in one form or another. In the 2008, an "Anti-Tibet Independence and Anti CNN Smear Campaign rally" in Ottawa had thousands of people mobilized from the GTA. Many Chinese national flags were flown. That had made some people uneasy. Consequently, the then Harper government has become very wary of some Chinese Canadian groups. It was rumored that immigration quota on China was reduced by the Conservative government in fear of a "communist China infiltration."
This time around, organizers strictly forbade participants carrying any Chinese flags. The only flags allowed at the rally were Canadian flags. They also understood the importance of building a wide range of support and alliance from different ethnic groups and other organizations. They reached out to other visible minority groups such as the Muslim and Sikh communities and received support. Labour unions such as the Ontario Federation of Labour and the Peel Region Labour Council also gave Bill 79 their endorsement.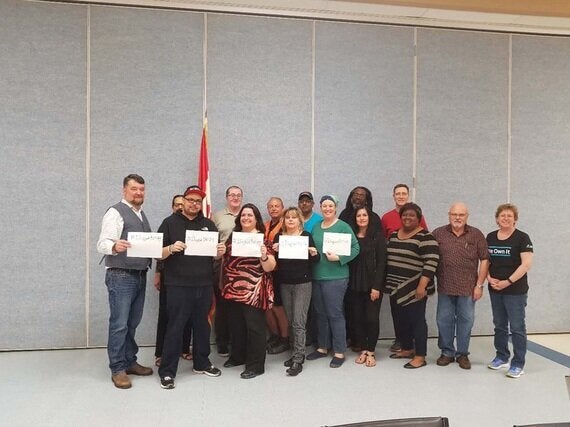 The Peel Region Labour Council has endorsed Bill 79 (Photo: Karen Lin)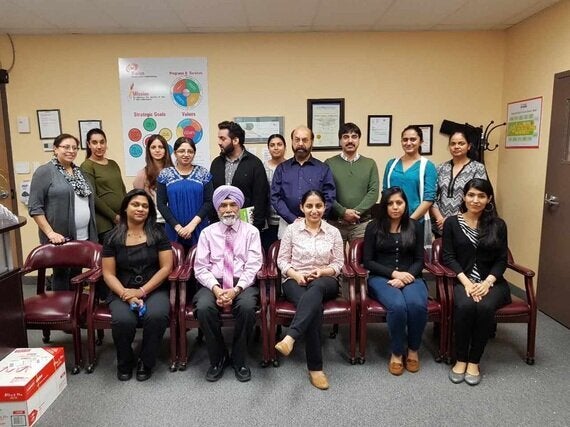 Staff at Punjabi Community Health Service posing for a photo after signing the petitions to support Bill 79 (Photo: Karen Lin)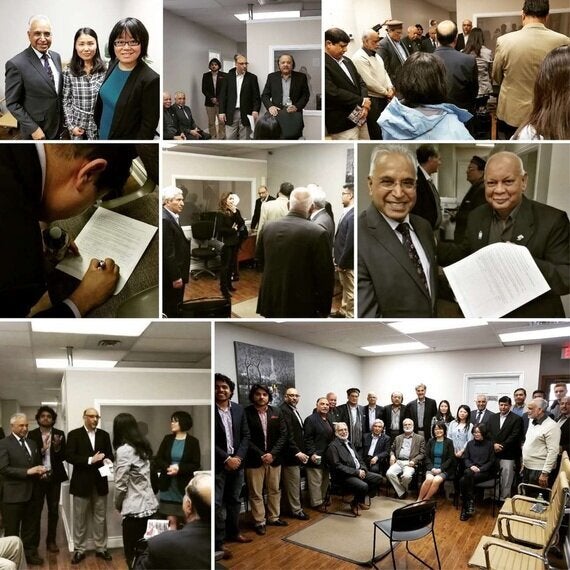 The Mississauga Pakistani community signed petitions to support Bill 79 with members from the National Education Society (Photo: Karen Lin)
Bill 79 is a private member bill. Therefore, pushing for it to pass is always difficult. At the end of the day, the passage of any private member bill depends on a highly complicated political maneuver: horse trading. The government house leader Yasir Navqi will have to want to put Bill 79 forward. In addition, no opposition party can object Bill 79. Having understood that, the president of CTCCO Peter Lin has hired Solstice Public Affairs to lobby all three political parties in order to garner support. A comprehensive strategy was developed.
Representatives from CTCCO have met with the house leaders and caucus members from all three parties. In the end, all three parties have come on board and expressed a unanimous support for Bill 79.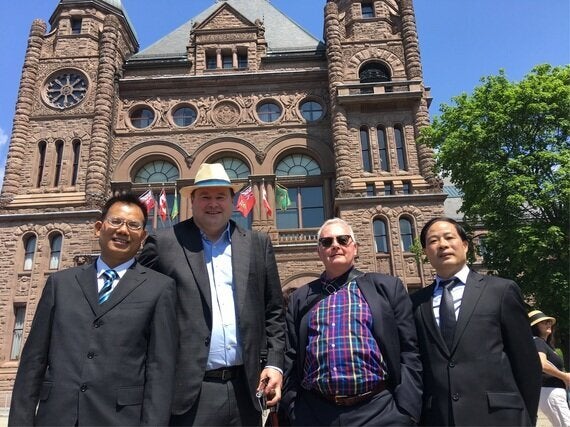 Peter Lin, President of the Confederation of Toronto Chinese Canadian Organizations, with Stewart Kiff and Craig Brockwell from Solstice Public Affairs (Photo: Karen Lin)
In many ways, the May 29 rally is just the tip of the iceberg. A renewed enthusiasm in the Chinese community has propelled many Chinese Canadian organizations to become more civically engaged and realign their strategies with mainstream Canadian values. This no doubt will have a positive impact on the social fabrics of our multicultural country.
Follow HuffPost Canada Blogs on Facebook