When Anastasia Lin was growing up in China, her mother made her climb the local mountains every morning and shout translated speeches at the top of her lungs. It was a way to practise her English.
Now, the Miss World Canada winner is using her voice across borders. A vocal critic of human rights abuses in her home country, Lin says the Chinese government is using an invitational international beauty pageant to punish her for speaking out.
"This pattern has been going on for a long time," Lin said in an telephone interview with The Huffington Post Canada, pointing out that it's not unusual for the Chinese government to use visas to "silence" people overseas.
Lin, who became a Canadian citizen after leaving China as a teen, believes the tactic is being used on her efforts to reach next month's Miss World final in Sanya. She needs an invitation letter from Chinese pageant organizers as part of her visa application. But with just several days until a visa deadline, she admits her chances of getting to the Dec. 19 event are dwindling fast.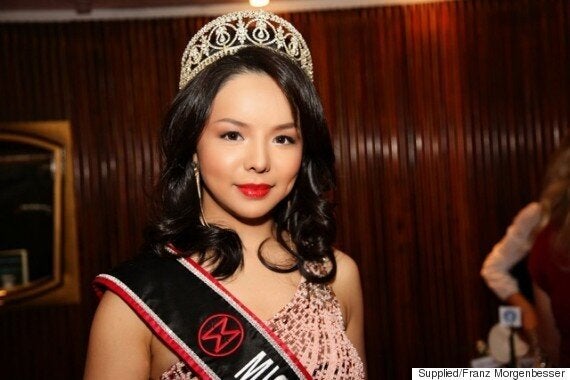 Anastasia Lin was crowned Miss World Canada in May 2015. (Photo: Franz Morgenbesser)
On top of that disappointment, the 25-year-old University of Toronto graduate says she's not impressed with the federal government's ineffectual response to her situation.
The Department of Foreign Affairs told HuffPost that it can't comment on Chinese visa decisions. "Canada welcomes the efforts of all individuals and organizations who share a commitment to advance human rights in China," said spokesman François Lasalle in a statement.
He reiterated that the government is "committed" to constructively engaging with Chinese officials on human rights, calling it a "core" piece to bilateral relations.
"They give the same answer to everyone," Lin said. "This is not a visa issue, this is not an administrative issue." She insists it's a matter of principle, and accuses the Liberal government of dawdling on taking a firm stance.
Miss World Canada and Miss World organizers have not responded to requests for comment.
'Because they dare have convictions'
Lin's profile has been steadily rising ever since she was crowned Miss World Canada in May — a title formerly held by human rights activist Nazanin Afshin-Jam.
Encouraged by advice she was given by Afshin-Jam 12 years ago, Lin used the Miss World Canada platform to speak out about the treatment of Falun Gong practitioners in China. She eventually appeared before a U.S. congressional hearing to discuss human rights abuses in China.
"I wanted to speak for those in China that are beaten, burned and electrocuted for holding to their beliefs; people in prison who eat rotten food with blistered fingers because they dare have convictions," she told the Congressional Executive Commission on China in July.
Watch Lin's testimony below:
The Chinese government outlawed Falun Gong in 1999, citing the spiritual group's risk to social stability.
She first became attuned to the issue after acting in a movie called "The Bleeding Edge." Researching for her role as an imprisoned Falun Gong practitioner, she spent time at the group's attention-grabbing displays in Toronto's Chinatown.
"Because the practitioners themselves, some of them have language barriers, cultural barriers, so when they come here they don't really have a channel to speak to the West about their experiences," she said.
Her advocacy deepened as she learned about how followers are treated by the Chinese government. But the more outspoken she became, the less her dad wanted to speak with her.
Shortly after Lin began speaking out, national security agents began visiting her father who still lives in China.
"At the beginning he was really happy that I won, then he became really frightened," she said, citing general concern among an older generation about being persecuted for speaking out against the government.
Lin said the "fear that's constantly there" damaged her relationship with her father.
Worried about his phone being tapped, he didn't speak to her "for a long while."
Because China's firewall blocks certain websites, relatives sent Lin's dad screengrabs of stories about her speaking out against the Chinese government.
"I tried to reach out to him and they were very short conversations, and we don't have really long conversations anyways," she said.
When they finally reconnected, Lin's father was both adamant that she stop talking about politics and human rights, while also excited she would be returning to China after 11 years away.
Then on Nov. 2, she got a message from her dad saying, "It's better that you don't come back."
Anastasia Lin meets former foreign affairs minister John Baird at in 2013. The previous Conservative government publicly supported Lin's stance against China's human rights abuses. (Facebook)
With the visa deadline fast approaching, Lin says China is in over its head if officials are indeed withholding her invitation letter over her human rights' advocacy work.
"If they don't respect international values and rights, then they can't host an international competition like this."
Despite pressure to keep quiet, Lin says she's following the lead of prominent dissidents who actually try to protect their family members through high-profile campaigns.
"Because they can do anything to my dad if there's no attention on this issue."
With files from The Canadian Press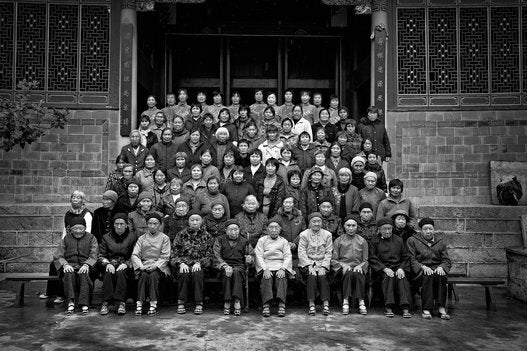 Forgotten Faces of Contemporary China