Team Canada's Andre De Grasse won big Sunday night as he took home the bronze for the men's 100-metre finals in his first Olympic games ever.
And while the country will probably be basking in the 21-year-old's stellar accomplishment for quite some time, the Scarborough, Ont., native isn't about to forget the one special person who gave him a head start in the world of sprinting — his mom.
"She's everything," De Grasse told CBC shortly after he left the track. "You know, without her I don't know if I would even be so motivated to do this sport. She's given me a lot of motivation."
He continued, "She's been telling me, 'Hey, you can just go out there and do your best, you're capable of it, you're just as fast as them.' And when you have a mom just saying that to you, and giving you that type of love — I just try to keep that in my heart and take it to the track."
And if you just can't get enough of De Grasse's loving relationship with his mom, check out this photo he posted on Instagram last year of the pair embracing after his bronze world championship win in Beijing.
"Mama can you believe it!? It's sooo unreal right now!" he captioned the pic. "You been with me by my side through my ups and downs in life. I'm truly blessed and humbled right now to be in this position."
Excuse us. Someone seems to be cutting onions in here.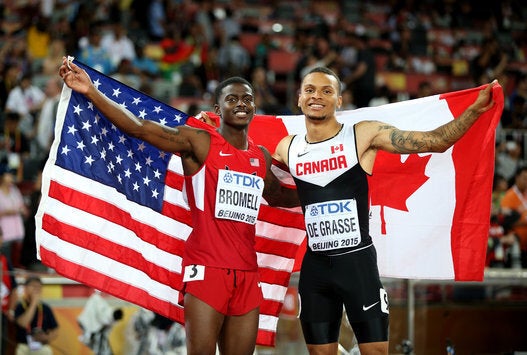 Andre De Grasse In Photos
Popular in the Community