It couldn't have gotten more dramatic than this.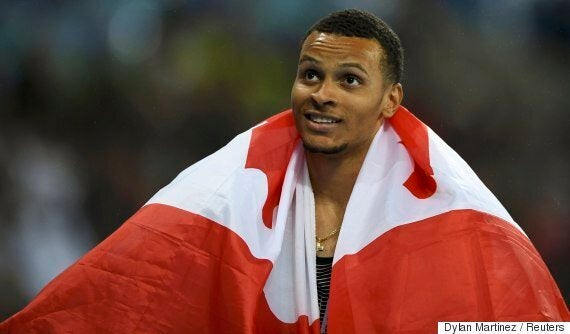 Canada's Andre De Grasse picked up three medals at his first Olympics. (Photo: Dylan Martinez/Reuters)
On Friday night, Andre De Grasse and Canada's men's 4x100-metre relay team hoped to steal gold from the reigning champs, Team Jamaica.
But Usain Bolt's squad proved unstoppable and came in first, earning him an unheard of triple-triple — three consecutive gold medals in the 100-metre, 200-metre and 4x100-metre events.
Team Japan won silver and the Americans came in third.
It had seemed like Team Canada's medal hopes had been dashed.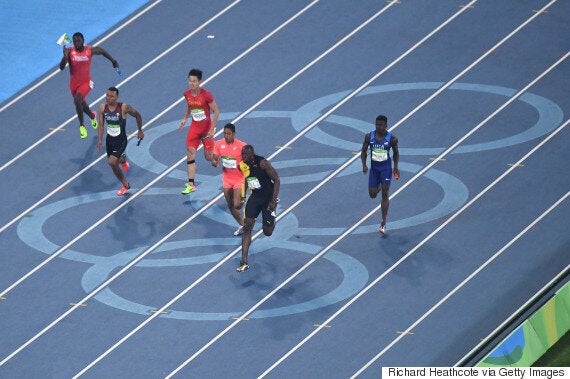 Usain Bolt of Jamaica runs ahead of of Aska Cambridge of Japan, Trayvon Bromell of the United States and Andre De Grasse of Canada in the men's 4x100m relay final, Aug. 19. (Photo: Richard Heathcote/Getty Images)
But shortly after De Grasse and Co. had given their post-sprint interviews, drama struck the stadium. The U.S. team got disqualified, pushing fourth-place Canada up to the bronze medal.
And with that, De Grasse had grabbed a triple himself.
The 21-year-old from Markham, Ont. has become the only Canadian to win three medals in those three sprinting events in the same Olympic games.
This was De Grasse's third — and likely last — direct challenge to Bolt. In the 100-metre final, the Canadian won bronze while Bolt scored gold. De Grasse picked up his second medal in the games, a silver, in the 200-metre sprint on Thursday.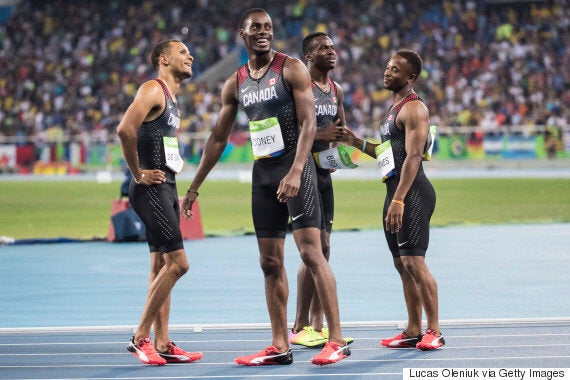 Andre De Grasse, Brendon Rodney, Aaron Brown and Akeem Haynes narrowly missed out on a bronze medal in the Olympic mens 4x100m relay at the Rio Olympics. (Photo: Lucas Oleniuk/Toronto Star via Getty Images)
Friday's electrifying event was not just a remarkable finish for De Grasse's first Olympics, it marked a glorious achievement for his relay team, too.
Along with fellow sprinters Akeem Haynes of Calgary, Brendon Rodney of Brampton, Ont., and Aaron Brown of Toronto, the team was able to finish in 37.64 seconds. That breaks the mark set by Canada's gold-medal winning team anchored by Donovan Bailey at the 1996 Atlanta Olympics.
It's also redemption for Canada, which appeared to have won bronze in the 4x100 at the 2012 London Games before being disqualified for a lane violation.
De Grasse has a lot to look forward to as he makes his way toward the 2020 games in Tokyo. That, and his hometown naming a day after him:
With files from The Canadian Press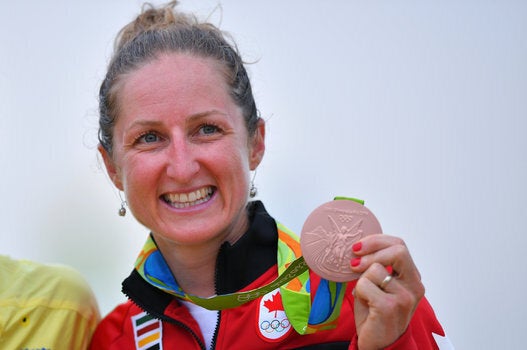 Canadian Medallists at the 2016 Rio Olympic Games
Popular in the Community