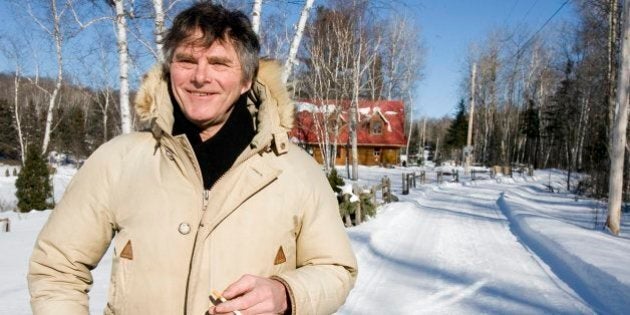 HÉROUXVILLE – André Drouin is "more than satisfied" that Conservative leader Stephen Harper has made the niqab face covering, worn by a handful of Muslim women, an election issue.
For Drouin, Harper's defence of "Canadian values," is in tune with his own Hérouxville code of conduct, adopted in 2007, when he sat on the village council.
The retired engineer's code sparked a divisive debate in Quebec over "reasonable accommodation" of religious differences.
'Since 2007, I have never given up," Drouin said in an interview in his lakeside home.
Drouin has spent the intervening years developing a worldwide network to communicate and exchange views about immigration, religious practices he regards as incompatible with western values, and multiculturalism.
Every day he sends emails in French and English to about 100,000 correspondents. They, in turn, resend his missives across their own networks, spanning the globe.
"Canada, because of multiculturalism, has lost its bearings," he said, adding immigrants he knows agree with him.
Drouin named secular Muslims living in Canada as collaborators in his network — Tarek Fatah, author of The Jew Is Not My Enemy; Homa Arjomand, who successfully opposed the introduction of Sharia courts in Ontario; Western University political scientist Salim Mansur; and Raheel Raza, author of Their Jihad... Not My Jihad!
But Drouin is also in contact with the right-wing Front National in France and the anti-immigration British National Party.
"Those are people I communicate with several times a day," Drouin said.
"The Front National has 28 per cent support in France and it is rising every day."
He admits the Front National scares people. "And look at PEGIDA (the anti-immigrant movement) in Germany. PEGIDA must be 10 times the size of the Front National now."
People who join these movements feel mainstream parties don't listen to them.
"The people have an opinion that the politicians do not respect," he said.
The same fear exists in the United States, he said, where Donald Trump, the leading Republican hopeful, has focused on undocumented immigrants.
"It's not multiculturalism in the United States," he added. "It's a free-for-all. The things he says, people have been saying for a long time."
Drouin's Hérouxville code warned immigrants who wanted to settle in this 98-per-cent French-speaking, rural community of 1,300, there would be no religious face coverings, no stoning or burning of women, and that men and women could swim together in the local pool.
His approach was viewed in Quebec as heavy-handed and even xenophobic, with then-premier Jean Charest calling Hérouxville "an isolated case."
"We are not an isolated case," Drouin said this week. "I had emails 24 hours a day from all the countries of the world and I saw that we were not alone."
"Reasonable accommodation" became an issue in the 2007 Quebec election campaign, when Mario Dumont's upstart Action démocratique du Québec, calling for a crackdown on religious differences, nearly beat Charest's Liberals.
Pauline Marois campaigned on her Parti Québécois's "charter of Quebec values," which Drouin also endorsed, but lost the 2014 Quebec election as the Liberals capitalized on fears of a third independence referendum.
Harper began this election campaign stressing his government's economic record.
But a Federal Court of Appeal ruling in mid-September turned the campaign around, in Quebec at least. The three judges ruled unanimously that Zunera Ishad, a Mississauga woman, could wear her niqab when she is sworn in as a Canadian citizen.
The Harper government immediately appealed that judgment to the Supreme Court of Canada and promised a law after the election to ban the niqab at citizenship ceremonies.
"It isn't about the economy, it isn't about jobs," Drouin said. "It's about Canadian values and people realize, with all that is happening in other countries, and I think the efforts we have made in the network, people are beginning to say, maybe it's true.
"That is why I am very satisfied with that is happening now at the federal level. Very satisfied."
There has also been a backlash, with the opposition New Democrats, Liberals and Green Party saying Harper is using the niqab issue, which is costing them votes, to distract attention from his close-to 10-year record.
In Quebec, where the NDP won 59 out of 75 seats in the 2011 election, NDP support is slipping. Conservative radio ads in the province focus on the niqab issue.
And commentators have marvelled that an issue affecting one woman has had so great an impact.
They note that Harper had the option of using a cabinet order to impose a niqab ban, but chose instead a non-binding ministerial directive, which the courts had no choice but to strike down.
Observers have estimated there are about 50 women in Canada wearing the niqab but Drouin said there are "maybe 200 women with niqabs in Montreal," alone, adding, "but even if it was one, it would be one too many."
Then, trying to put on a positive spin, Drouin insists he is not against Ishad covering her face.
"I am for the 85 per cent of Canadians who want her to show her face."
Drouin notes that Conservative ministers Jason Kenney and Chris Alexander initiated the process that brought the niqab issue forward.
"For sure it didn"t come from nowhere," he said. "It was well planned."
And it's a plan Drouin likes.
"When I hear Mr. Harper, and he is the only one, talk about Canadian values, he is far from being crazy," he said.
"Now, is he doing that (just) to win votes? I don't care. Because once he says it, people will remember. Don't worry. And I am one of them.
"There are hundreds of thousands of people in my network, francophones and anglophones, who will remind him.
"Mr. Harper, you have said we have values."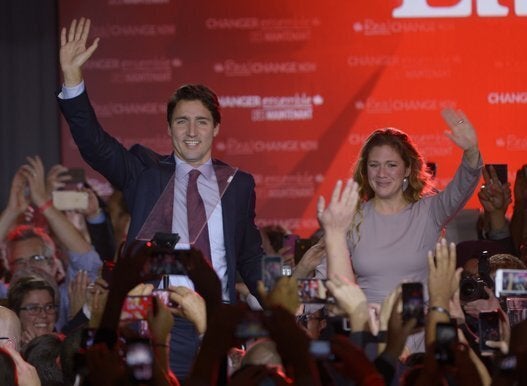 In Photos: Canada Election 2015