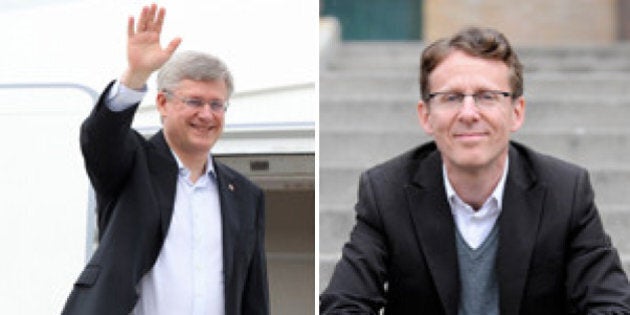 NDP Davenport MP Andrew Cash – no stranger to playing in clubs himself – says the newly announced increased fee imposed on international artists and bands performing in Canada will have a dire effect on small clubs and bars across the country. And on Canadian musicians themselves.
In a press conference Tuesday afternoon at Toronto's Lula Lounge, Cash, the party's multiculturalism critic, described the change as "the difference between a promoter making that tiny bit of profit that keeps that person in business or going broke."
"When an international act comes and plays in a club often times local performers play on that same bill," Cash says. "And that allows that local performer to develop and nurture an audience so that that performer can one day be an international act of tomorrow."
The change caused small business owner Carlyle Doherty to created a Change.org petition demanding the fees be reversed. The petition is now nearing 111,000 signatures, many of which were packed in boxes at the press conference with "Tell Minister Jason Kenney Don't Kill Live Music In Canada" written on them.
"It's a very amazing and thoughtful demonstration for Canada's arts and culture," Doherty, founder of music company concertninja.me, says.
"We hadn't seen support strictly from Canadians but from across the globe, people that want to come to Canada, whether an artist, an agent or somebody who's a part of the crew with the artist."
Doherty also says his business based out of Waterloo, Ontario was designed to welcome foreign artists into the country. The fee increases however will prove to be a hurdle.
"We really want to open up our doors and say, 'Come into town, perform for us, we welcome you with open arms'," he says. "And these new fees have simply become a burden for that. We're asking fans of these musicians to influence their local music scene. When they see something like this come from government, it seems to oppose the opportunities that we like to offer them. And the opportunity that we feel we deserve as a small business in Canada to welcome a lot of these artists."
Tracy Jenkins, Lula Lounge's proprietor, says because her club books such a diversity of genres --from Latin to Africa to, Brazilian performances -- a large number of international acts play the venue. But the foreign musicians also participate in workshops, mentoring younger local artists with their experience and knowledge.
"We've been really left to find a solution for this because that kind of program is really important to us," she says. "We really think it helps Toronto's cultural landscape."
Another sector in the same proverbial boat are jazz and blues clubs. Toronto Blues Society president Derek Andrews says the national blues community is "very upset" at the changes. Andrews also says he spoke with American blues record label Alligator Records who told him because American blues musicians are not members of a union "we're not going to see blues musicians travelling in."
"If B.B. King was not a member of the union and he wanted to cross the border, what would the message be to him if he wanted to cross early in his career when he was starting?" Andrews asked.
Both Cash (who said he hasn't spoken to one person consulted about the changes beforehand) and Doherty said it's important for citizens opposing the changes to contact their local Members of Parliament.
"If they don't want to listen to us on Twitter or wherever we may be voicing our concerns, we need to take it to their doors and we need to tell them that we want change for this because our culture is one of the most important things we value as Canadians," Doherty said.